France bans actions for Ocalan, KCDK-E calls for resistance
The KCDK-E said actions will be staged in front of US consulates three days a week.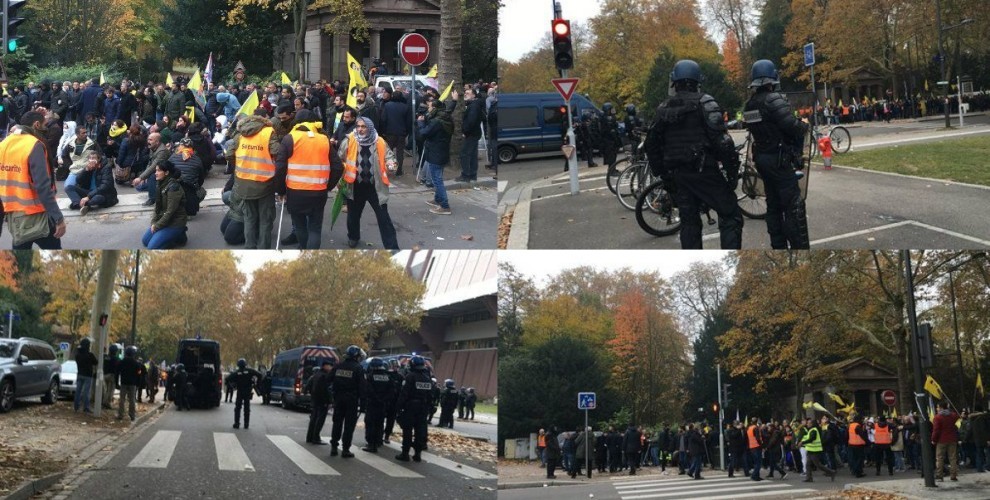 The Congress of the Kurdish Democratic Society of Europe (KCDK-E) said that the actions launched on 6 November in front of the European Court of Human Rights, CPT (Committee for the Prevention of Torture) and the Council of Europe have been banned by the French authorities that had previously granted permission.
According to the statement the ban came into effect after 5 pm on Wednesday and was dictated by arbitrary and political reasons.
The statement sent to ANF by the KCDK-E said that the ban appeared to have been decided on 27 October in Istanbul, at the summit among Turkey, France, Germany and Russia.
Emphasizing that attacks against the Kurds served the Turkish government strategy of protecting the mercenaries, KCDK-E stated that the struggle for freedom is not only being fought for Kurdistan but for the whole the world, as the Kurdish struggle against DAESH has prevented attacks in Western countries and is for all humanity.
The KCDK-E emphasized that Öcalan's ideas are a hope for the peoples and progressive humanity today.
"Twenty years ago, - said the statement – International dominant forces led by the United States carried out a conspiracy against Kurdish People's Leader Reber Apo. These forces built the Imralı isolation system".
Referring to the banning of the actions in France, the statement said: "We know that this decision is not only France's decision. Macron, Merkel, Putin and Erdogan took this decision together in Istanbul."
KCDC-E said that the actions for the freedom of Öcalan will continue all over Europe, and announced that there will be actions against the US decision before the consulates of this country. These actions directly aim at protesting the decision by the US to put a bounty and issuing an arrest warrant on the PKK leadership.
The statement ended with a call to all progressive forces, and to Kurds, to continue with their resistance "to make this dirty policy fail".
The KCDK-E added: "We will continue our actions in front of the US consulates in all countries and cities. We are inviting our people and friends to participate in the actions we will take in front of the US consulates in all countries, 3 days a week".