Force-feeding imposed on two lawyers on death fast
Lawyers Ebru Timtik and Aytaç Ünsal, who are on death fast, are facing an imposition of force-feeding in hospital.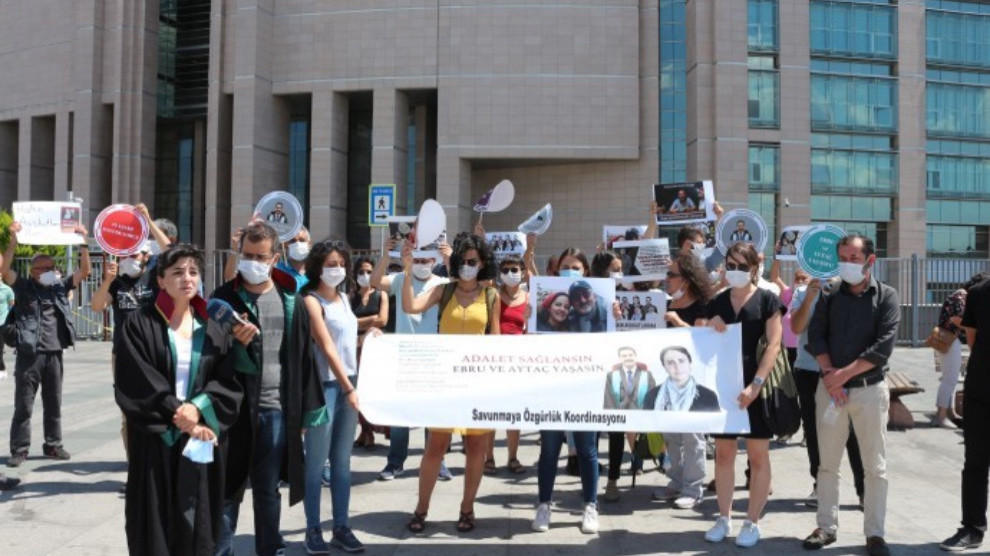 Members of the 'Freedom for the Defence' Coordination gathered in front of the Çağlayan Courthouse in Istanbul to draw attention to the situation of lawyers Ebru Timtik and Aytaç Ünsal who have been on a death fast for months demanding a fair trial.
Speaking here, Contemporary Lawyers' Association (ÇHD) Istanbul Branch Secretary Çiğdem Akbulut stated that Timtik and Ünsal, who were forcibly hospitalized, reject to be treated and continue to demand a fair trial.
Akbulut stated that the two lawyers have been held in two separate pandemic hospitals for 11 days, saying; "They are held in conditions with high risk of both infection and COVID-19. It is not medically proper for them to stay in these hospitals."
Akbulut pointed out that Timtik and Ünsal are subject to constant light and noise and are disturbed by repeated harassment from the gendarmeries (military police) and guards that are watching their rooms for so-called security reasons. They cannot sleep and medical staff impose treatment every hour, arguing that 'this is our duty'.
Akbulut announced that lawyers in Ankara have today applied to the Constitutional Court requesting precaution measures for Timtik and Uysal. She called for the Court of Cassation to examine the files and said that they wanted this case to be dismissed.
Background
Ebru Timtik is a lawyer in the left-wing association "People's Legal Bureau" (Turkish: Halkın Hukuk Bürosu"). She has been on a death fast for 220 days now. Her colleague Aytaç Ünsal has refused any intake of food for 189 days. Both were sentenced to long prison terms due to contradictory statements of the main witness Berk Ercan. The charges of this defector have led to the arrest of almost 200 people. They were all sentenced according to terror paragraphs in the complex of proceedings against alleged members of the DHKP-C. Among them are several members of the music band Grup Yorum and Mustafa Koçak, who was sentenced to life imprisonment and died last April while on death fast.
RELATED NEWS: