Farewell to Gülistan Aksoy in Berlin
A memorial service was held in Berlin for the deceased revolutionary Gülistan Aksoy. Activists of the Kurdish women's movement came from all over Europe to attend the farewell ceremony.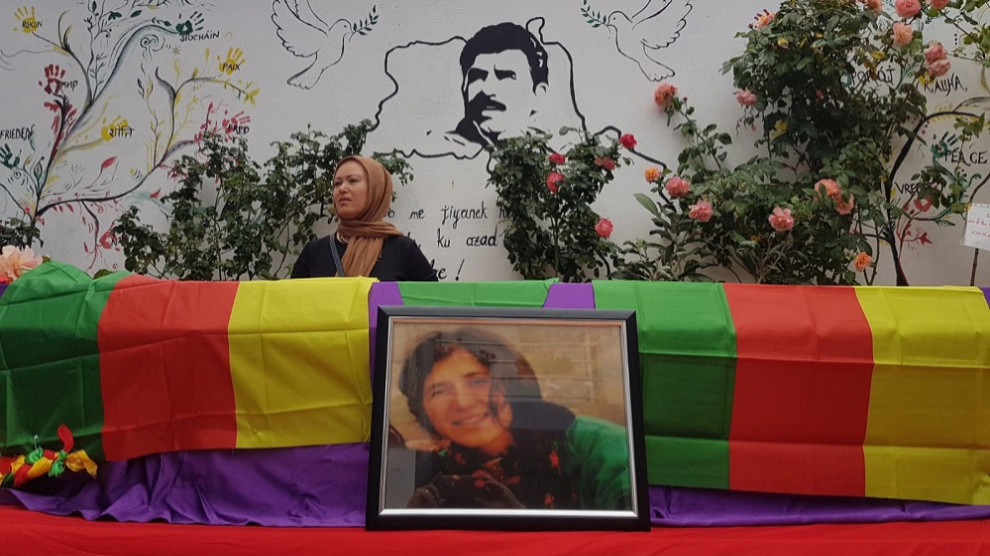 Kurdish freedom fighter Gülistan Aksoy (Nom de Guerre: Hêvî Gabar) has been under medical treatment in Berlin since 2017. In 2015, she was seriously injured in the detonation of an ISIS-laid mine in northern Syria and had to undergo several operations. Among other things she had splinters in her head.
On July 26, she succumbed to an illness due to her weakened condition. On Tuesday, a memorial service organized by the Kurdish Women's Movement in Europe (TJK-E) took place in Berlin. The body of Gülistan Aksoy was brought from the hospital to the Berlin "Centre of Free People from Kurdistan". A minute of silence was held there, followed by a short speech by Kurdish activist Zozan Serhat.
From the Kurdish centre the coffin was brought to the Dersim Community association in Kreuzberg. The body was received by a crowd of people with the slogans "Şehîd namirin" (Martys are immortal) and "Bijî Serok Apo" (Long Live Leader Öcalan) Friends of Gülistan Aksoy and activists of the women's movement from all over Europe attended the funeral service.
A video about the life and struggle of Gülistan Aksoy was followed by speeches of Nujiyan Günay of Yazidi Women's Council) Yüksel Koç of KCDK-E, Zeynep Dersim of TJK-E, Şengê Kahraman of KOMAW and Kurdish activist Medya Botan on behalf of the Aksoy family.
Telling Gülistan Aksoy's life and struggle, the speakers emphasized that the struggle will continue.
The body was transferred to Turkey on Tuesday evening and was buried today in the village of Baqistan, the place of birth in the province of Mardin.
Life and struggle of Gülistan Aksoy
Gülistan Aksoy was born on January 25, 1987 in Baqistan (Bağyaka) and joined the Kurdish liberation movement in 2002. She was active in youth and press work for a long time and later joined the guerrilla in the mountains. When the ISIS attacked Rojava in 2014, she went to Northern Syria. In summer 2014, she was injured in her leg in the fight against the ISIS in Til Kocher. After a medical treatment she returned to the defense front. In 2015 she went to Serêkaniyê (Ras al-Ain). In the vicinity of the city, she stepped on a mine laid by the ISIS and was seriously injured.