Efe: Torture is used for subjugation in today's Turkey
Ümit Efe of the Human Rights Foundation in Turkey (TIHV) compares the practice of torture today with that after the 1980 military coup, saying that then torture was used to coerce statements; today it is used to subjugate.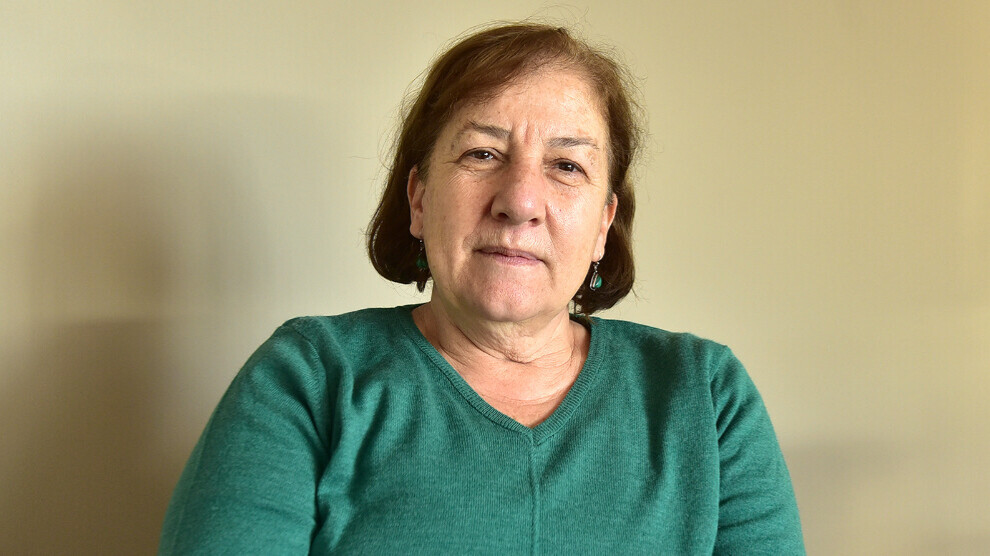 The debate over torture in Turkey and Northern Kurdistan has flared up anew with statements in which former MIT (Turkish secret service) intelligence agency official Mehmet Eymür praises its torture practices. According to Ümit Efe of the Human Rights Foundation in Turkey (TIHV), that Eymür can just stand there and praise torture practices is an expression of the state's policy.
Efe herself has experience with torture as a contemporary witness. After the military coup of September 12, 1980, she spent ninety days at the Gayrettepe police station in 1981, where she herself witnessed torture as a 19-year-old. She was the last one there to see Nurettin Yedigöl, who was tortured and "disappeared" in detention.
Electric shocks, beatings, hanging and disappearances
In an interview with ANF, the human rights activist explained that the practice of torture in Turkey has never stopped and continues. She recalled her arrest in 1981 during a raid, saying, "I was blindfolded. I didn't know who my torturers were because they called each other by code names. There were beatings, electricity, we were wheeled, subject to 'Palestinian hanging' and threatened with dogs... We were tortured continuously. I say 'we' because I was not the only one. They beat us until blood ran from our mouths and noses without asking anything. That's where I saw Tarik Akan. I am one of the last people to see Nurettin Yedigöl before he disappeared in custody. The Saturday Mothers have been asking about his fate for years. I was interrogated in the same torture chamber. They took off our blindfolds for confrontation. I did not know him at that time. We stayed together for three or four days, then he disappeared. He was arrested in the house in Ideal Tepe where I was also arrested and which was later turned into a police station. After that, we never heard from him again. We saw other people being taken away wrapped in blankets as well. But with Nurettin, I was a direct witness."
"The perpetrators are so relaxed because torture is state policy"
Efe was subsequently held in various prisons for five years, from Metris to Bayrampaşa, and experienced firsthand the policy of torture under the slogan of forced militarization. In addition, she and her fellow prisoners were forced to wear prison clothes and walk in lines. They were repeatedly searched naked. However, Efe also spoke of permanent resistance.
Ümit Efe dedicated her life to fighting for human rights to prevent others from suffering the same. She emphasized that torture in Turkey has never stopped, even if the perpetrators and methods are different today, torture is still state policy.
"Never before has torture been so openly legitimized"
Efe said that with Mehmet Eymür's statements, it is now the first time that torture has been defended so openly. "During those years, there was systematic torture, but there was no one who openly defended it. Even my mother didn't believe there was torture in this country until her own daughter was tortured. Today, torture is openly legitimized. We want the torturers to confess their crimes, for justice to be served and for them to be punished. Hundreds of cases have simply been dropped. Today, the streets and cities have become torture cellars. During the Gezi uprising, the streets and neighborhoods could bear witness to the torture. When the cities were sealed off, Şırnak, Cizre, Nusaybin, Yüksekova and Sur became torture chambers. Torture is not only publicly defended, but is executed on the streets. Torture is no longer about extorting statements, but about intimidating and subjugating society. Back when we were tortured for 90 days, it was about getting statements. It was about creating guilty people or witnesses. As a resilient person who resisted torture and did not submit, I exercised my right to remain silent and not testify. And if the state is 'strong,' it is obligated to prove a charge. It is also obliged to protect individuals. Even people who went themselves, like Murat Yildiz, disappeared in custody, not to mention those who were arrested in raids," she explains.
"The Chain of Impunity"
Efe emphasized that the chain of impunity must first be broken if torture is to be prevented: "I filed a criminal complaint in 1984 regarding the disappearance of Nurettin Yedigöl. But in the response I received, it was implied that the incident was not real, there was no such person on record, and that we were the guilty ones."
Ümit Efe, who has been fighting for the prosecution of torturers and the abolition of torture for years, stressed that torture is a crime against human dignity: "We have always tried to expose those who wanted to eliminate fundamental rights and freedoms. We will pursue these proceedings to the end. We will never give up our will to tell the truth."