Attack against Saturday Mothers continues as crowd resists
As the police attack against the Saturday Mothers continues, the crowd is resolved to resist. HDP Co-chair Pervin Buldan said, "They created a country that is afraid of mothers' silent cries."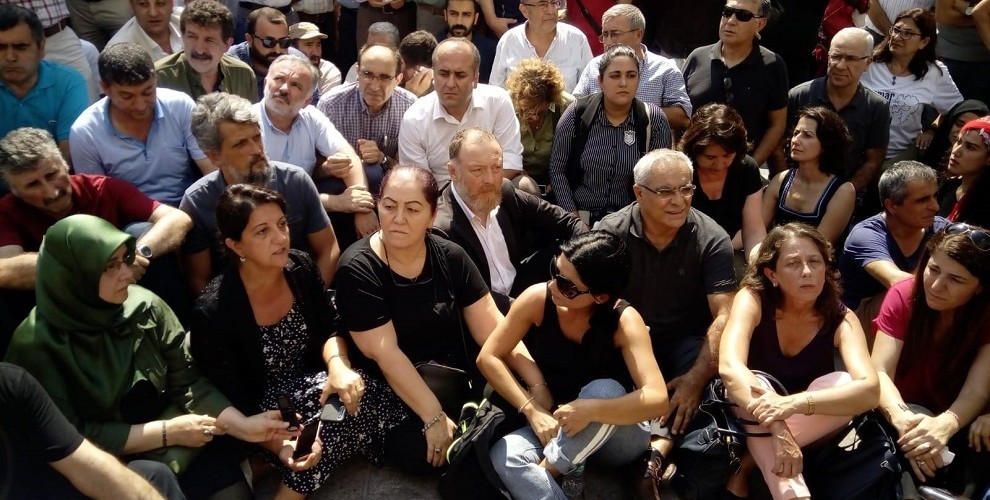 The police attack against the Saturday Mothers continues, as does the crowd's resistance. The police battered and detained many people waiting in nearby cafés and the square, saying the protesters are "traitors to the country". Several people have fainted from excessive use of tear gas.
Human Rights Association (IHD) Istanbul Chapter members, Yeni Yaşam newspaper Editor In Chief Osman Akin, DISK-Journalists Union Chairperson Faruk Eren who is searching for his brother who was disappeared by the state during the September 12 coup and several others were detained.
MPS HIT BY RUBBER BULLETS
The crowd including HDP Co-chair Pervin Buldan who were resolved not to leave the square were attacked several times by the police. HDP and CHP MPs stood in front of the water cannons, and were hit by rubber bullets fired at their feet.
"THEY FEAR THE MOTHERS"
HDP Co-chair Pervin Buldan said: "They created a country that is afraid of mothers' silent cries. This is an impossibly great immorality. We have been looking for the bones of our children for 700 weeks. We will continue our fight until we find the bones of our children. Even if I'm alone, I will always sit in that square."
HDP Amed MP Garo Paylan argued with the police, and the police chief told Paylan, "My officers will do whatever is necessary." Paylan responded with, "This era will end."
THE SONG "MOTHER FIND ME"
The police attempted to enter the CHP Beyoglu District Offices.
Since the crowd started gathering in the morning, nearby cafés have been playing the Ahmet Kaya song "Mother, Find Me" and the song has been playing in the Galatasaray Square.
DEMONSTRATION CONTINUES DESPITE THE ATTACK
Some relatives of the disappeared held a sit-in in front of the Odakule Shopping Mall on the Istiklal Avenue, where they were attacked by the police using pepper spray.
The crowd continues to wait, chanting the slogan "This is just the beginning, the fight continues" and clapping.