At least 47 detained in police crackdown against Saturday Mothers
Dozens have been taken into custody after police attacked Saturday Mothers and human rights defenders seeking justice in Istanbul.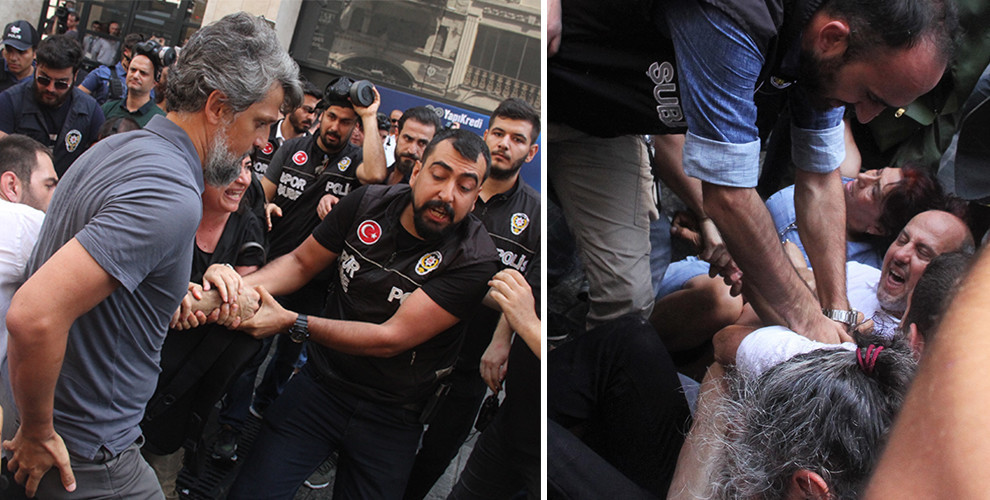 At least 47 people have been detained during the police attack on the 700th gathering of Saturday Mothers who have been staging sit-in in Istanbul's central Galatasaray Square every Saturday, asking to learn about the aftermath of their relatives disappeared by state forces under custody and demanding justice for them.
Those detained in the crackdown have been taken to the Vatan Security Directorate. Names of 27 of the detainees, who include Yeni Yaşam newspaper Editor In Chief Osman Akin and employee Hasan Akbaba, are as follows;
Leman Yurtsever, Maside Ocak, Besna Tosun, Sebla Arcan, Faruk Eren, Cihan Aktaş, Ali Ocak, Hasan Karakoç, Gamze Elvan, Özge Elvan, Cihan Gülünay, Kenan Yıldız, Ruşa Sabur, Fecri Çalboğa, Cüneyt Yılmaz, Jiyan Tosun, Lezgin Özalp, Levent Gökçek, Özer Oymak, Sinan Tekdemir, Süleyman Benli, Koray Kesik, Sinan Arslan, Osman Akın, Hasan Akbaba, Deniz Koç, Volkan Uyar.