Activists from Stuttgart take over the Freedom for Öcalan Vigil on week 458
A group of activists from Stuttgart took over the Freedom for Abdullah Öcalan Vigil in Strasbourg on week 458.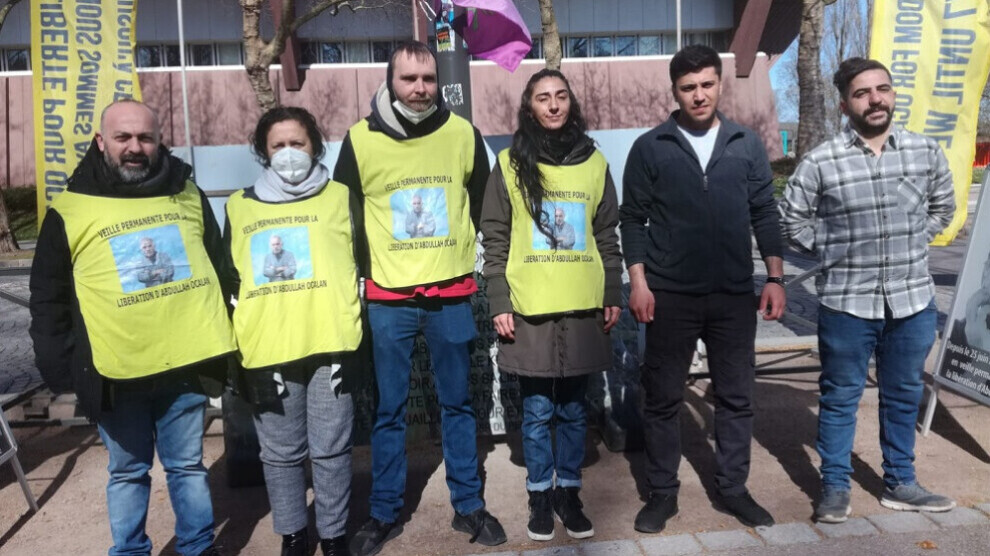 Since 25 June 2012 there has been a daily vigil for the lifting of the isolation of Abdullah Öcalan and his release. Every week, new groups of activists protest in front of the building of the European Committee for the Prevention of Torture (CPT) and the Council of Europe in Strasbourg. This is the 458th week of the protest and a group of activists from Stuttgart has taken over the vigil. The group consists of Seval Gümüş, Sebahat Koç, Dennis Storz and Hunermend member Garip Nurhak.
Seval Gümüş is taking part in the vigil for the third time. She said: "Every time I take part in the vigil, I hope that one day I will see Rêber Apo [President Öcalan] among us. We support the demands of the prisoners who have been on hunger strikes since 27 November 2020. With their hunger strike, the prisoners are fighting for the lifting of isolation and an end to the inhumane conditions in Turkish prisons."
Gümüş criticized the European institutions for keeping silent about the crimes of the Turkish regime and called on them to act. She accused the European states of having made human rights and values ​​a commodity. "The Kurdish people will not be silent," she said calling, on behalf of the group, to increase the actions against the isolation of Abdullah Öcalan.
The action in Strasbourg has reached hundreds of thousands of people over the past nine years.