Şenyaşar family continues Vigil for Justice on 17th day
The Vigil for Justice of the Şenyaşar family in front of Urfa Courthouse continues on its 17th day. "The lawsuit is not filed because a MP was involved in the incident," said Emine Şenyaşar.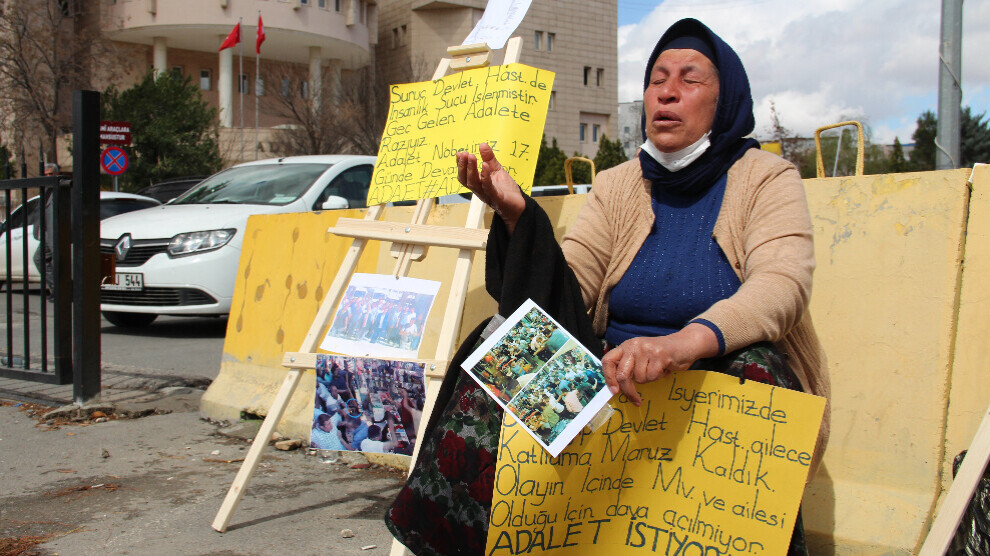 Emine Şenyaşar and her son Ferit have been demanding justice for 17 days in a vigil in front of Urfa Courthouse. The family wants justice for the murder of Hacı Esvet (Emine's husband) and Celal and Adil Şenyaşar (Emine's sons). The mother is also demanding the release of another son, Fadıl. He was detained after the killings of his father and brothers, carried out by the bodyguards and relatives of AKP Urfa MP Ibrahim Halil Yıldız in Suruç in 2018. The protest in front of Urfa Courthouse has reached the 17th day.
The Şenyaşarlar family comes in front of the courthouse in the early hours of the morning. They put up banners saying: "A crime against humanity has been committed in Suruç state hospital. Our Vigil for Justice continues on the 17th day."
Photographs of the day of the massacre, the Case Report of the General Directorate of Family Health Services and the photographs of the Şenyaşar family members who lost their lives in the massacre are also displayed.
Peole entering and leaving the courthouse stop by the vigil and Ferit Şenyaşar gives information about the massacre and the case file they were subjected to.
Emine Şenyaşar cannot hold back her tears but continues her vigil despite the rain.