Şenyaşar family: 200 days demanding justice
The Şenyaşar family has been demanding justice for 200 days.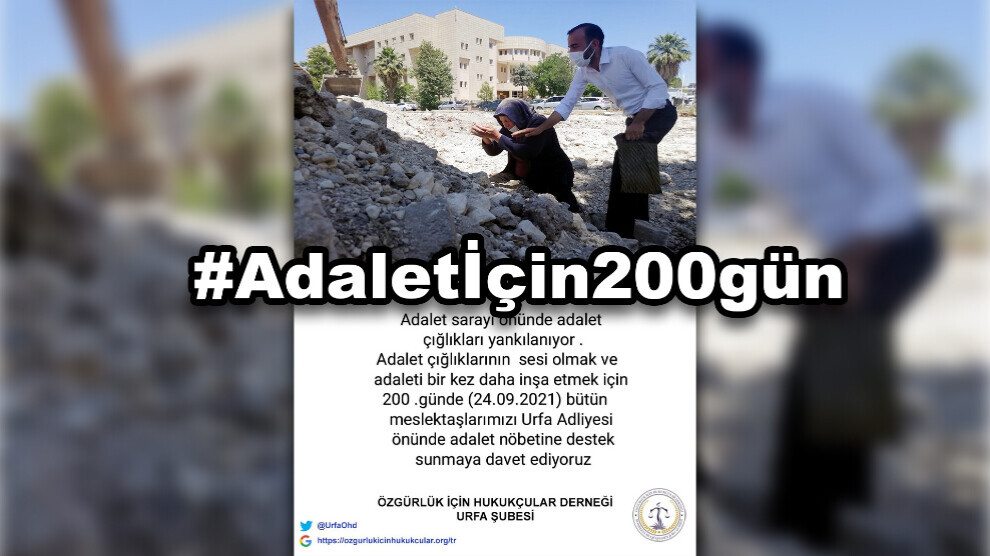 A struggle for justice has been going on in front of the Urfa Courthouse for 200 days. A mother and her son are trying to get justice for their family that was torn apart by horrendous crimes. Their vigil for justice has been going on for 200 days.
The Şenyaşar family sadly hit the headlines after the body guards and relatives of AKP Urfa MP, Ibrahim Halil Yıldız, killed 3 of its members. The Şenyaşar family, who live in Suruç district of Urfa and have been working as a tradesman here for 40 years, were attacked on 14 June 2018 during Yıldız's visit to shopkeepers as part of his election campaign. The AKP deputy entered the Şenyaşarlar's shop and asked, 'Do you have any requests?' The Şenyaşarlar said, referring to those who were traveling with Yıldız, 'Tell the people around you that they are harassing the residents of the district. They are harassing women and girls. They should not disturb us.'
Upon this, AKP member Yıldız allegedly gave the order to 'attack' with an eye signal as he was leaving the shop. Relatives and body guards of AKP supporter Yıldız attacked the Şenyaşar family members and injured Fadıl, Adil, Mehmet, Ferit and Celal Şenyaşar who were in the shop. The three who were taken to hospital with injuries, and were brutally murdered there by Yıldız's relatives.
Hearing about the incident, the father and mother of the three men, Hacı Esvet and Emine Şenyaşar met in the district center and went to Suruç State Hospital, where their sons were. When they arrived at the hospital, they saw that all the relatives of Yıldız, male and female, were there. When Yıldız's relatives saw the Şenyaşar parents, they began to attack them as well. They pushed Emine Şenyaşar to the side where the women were and said, 'This is a woman. Let the women kill her.' They took Esvet Şenyaşar among them and killed him with sharp-piercing tools and guns.
Fadıl Şenyaşar sentenced to 37 years in prison
Fadıl Şenyaşar, one of the wounded brothers, was saved from death because he was taken to Amed and continued his treatment there. Fadıl Şenyaşar was subsequently arrested and sent to prison before his treatment was finished. He has been kept in a solitary cell in Elazığ Prison ever since.
Mother Emine Şenyaşar, suffers from many health issues. She can hardly stand up. Yet she has been traveling with her son Ferit between Suruç and the courthouse in the center of Urfa for 200 days. Their demand is the immediate release of Fadil. The man was charged with the murder of one of the Yıldız family members without any concrete evidence. The gun shooting Yıldız family's member is missing. Although there was no weapon, the court sentenced Fadıl Şenyaşar to 37 years in prison.
The Vigil for Justice
Ferit Şenyaşar was a teacher before the incident. He has devoted himself to the struggle for justice since the day his father and brothers were murdered. Ferit and his mother have knocked on every door for more than 3 years, demanding justice. As no answer came, as a last resort, they began their vigil for justice in front of the Urfa Courthouse.
During this 200-day period, they were detained and tortured several times. In their own words, they were exposed to "all kinds of unlawfulness".
Two basic demands
The family's Vigil for Justice is based on two basic demands: First, the video footage of the hospital where the massacre was carried out should be put in the case dossier. The second is the immediate release of Fadıl Şenyaşar, who has been illegally detained. Anne Şenyaşar's tears may never stop, but if these demands are fulfilled, she will be able to rest her head on the pillow at night, at least.