Free press workers: We reject attempts to silence us
Free press workers once again reiterated that they will not bow to pressure at a press conference held in support of their arrested colleagues.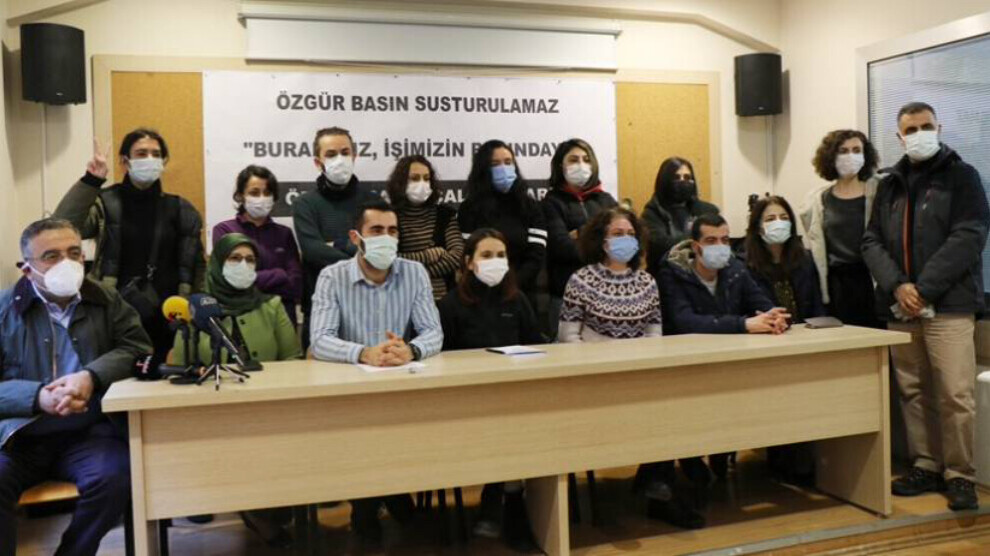 Free press employees, among them journalists from Mezopotamya Agency, JINNEWS and Yeni Yaşam newspaper, held a press conference at the Human Rights Association (IHD) Istanbul Branch to draw attention to the detentions of the ETHA News Agency journalists on Thursday.
Peoples' Democratic Party (HDP) Istanbul deputies Züleyha Gülüm and Hüda Kaya and Republican People's Party (CHP) Deputy Sezgin Tanrıkulu also attended the press conference.
Journalist Emre Orman read the statement on behalf of her colleagues. "The arrests of our colleagues and journalist friends have to stop", said Orman reminding that the hard disks, cameras and many digital materials have been confiscated in ETHA's offices during the raid carried out on Thursday. Money were also taken by the police.
The statement added: "This last operation has shown once again the price free journalists have to pay to tell the truth. As journalists, we are aware that these attacks are neither the first nor would they be the last. They have tried to silence us before. They are doing it now, but we defend the right of the people to know the truth about what is happening."
The statement reiterated that journalists won't bow to pressures and asked for the release of all journalists.
Nadiye Gürbüz, one of the editors of ETHA, said that the police seized various material during the raid on their office on Thursday.