Trustee in Amed destroys memory of murdered journalist
In the city of Amed, a street bears the name of journalist Hafız Akdemir, who was murdered by Contra-guerrilla in 1992. The state-imposed city's trustee had the name of the paper removed.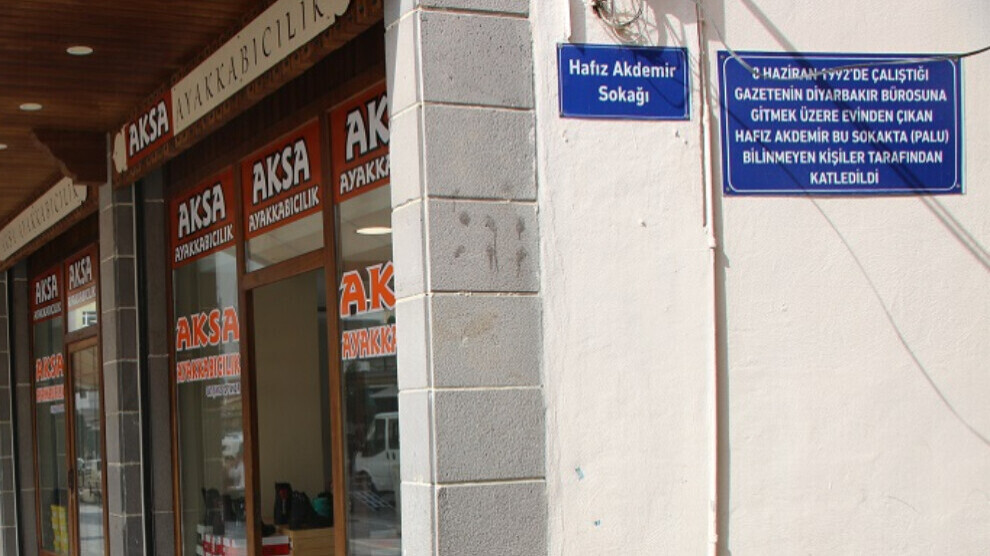 On 8 June 1992, journalist Hafız Akdemir, who worked for the newspaper Özgür Gündem, fell victim to an assassination commissioned by the so called "deep state".
The city administration of Amed-Sur renamed the street where the murder occurred to Hafız-Akdemir Street and put a plaque in his honor.
Now the sign has been censored and replaced by order of the Turkish state-appointed trustee of the city. At the entrance of the street there was a plaque saying "Journalist Hafiz Akdemir was known for his work for the newspaper Özgür Gündem on the subject of murders by unknown perpetrators. In June 1992, Akdemir was shot dead in the street by unknown people."
The trustee appointed in place of the legally and freely elected HDP mayor Selçuk Mızraklı, now in prison, had the name "Özgür Gündem" removed. The new sign only says "a newspaper" and Akdemir's research and work on the subject of "murders of unknown perpetrators" is no longer mentioned.
On the anniversary of the journalist's death, relatives of the murdered man discovered that the tombstone in Lice in the Amed province had also been removed.