SPD will move a motion called 'Solidarity with Rojava' at its Congress
The Social Democratic Party will present a motion titled "Solidarity with Rojava". The motion demands that the criminalization policy against the Kurds come to an end.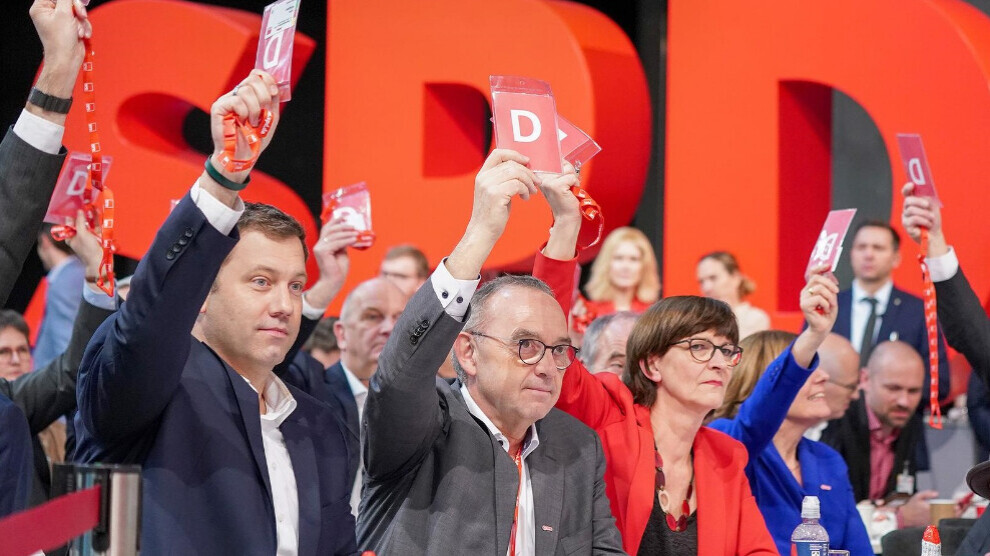 The Social Democratic Party (SPD), which forms a coalition government with Angela Merkel's Christian Democrats in Germany, is going to hold an extraordinary congress on May 9.  The party's Berlin section submitted a motion titled "Solidarity with Rojava" to be debated at the congress.
ANF received the two-page motion which addressed the occupation of the Turkish state in Northern and Eastern Syria and urged the SPD headquarters and social democratic politicians in the Merkel government to take action. The importance of the self-government in Rojava Kurdistan are explained in detail.
"TURKEY AND THE MIDDLE EAST POLICY SHOULD CHANGE"
Emphasizing that the occupation carried out by the Turkish state not only violated international law, but also caused many violations of human rights in the region, the motion slammed the federal government's policy on Turkey. The motion demands the following policy changes:
ARMS EMBARGOS: Suspension of all arms sales to Turkey, including the cancellation of approved agreements.
END TO THE OCCUPATION: Germany should make moves to put an end to the presence of Turkish soldiers in northern Syria, also using NATO and UN agreements. It should be emphasized that Rojava in particular poses no threat to the Turkish state.
END FINANCIAL SUPPORT TO ERDOĞAN: Economic cooperation with Turkey should be limited, all financial support including Hermes credit guarantees should be terminated. Financial support to Turkey for refugees should be made transparent. Turkey should not use these aids for its own interests.
WORK FOR PEACE: With the cooperation of France and Britain, which are members of the UN Security Council, Germany should strive for peace in Syria. The UN must take action.
THE TRIAL OF ISIS: The establishment of an international court where ISIS criminals will be tried should be supported.
DIALOGUE WITH AUTONOMOUS ADMINISTRATION: Humanitarian aid programs should be introduced for refugees who are forced to leave their homes to take shelter in other regions in the north of Syria. A dialogue should be established with the Autonomous Administration of North and East Syria.
PRESSURE ON THE CHP: Turkey's Republican People's Party (CHP), the sister party of the SPD, should be urged to take action to end the Turkish attacks against the Autonomous Administration in the north of Syria.
KURDS IN GERMANY: The politics of criminalisation towards the organizations of the Kurdish freedom movement in Germany should be removed.