Journalists tried for reporting on 'helicopter torture' appear in court
The hearing of the 5 journalists who reported on the 'helicopter torture' of villagers in Van was held.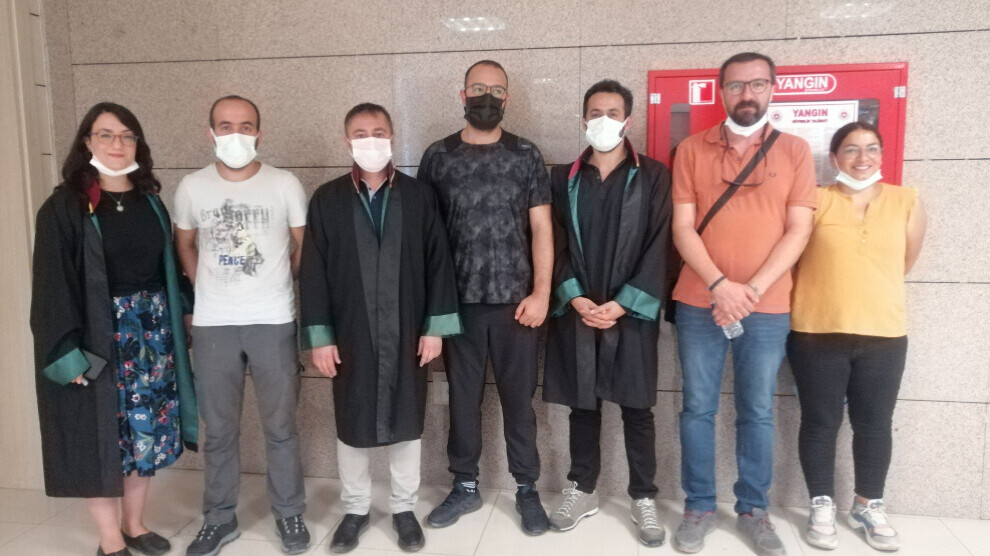 The second hearing in the trial of five journalists in Van, who faced legal action after reporting on the case of two civilians who were detained, tortured and thrown from a helicopter by Turkish soldiers, was held at the 5th Heavy Penal Court in Van on Friday.
Mesopotamia Agency (MA) reporters Adnan Bilen and Cemil Uğur, Jinnews reporter Şehriban Abi, journalist Nazan Sala who were jailed on October 9, 2020 and released on April 2, 2021 and MA reporter Zeynep Durgut who is tried without arrest, are facing charges of anti-state reporting" and alleged PKK membership.
All five journalists are charged with their reporting in the case of two villagers, Osman Şiban (50) and Servet Turgut (55), who were abducted, tortured and pushed out of a helicopter by the Turkish military near the Çatak district in September. While Şiban will probably be scarred for the rest of his life by the torture he experienced, Servet Turgut died on September 30, 2020 after 20 days in a coma.
Adnan Bilen, Cemil Uğur and lawyers attended the hearing while other journalists cited excuses.
'THOSE WHO REVEAL THE TRUTH ARE PUNISHED'
Bilen pointed out that more than 50 journalists have been put on trial in Turkey in the last 5 days alone. He stressed that those who reveal the truth are punished.
"If a price is to be paid to reveal the truth, we will pay it," Bilen said.
Journalist Cemil Uğur noted that their report was a prime example of journalism, supported by the statements of eyewitnesses and hospital records.
While lawyer Erselan Aktan stated that the report was in favour of the public interest, lawyer Ekin Yeter remarked that there was no criminal element in the file and that opposition journalists were under threat.
The court removed the requirement for journalist Durgut to sign in to the police three days a week and reduced it to once a month. The court adjourned the hearing to October 21, to gather information about the investigation carried out against Nazan Sala in Ankara and to eliminate missing points.
RELATED NEWS: