Journalists' associations protest against police violence
Journalists' associations in Turkey have taken to the streets to protest police violence. The background is the violent arrest of AFP correspondent Bulent Kilic at the Istanbul Gay Pride on the weekend.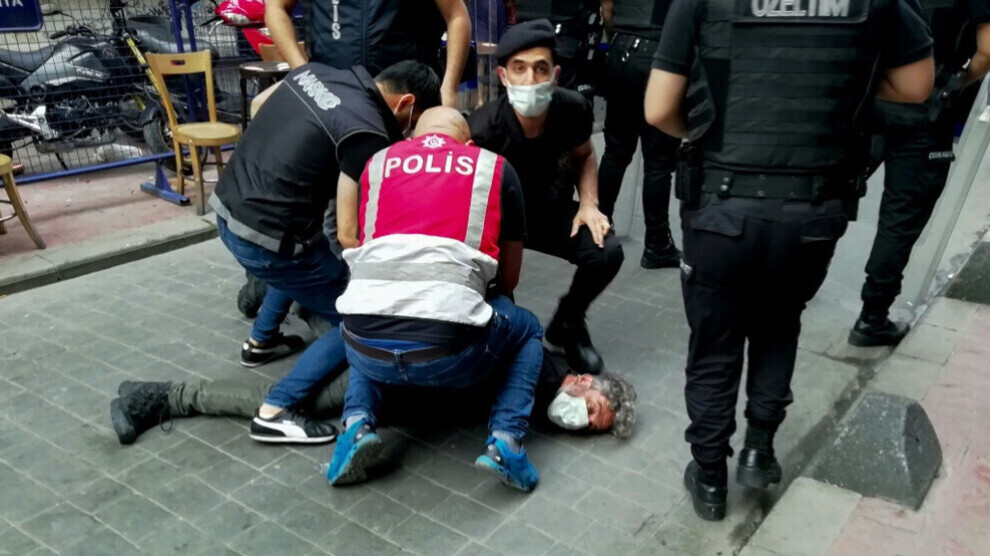 Fourteen professional associations, including the Dicle-Firat Journalists' Association (DFG), the Basın İş Media Union and the Journalists' Union of Turkey (TGS), have protested police violence against their colleagues in three major cities in Turkey. The issue flared up again over the weekend after AFP reporter Bulent Kilic was brutally arrested at Pride March in Istanbul. Journalists in Istanbul, Ankara and Izmir today called for the preservation of press freedom.
Kilic, who was a journalist covering the banned demonstration for LGBTI rights on Saturday, had been overpowered and handcuffed by police officers. Photos show a policeman kneeling on his back. In Istanbul today, Kilic's colleagues marched in front of the Governor's Office in Istanbul with signs reading "We can't breathe," "Hands off the press," "Repression can't intimidate us," and "Free media - Free country." There, Filiz Gazi made a statement on behalf of the associations present, pointing out the violence exercised by the police and the gendarmerie against media workers and calling a circular issued by the Ministry of Interior on journalists illegal. Bülent Kilic had said when he was arrested that he could not breathe, Filiz Gazi said, recalling George Floyd in the United States. "It is not only our colleagues who are deprived of breathing space, but also the people's right to access information. Journalism is not a crime."
The photojournalist Bülent Kilic himself said that the police officers who had kneeled in his neck are still in office and no one feels safe anymore. After this assault, he said, he was called by colleagues from various media, but they did not report on the incident. This was a matter of professional solidarity, Kilic said: "Nothing is as bad as taking a person's breath away. Unfortunately, I had to experience this as a journalist. Apparently, the treatment was so serious that many people reacted to it. I want to give a short message; since yesterday, colleagues from Anadolu Ajansı and different TV stations have been calling me because we know each other, but in some stations this news has been overlooked. I find that very unfortunate, this is a professional issue." Kilic thanked everyone else for their interest in solidarity and their spirited efforts for press freedom.