Journalists' Association awards Kurdish journalists
The Journalists Association of Turkey (TGC) gave awards to journalists who could not do their jobs in the persons of 16 Kurdish journalists arrested in June.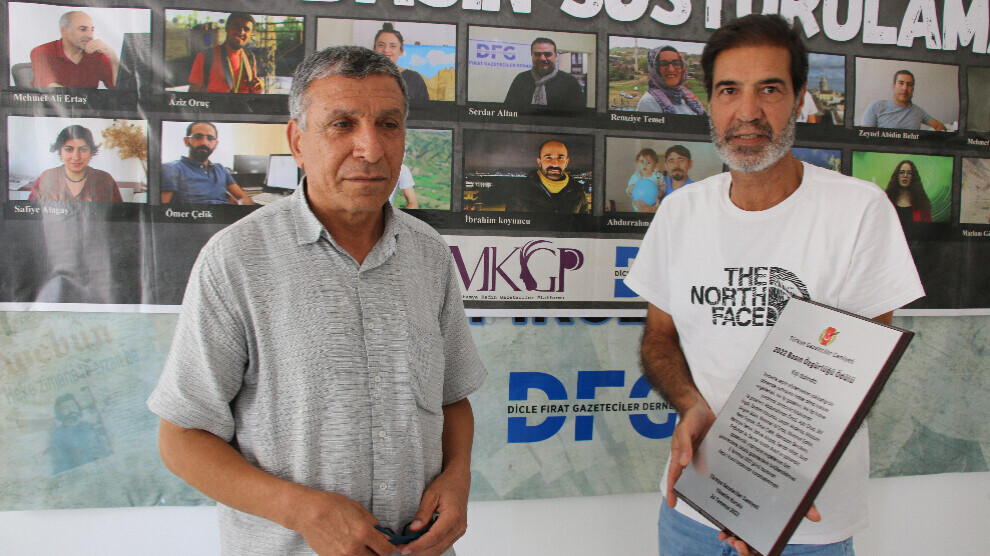 The Journalists Association of Turkey (TGC) handed this year's "Person Award" to 16 Kurdish journalists who were arrested after they were detained in Amed (Diyarbakır) on June 8 and remained in detention for 8 days.
The journalists in question are Abdurrahman Öncü, Aziz Oruç, Elif Üngür, İbrahim Koyuncu, Lezgin Akdeniz, Mazlum Doğan Güler, Mehmet Ali Ertaş, Mehmet Şahin, Neşe Toprak, Ömer Çelik, Ramazan Geciken, Remziye Temel, Safiye Alagaş, Serdar Altan, Suat Doğuhan and Zeynel Abidin Bulut.
TGC Amed Representative Faruk Balıkçı handed the award to Dicle Fırat Journalists Association (DFG) executive Hakkı Boltan.
Balıkçı highlighted the importance of the TGC's solidarity award in the name of 16 jailed journalists, saying, "First and foremost, we see the arrest of journalists as a blow dealt to the freedom of thought and expression. We give this award to journalists who did not give up journalistic activities in the Kurdish region while working with commitment and without fear, defying all the repression and arrests."
Speaking after, Hakkı Boltan of the DFG said, "I am honored to receive this award in the name of our colleagues. We thank the TGC for this award."