Jailed Kurdish journalist Türfent becomes honorary member of PEN Melbourne
Australia's PEN Melbourne center has announced that journalist Nedim Türfent has been granted honorary membership. Sending a message from prison, the journalist has thanked for "the honor erasing the borders desired to be set by hegemons."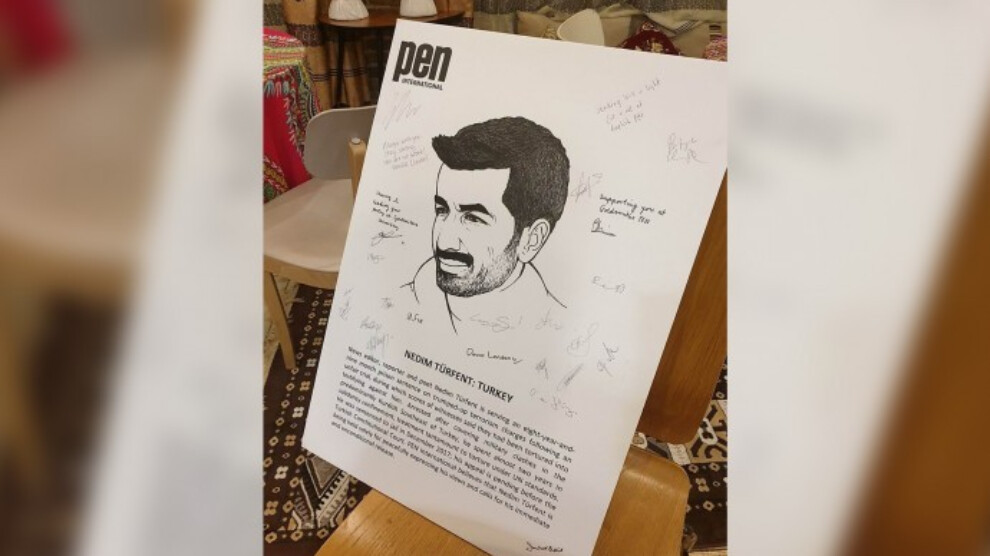 Behind bars for five years in Turkey, journalist Nedim Türfent has been granted honorary membership by PEN Melbourne in Australia, one of the 147 PEN International centers worldwide, Mezopotamya news agency reported on Sept. 22.
Türfent has been in jail in Turkey since May 2016, accused of membership of a terrorist organisation. The journalist had been working in the country's southeast as a correspondent for the Dicle News Agency (DIHA), which was also shut down by a presidential decree after the July 15, 2016 attempted military coup.
Introducing the journalist, PEN Melbourne has said, "Nedim Türfent is a Kurdish journalist and poet. He was imprisoned in 2016 after publicising police harassment of workers in south-east Turkey."
Jackie Mansourian, the Co-Convenor of PEN Melbourne's Writers-in-Prison program, has explained how journalist Nedim Türfent became an Honorary Member of PEN Melbourne briefly as follows:
"In January 2020, Nedim Türfent wrote his first card to us. We were moved by his compassion and concern about the bushfires at that time: 'I'm so sorry about [the] massive forest fires in Australia. Please feel my aching heart. Thank you for your letters. We are at one-heart'.
"Later that year, PEN Melbourne members wrote cards to him during our annual card-writing gathering. As I wrote, I reflected on his circumstances.
"He had been imprisoned since the age of 26 and the first two years were in solitary confinement. I have children of the same age. I thought of them. The pain of imagining them, like Nedim, being treated with such cruelty and disregard was unbearable. I told him that we knew of his circumstances, and were committed to working for his freedom.
"Nedim replied personally to everyone who wrote to him. We were touched and challenged by this response, and made the commitment to invite Nedim to be a PEN Melbourne Honorary Member.
Nedim has accepted our invitation. This means that PEN Melbourne will work purposefully and with many others, for his release. We will also help amplify awareness of his writings.
As reported by the Mezopotamya Agency (MA), Türfent has thanked for the membership by sending a letter from the Van High Security Prison. He has said, "This honor, coming from the farthest side of the borders, has erased the borders desired to be set between us by the hegemons. I extend my gratitude to PEN members for this meaningful membership."
English PEN also appointed him as an honorary member last year.