CFWIJ demands acquittal of journalists released from prison in Van today
CFWIJ welcomes the release of journalists who were imprisoned after reporting on a torture case against two civilians in the countryside of the Van province, stressing that, "Journalism is not a crime!"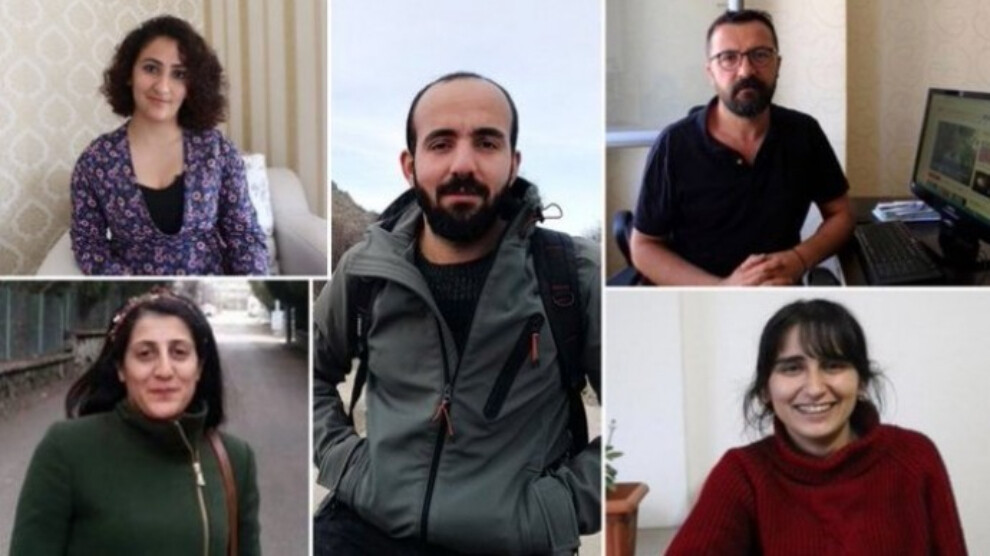 Mesopotamia Agency (MA) reporters Adnan Bilen and Cemil Uğur, Jinnews reporter Şehriban Abi and journalist Nazan Sala who were arrested in Van on October 9, 2020, will appear before the judge on April 2 for the first time. MA reporter Zeynep Durgut is also tried in the same case without arrest.
The five journalists were targeted after revealing the case of Osman Şiban and and Servet Turgut who had been detained and severely tortured by Turkish soldiers. Of the two civilians who were later thrown from a military helicopter, Servet Turgut died from his injuries on 30 September. The journalists revealed documents confirming their accusations, including a hospital report acknowledging that the two villagers suffered severe injuries due to a fall from a great height.
The first hearing of the trial against the journalists was held in Van today. The hearing started with restrictions against many journalists and NGOs who wanted to follow the case and ended with journalists' release. The court ruled the release of all imprisoned journalists conditionally. The next hearing will be held on July 2, 2021.
The Coalition For Women In Journalism (CFWIJ) released a statement welcoming the court's decision and demanding a similar decision to be set a precedent for all imprisoned journalists.
"CFWIJ has closely monitored the developments regarding the arrested journalists Şehriban Abi and Nazan Sala. We documented that the journalists were tortured and held in the male ward, facing deplorable conditions. The journalists endured malicious behaviour in prison, which violated human rights. During their 14-day quarantine, imposed as part of pandemic precautions, they were held in unhygienic conditions, their basic needs unmet. Despite the cold weather conditions in Van, the journalists were denied the necessities to stay warm. During their four-day detention, the journalists were not allowed to see their lawyers and were therefore unable to prepare their defence," said the statement.
"The Coalition For Women In Journalism welcomes our colleagues' release after 175 days, whereas, we demand their acquittal. As the coalition, we demand the Turkish state to put an end to its repression of journalists. Journalism is obliged to write facts. Journalists cannot be persecuted only because they contradict the interest relations of some authorities. No journalist can be unjustly imprisoned simply by showing the news they wrote as an element of a crime. We demand that the verdict in the case will set a precedent for other imprisoned journalists. Yet we reiterate once again: Journalism is not a crime!"