Action to demand freedom for jailed journalists in Turkey
A demonstration in Ulm demanded freedom for journalist Meşale Tolu and other journalists jailed in Turkey.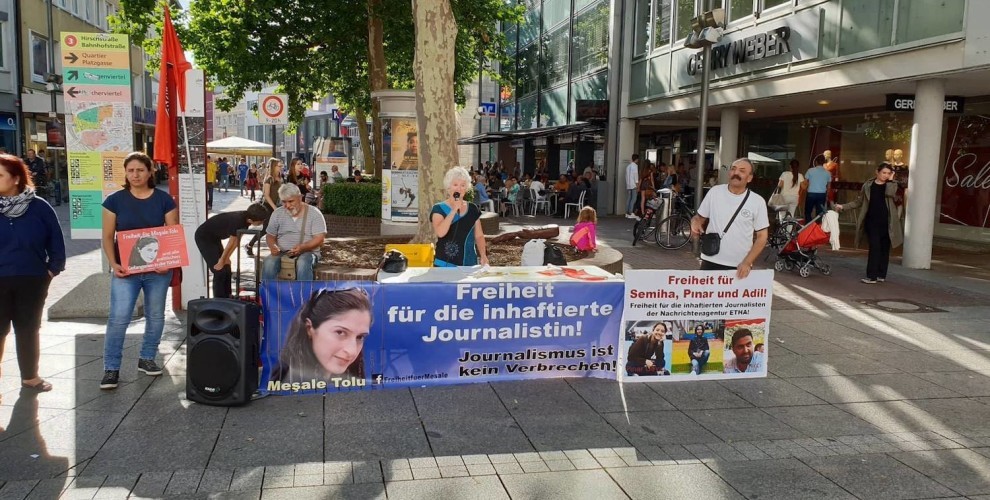 An action was organised in Ulm, Germany to demand freedo for journalist Meşale Tolu and all other journalists in Turkish prisons.
This was action number 40 and was part of a set of solidarity meetings and protests and this week the people met in front of Munster Cathedral.
The trial of Meşale Tolu was due to open on 26 April, but six months have passed and still no hearing has been held.
Once again people at the demonstration said that Tolu was a journalist and that journalism was not a crime.
Tolu was released after 8 months of detention pending trial, but a prohibition to travel abroad was imposed on the journalist.
ETHA news agency Germany correspondent Adil Demirci, editor Semiha Şahin and Pinar Gayip, were all detained like Tolu and the demonstration demanded their release.
An award ceremony traditionally held by Emotion women magazine was dedicated to Tolu.
Angelika Lanninger, Tolu's teacher spoke at the demonstration and demanded freedom for her student.
ADHF, AGIF, HDK-Ulm, SYKP and MLPD also joined the demonstration.
The "Free Tolu and all journalists" actions will be held the first Friday of every month. The next action will be on Friday, August 3.