8 journalists attacked, access to 211 news titles blocked in August
According to the August report of the Dicle Fırat Journalists Association, 5 journalists were detained, 8 journalists were investigated, 8 journalists were attacked, access to 211 news and 6 websites was blocked.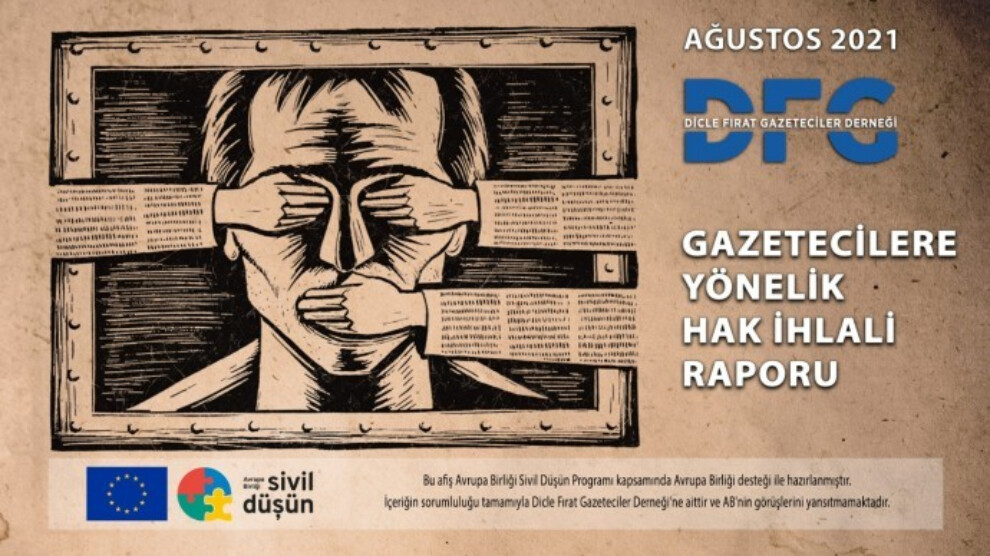 Dicle Fırat Journalists Association (DFG) announced the report they prepared on the violations of rights against journalists during the month of August. Noting that the huge problems in the field of press and freedom of expression continue in Turkey, the report included the following statements, "In August, we again faced practices that trampled the freedom of the press. We are witnessing that journalists are detained, their news coverage is prevented, they are attacked, investigations and lawsuits are opened against them, and they are tried to be rendered almost inoperable, as well as being imprisoned."
"DIRECTORATE OF CENSORSHIP"
The report stated that news articles by journalists are constantly monitored by the Presidency Directorate of Communications which -it said- actually works like a censorship board, reporting the news to relevant judgeships and, ultimately, the courts imposing an access barrier to the news articles in question.
"Again, domain names for websites and news agencies are blocked on the basis of a bizarre statute known as ' Protection of National Security and Public Order'," said the association.
"467,11 WEBSITES BLOCKED IN 2020"
Referring to the data of the Freedom of Expression Association's "EngelliWeb 2020 Report", the report shared the following information: "As of the end of 2020, 467,11 websites had been blocked, with 764 separate institutions making 408,808 distinct rulings.
"According to the scope of the association's reporting study, access ban was issued to 150,000 URL addresses, 7,500 Twitter accounts, 50,000 tweets, 12,000 YouTube videos, 8,000 Facebook contents, and 6,800 Instagram contents in accordance with Law No. 5651 and other provisions."
'RTÜK BATTLES AGAINST PRESS FREEDOM'
The censorship decisions of the Radio and Television Supreme Council (RTÜK) were also included in the DFG report. In this regard, it was stated that "RTÜK, which imposed a fine on reports about the forest fires around the country, requested censorship from broadcasting organizations before imposing the fines as if to threaten them, and even disclosed the penalties it would apply in advance. The Board's attitude is a direct affront to press freedom."
'WE WILL NOT COMPROMISE ON TRUTH'
The following statements were included in the continuation of the report: "As can be seen from all of this, the current government wants to establish a press and media that is detached from the public, closes its eyes to what is going on, flatters the government, and does not bring alternative voices to its headlines and screens. An acceptable journalist for them is a journalist who is satisfied with the statements issued by state institutions, who does not probe and investigate, and who does not speak out about social problems. According to them, a journalist who complains about this and refuses to accept this approach should be silenced. However, it should be well known that there are courageous journalists who refuse to compromise on the truth, and they will continue to talk, write, and portray the truth with their eyes wide open. And no amount of pressure, force, or censorship will change that."
According to the report, the following rights violations occurred in August:
* Detained Journalists: 5
* Journalists Who Lost Their Lives: 1
* Attacked Journalists: 8
* Threat and Agent Imposition: 1
* Journalists Prevented from News Tracking: 9 incidents
* Journalists Investigated: 8
* Journalists Sued Against: 3
* Journalists Sentenced: 2 persons; 10 years, 5 months and 22 days in prison
* RTÜK Penalties: 11 penalties for 6 channels
* Internet Access Barrier: 211 news, 6 websites
* Dismissed Journalists: 51
* Journalists who had their Press Cards revoked: 1
* Number of Jailed Journalists: 63