Yesterday Afrin, today Avashin
War has been raging in South Kurdistan for 25 days. War that aims at occupation and genocide. The Turkish AKP-MHP regime wants to occupy South Kurdistan and commit genocide against the Kurdish population in the course of this.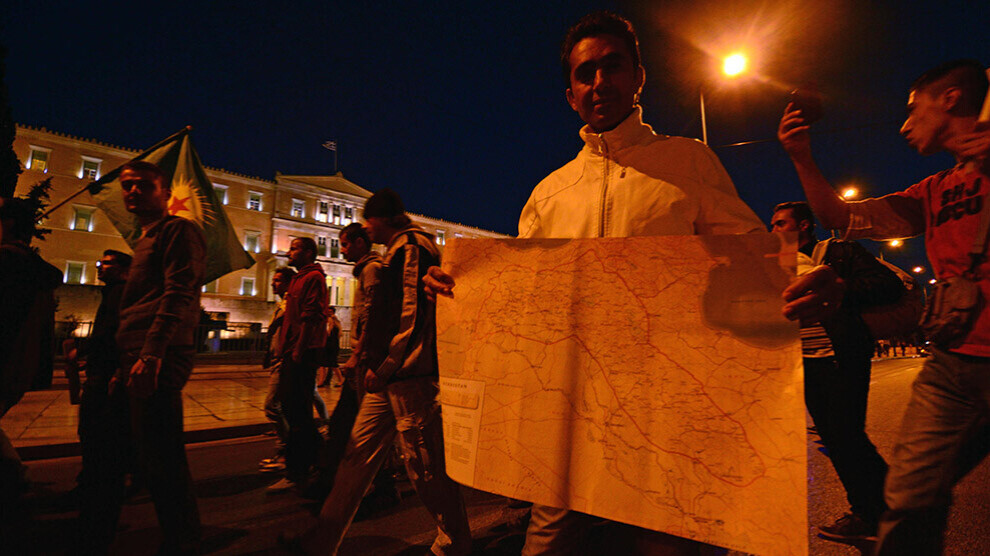 War has been raging in Southern Kurdistan for 25 days. War that aims at occupation and genocide. The Turkish AKP-MHP regime wants to occupy South Kurdistan and commit genocide against the Kurdish population in the course of this. No worse crime knows mankind, than to destroy the basis of life and the existence of whole peoples. But this is exactly what Erdogan and his supporters are guilty of today.
The Turkish strategy
In its attacks on South Kurdistan`s regions of Zap, Metina and Avashin - all located along the Turkish-Iraqi border - the Turkish army is following a strategy that we have seen in Rojava. In Afrin (early 2018), Gire Spi and Serekaniye (October 2019), Turkey waged a ruthless and inhumane war of occupation. Ruthless because chemical weapons were used. And inhumane because Turkey did not shy away from fighting in an open alliance with Islamist militias - many of them former Islamic State (IS) fighters. Chemical weapons and Islamists were used to practically drive out the local population, seize their property, and destroy historical sites. In Afrin, Serekaniye and Gire Spi - where hundreds of thousands of Kurds lived just a few years ago - tens of thousands of Islamists from around the world have been settled along with their families.
The Erdogan regime is currently pursuing exactly the same strategy in its attacks in South Kurdistan. Already at the end of April, i.e. only a few days after the beginning of the attacks on April 23, reports about the use of poison gas reached the public. Shortly after, on May 6, the HPG (People's Defense Forces) published the names of seven of its members killed by the use of poison gas in Avaşin. On Twitter Turkish fascists at that time already spread photos and videos of the seven killed guerrillas, showing that they have no bullet wounds or other external injuries. The use of Islamist mercenaries has also since been officially confirmed. In an interview on May 14, Murat Karayılan, commander of the HPG, stated that Islamists were being deployed in South Kurdistan in addition to Turkish troops. Recent reports from the Metina region also state that according to Turkish plans, Islamist fighters along with their families are planned to be settled in the still embattled village of Kêste. This information is particularly explosive because the village is home to numerous Ezidi families who fled IS attacks on Sinjar in 2014. While it has been difficult so far for international journalists and observers to get their own picture of the situation due to the constant Turkish bombardments and the street checkpoints of the South Kurdish KDP (Kurdistan Democratic Party), the reports from the ground show that the AKP-MHP regime is apparently willing to break any moral and legal principles in order to achieve its goal.
The target of the Turkish attacks goes far beyond the regions of Avaşin, Zap and Metina near the border. If the Turkish army and its Islamist allies succeed in driving the guerrillas from there, they will very quickly direct their attacks to the regions Kandil and Sinjar, which lie deep on South Kurdistan soil. Erdogan repeated this threat just a few days ago. Thus, the Turkish regime's plan is to establish an occupation zone up to 40 kilometers deep from Afrin in northwestern Syria to Xakurke in northeastern Iraq. This occupation is then to be extended to Mosul and Kirkuk in southern Kurdistan. In this way, the AKP-MHP regime would not only have achieved its goal of subjecting the Kurdish population in this vast area to genocide, but also of integrating oil-rich regions in Syria and Iraq into Turkish territory.
London, Berlin, Paris and Washington: Preventing a Genocide
Without international support, Erdogan and his AKP-MHP regime could never so openly and permanently break all international law. The keys to ending Turkey's attacks on South Kurdistan thus also lie in the capitals of Europe and the United States. For the people of Britain, the question is what their government promised Turkish Defense Minister Hulusi Akar when he was in London from April 7-9 this year. In the same way, it is worth building pressure in Germany to expose the German government's support for the Turkish occupation of South Kurdistan. So what was Turkish Foreign Minister Mevlüt Çavuşoğlu promised when he was in Berlin on May 6? U.S. President Biden must be forced to disclose why the Turkish attack on Metina, Zap and Avaşin began just hours after his phone call with Erdogan on April 23. Last but not least, it will also be very helpful for the people of South Kurdistan if French President Macron has to admit all the support he offered to Erdogan during a video phone call on March 2. The diplomatic talks of the last months alone thus show how massive the complicity of Europe and the USA is in the Turkish occupation and genocide policy in Kurdistan. If the societies in France, England, Germany and the USA let their solidarity with the Kurds become practical, the dangerous policy of Erdogan will find its final end in South Kurdistan.