Yazidi child speaks of ISIS brutality
He was one of the Yazidi children abducted by the ISIS, his name is Mervan Salih, 13. Mervan was abducted in Shengal when he was 9. He says that he will never forget the viciousness he witnessed.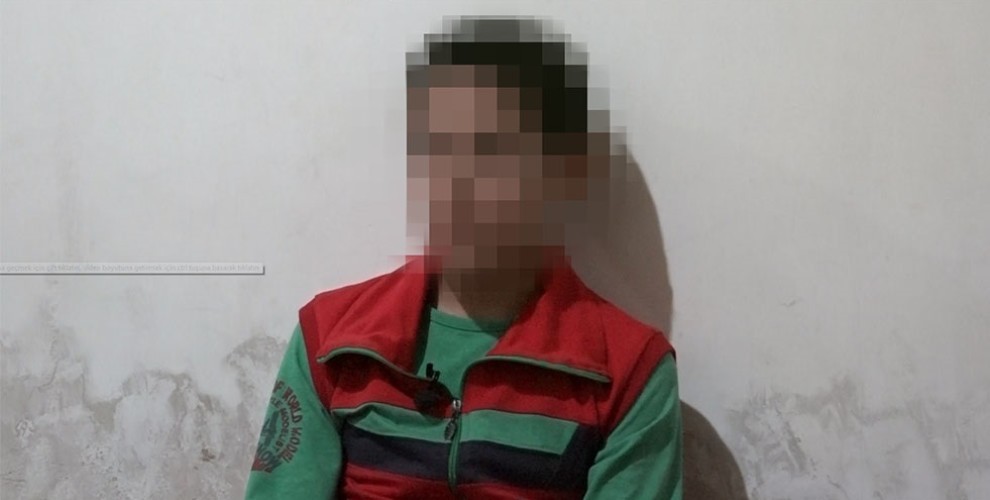 ISIS violence at its begging posed a great risk to all humanity. ISIS has armed militants in the Middle East and around the world, this clearly illustrates that ISIS is an international terrorist organization. 
The majority of the fight against ISIS was carried it in the Middle East, particularly in Iraq and Syria. Yet during the rise of ISIS, different communities, religious and ethnic minorities were subjected to ISIS' targeted violence, specifically on 3 August 2014, the Yazidi community in Shengal region were massacred by the terrorist organization.
Years have passed since the massacre, yet the Yazidi people have not forgotten that day. Thousands of the Yazidis were butchered, thousands of the Yazidi women were abducted by the ISIS. A few hundred Yazidi women later managed to flee from the terrorist group. There are also children among the people liberated from ISIS.
Mervan Salih, 13, is one of those children. Mervan was 9 when he was kidnapped by the ISIS. He has not forgotten what happened to him, he described the time he was a hostage in ISIS' hands.
"When they [ISIS] started the assault against Shengal, we left our village near Shengal to reach to the nearby mountains. I, along with my father, mother and brother left the village of Solak. My other sister and brother managed to flee ISIS. Suddenly an armed vehicle stopped right in front of us. They asked us who we were, when they realized we were Yazidis, they forced us all into the cars. They separated adult women from the rest. They took me, my mother and brother to another place. They gathered us at a school in Tal Afar. Later they took us to a prison called Badushe. There were many captive Yazidis, but no adult men, it was only women, girls and boys. They said they would marry the women, and they took me to Syria.
On the way to Tal Afar my mother was able to flee. My elder brother said that she had managed to run away. I was not aware that she would flee. We did not know why and where we were taken. But we were scared of them [ISIS], therefore we could not speak or ask questions. They were constantly beating us."
The abducted Yazidi children were trained by the ISIS in order to become fighters. Videos of their brutal killings were shown in the media, Mervan tells about days under ISIS:
"They forced us to read the Quran and pray. They trained us how to use a weapon. There were even children as young as 7-8 years old. There were three training centers. My cousin and some of his friends were also there. We were forced to do whatever they asked us. They decapitated a few people before our eyes, they deliberately did to intimidate us. We were terrorized, yet we could not say a word. We had no choice but to watch. We did not ask questions often. The trainers always covered their faces. We were taken into a battle but we were not told where it was. I was injured in combat. We were positioned in the frontline, even before actual ISIS fighters. I was transferred to a hospital after being injured. After two months of training and then fighting, I was sold as a slave at a market. We never know what prices we were sold for.
I would do the hard labor for the person who had bought me. I would bring him everything he desired. I do not remember how long I stayed there. Then I was sold to another individual. They made me do all their labor for them, I was sold to 11 people in total. I would make them tea and clean their floor. They continued to show me videos of ISIS beheading. Most of them had surveillance cameras at their houses, we knew they did not trust us. I was living alone at a separate room, they called me in when required."
Mervan was liberated from ISIS in 2018, when speaking of those dark days under ISIS, it was like the tragedy was repeating to him again, but he was grateful to be free again.
"When I escaped from ISIS, I lived in the desert for a while. Then I was found by an YPG fighter, he approached me and asked who I was. I told him I was a Yazidi running from ISIS. They took me to their place, prepared food for me and gave me clothes. After I stayed with them for five days, they took me to a safe place. When I reached the YPG fighters, they said that they would try to reunite me with my relatives. Thanks to them, today I am reunited with my family," added Mervan.