Nephew of Turkish intelligence head fights Turkish invasion
One of the guerrillas in the fight against the Turkish state's invasion attacks against Bashurê Kurdistan is HPG guerrilla Egîd Zilan, who is also the nephew of special war personnel MİT Undersecretary Hakan Fidan.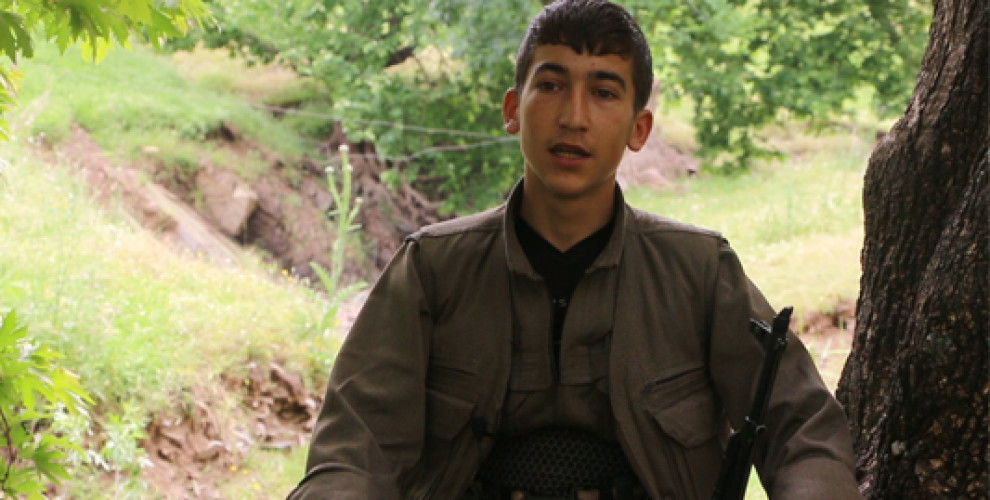 The Martyr Piroz and Martyr Agirî Operation launched by the HPG/YJA-Star guerrillas against the invasion attacks of the Turkish state against Bashurê (southern) Kurdistan continues. HPG/YJA-Star guerillas carry out efective actions against the invading Turkish army in the Lêlikan region of the Bradost area.
One of the guerrillas in the battlefront against the invasion is Egîd Zilan. Egîd is from Van's Erciş district, and is also the nephew of the National Intelligence Organization's (Milli İstihbarat Teşkilatı - MİT) Undersecretary, Turkish special war personnel Hakan Fidan. Egîd joined the HPG in 2015, and before that grew up in YİBO's (Regional Elementary Boarding Schools), schools set up to assimilate Kurds, just like Hakan Fidan.
"The YİBO's produce Hakan Fidan's," said Egîd, and in a trench in Xakurkê in the battlefront against the invasion, spoke to ANF about Hakan Fidan growing up in a YİBO and the story of children attempted to be shaped into "Kurds of the state".
"HAKAN FİDAN ALSO GREW UP IN YİBO'S"
Egîd Zilan stated that there are no alternatives to YİBOs for Kurdish children, and that the families are forced to send their children to these schools: "We and the children around us usually went to YİBOs. So we grew up with the assimilation policies of the Turkish state rather than our own culture. They used violence to assimilate us. But that was only for the Kurdish children, the Turkish children would not be beaten. Because their families would not stand for it. Our families, on the other hand, thought the only way to be 'great people' was to study, and wanted us to stay in school no matter what." Egîd said the people around them always spoke of Hakan Fidan as an example: "They would speak as if Hakan Fidan wasn't responsible for the dozens of massacres they saw every day. We were Kurds, and Hakan Fidan was killing Kurds. I could never understand why my family used this example. Does being a great man mean killing your brother, like Hakan Fidan? But we were children, we couldn't share what happened with anybody and nobody wanted to understand, so we continued to study in the YİBO."
"I JOINED TO SEEK REVENGE FROM PEOPLE LIKE FİDAN"
"One of the most important factors that made me join was the massacring of our people at the hands of conscripted Kurds like Hakan Fidan," said Egîd and continued: "I'm related to Hakan Fidan through my grandfather, who was the brother of his father. So his father was my uncle. There were some in the family who rejected Hakan, and some who supported him."Egîd said he experienced conflict regarding the animosity of the Turkish state against Kurds since he was a child, but his mind was clearer after 2011: "I best understood the animosity against Kurds after 2011 and the earthquake. (TV personality) Müge Anlı's comments that Allah wants Kurds to die is very significant. Why would Allah want to destroy people Allah created? There was serious animosity there. Hundreds of people lost their lives in that earthquake. Every day, the animosity against Kurds would increase."
"WE ARE TAKING GREAT STRIDES IN OUR OPERATION VICTORY"
Egîd Zilan said there are invasion attacks against Bashurê Kurdistan under the supervision of the MİT, and that a great war continues against them: "And we are positioned in this area against the invasion. As the Kurdistan freedom guerillas, we promised to take the Martyr Piroz and Martyr Agirî Operation we started further every day and to victory. We carry out actions as part of the operation and we are fighting to push invaders out of our lands. Actions as part of the operation expand every day, and victory draws closer."