Memories of guerrilla Şîyar Gabar
German guerrilla fighter Jakob Riemer (Şîyar Gabar) lost his life two years ago in a Turkish airstrike on Çarçella in northern Kurdistan. Hêlîn Şîyar remembers him.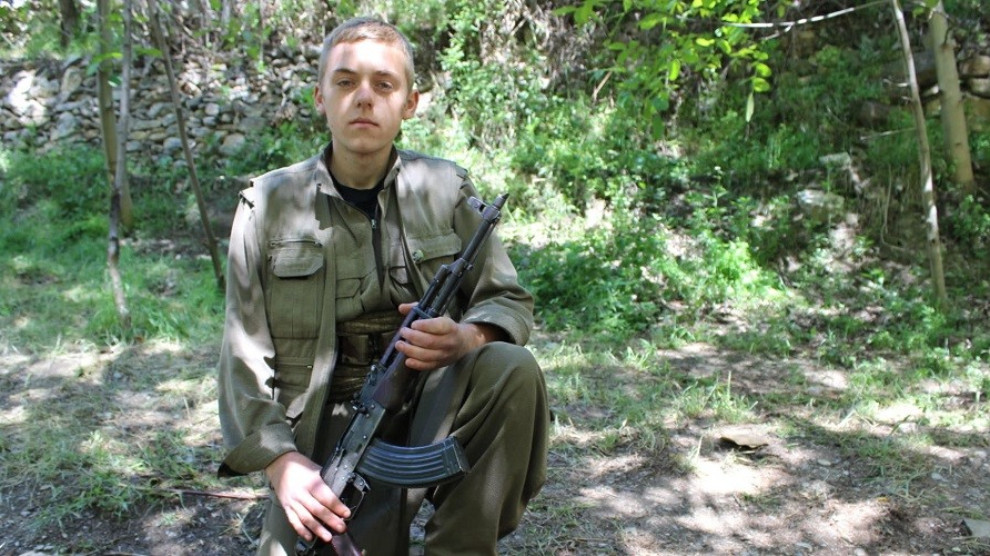 Like all people, Jakob, Şîyar had many facets, many thoughts and so many ideas. He was and will always remain a friend, son, brother and comrade, a footballer and enthusiastic musician, a person for whom whole or not at all was a philosophy of life, a revolutionary.
A revolutionary, who was able to take people along through his enthusiasm and passion. Two years ago this revolutionary and human Jakob Riemer, who took the name Şîyar Gabar during the fight in the name of humanity, died. 
From stories of friends who spent much time in Kurdistan with Şîyar, and from the memories of friends from Germany which experienced Jakob during so many first steps, he was with his rousing and passionate way of approaching to people, able to connect them with each other and bring warmth and motivation into a room. 
In doing so he was direct, expressed his opinion confidently and was not afraid of confrontation. He could not and would not accept how the social conditions are, how people are oppressed and how much injustice there is. He has dealt deeply with theories and analyses, and was always in contact and exchange with different people. He wanted to change something, to make a difference, often just not knew where to start. Until he has made the decision for himself to go in the mountains of Kurdistan. The decision to fully commit to the struggle for freedom and humanity, in this way.
In a conversation with a friend who spent some time in the mountains with Şîyar, he told, that Şîyar loved the life there, that he wanted to understand and learn deeply. As he said, Şîyar quickly learned the Kurdish language and wanted to learn many more, because he thought that you never know where the youth work might bring you. Always was coming up to people when he noticed that the mood is not good, and would sit down with them to discuss.
Here in Germany, too, Jakob was passionate with discussions and wanted to take his opponent with him, he spent hours and hours to convince the person of his ideas. Through his community spirit, his persuasion and his devotion to the revolution a great responsibility was given to him, through his role as commander. This task he has taken on with love for people and a sense of responsibility and full commitment. With his decisiveness, like a friend said, he moved him to deal with himself more intensely and so to develop further.
From conversations, it quickly becomes clear that wherever he went, he made people laugh. So a friend says: "He made us all laugh. He was always laughing, there was always a smile on his face." So I think there would be a smile on his face if he knew how many people who were close to him in his life and beyond that, are still active for a change of the existing social conditions and fighting for a free world and consistently asking the question "How do we want to live?".
To hear how happy his decision made him and how much joy, dedication and passion he had in the struggle for a liberated society is a gift. To know that a loved one stands up for his ideals and fights for what is important to him, for humanity, is a gift and a source of inspiration.
We remember Jakob Riemer, Şîyar Gabar, a revolutionary, who drew from his analyses of the existing conditions and the resulting necessary changes, his own consequences. 
Who, through his unique character and his present manner, left a strong memory for the people he met and through his journey he chose, he changed the lives of many people. Jakob, Şîyar raised the question "How do we want to live?" again and again wherever he was and reminds us with it how important it is to ask ourselves this question again and again and how important it is to draw the fitting conclusions.
RELATED NEWS: