Four martyrs of Raqqa operation laid to rest
BÖG commander Bayraktaroglu, BÖG fighter Kandemir and two YPG fighters who fell martyrs during the Raqqa operation have been laid to rest in Derik city in Rojava's Cizîrê Canton.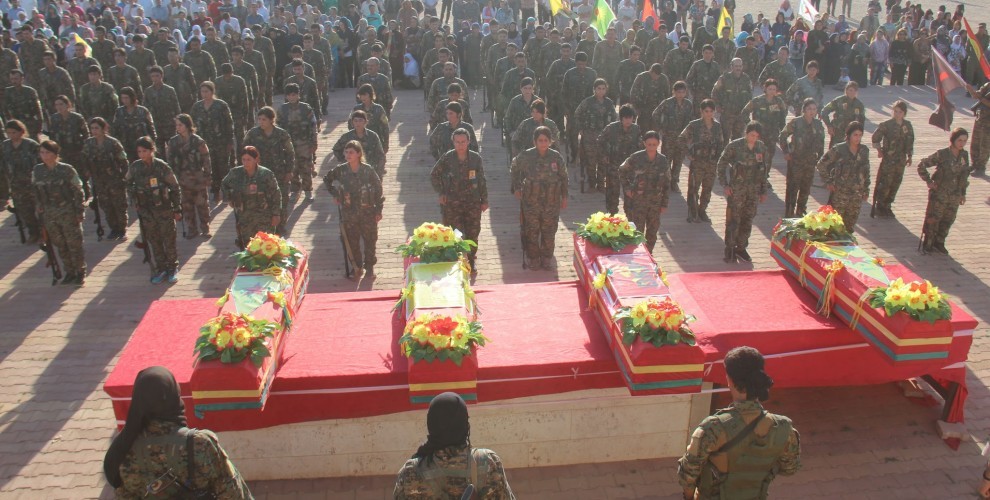 Revolutionary Communars Party/United Freedom Forces (BÖG) Chief Commander Ulaş Bayraktaroğlu, BÖG fighter Muzaffer Kandemir and two members of the YPG who fell martyr during the Raqqa operation have been bid farewell in Derik city in Rojava's Cizîrê Canton.
Hundreds of residents from Dêrik, Girkê Legê and surrounding villages gathered at Dêrik's hospital to receive the coffins of the YPG fighter Elî Mihemed Mizil (Şêr Zagros), BÖG Commander Mehmet Kurnaz (Ulaş Bayraktaroglu), BÖG fighter Muzaffer Kandemir (Dogan Kerîfî) who fell in the ISIS attack on International Freedom Battalion, and YPG fighters Muhammed Mizel (Elişêr Zagros) and Nimet Tûrûg (Baran Cudi). The mass later marched to the Martyr Xebat Derik Cemetery, chanting slogans and holding pictures of Kurdistan's peoples' leader Abdullah Öcalan.
The funeral ceremony was attended by families of martyrs, fighters from BÖG, DKP, MLKP, MLKP/KKÖ, YPG, YPJ, SDG, TKP/ML- TİKKO, THKP-C/MLSPB, International Freedom Battalion, as well as Northern Syria Federation Constituent Assembly Co-presidents Hediye Yûsif and Mensûr Selûm, PYD Co-chair Asya Abdullah, representatives from Cizîrê Canton Autonomous Administration, Institution of Martyrs' Families, political parties and civil society organizations.
Speaking after the military ceremony here, Revolutionary Communars Party Mustafa Suphi offered condolences to the families of martyrs, saying the following; "Rojava Revolution determines the fate of Turkey's peoples as well. If the peoples of Turkey want freedom, we can achieve this together with the Kurdish people and bring down fascism only this way. We will fight for the freedom of the Kurdish people and Turkey's peoples until the end."
Speaking on behalf of MLKP (Marxist Leninist Communist Party), Paramaz Tolhildan commemorated Destan Temmız and Hasan Ali who fell in Raqqa operation on the 4th year anniversary of the Gezi resistance, and vowed to avenge their comrades.
Following speeches, the martyrs' identities were read aloud and handed over to their families and friends, after which they were laid to rest.