Have Russia and Turkey agreed on Idlib and Kurds?
What has come out of the series of meetings between Russia and Turkey in recent weeks? What did Turkey ask for in return for Idlib? What did Ankara, with its deep financial crisis, offer to Russia? What is Russia planning to do?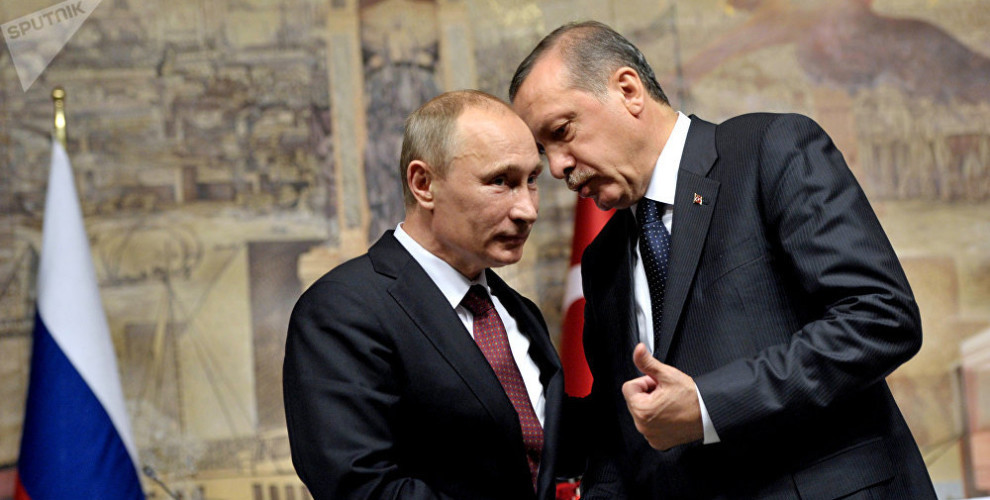 Zeki Bedran, columnist for the Ronahi newspaper in Rojava, pointed out that Russia is looking for new games together with Turkey and analyzed the negotiations centered around Idlib and Rojava.
HAS RUSSIA ACCEPTED THE TURKS' DEMAND FOR "KURDS"?
Bedran said Russia plays the "bad" part in Syria, and that there have been secret negotiations with the Erdoğan regime. He added that, not content with the invasion of Afrin, Turkey demanded an end to the Syrian government's talks with the Kurds: "And, they aim to completely eradicate the Kurds from the West of the Euphrates. Turkey can't actualize these desires without Russia. It seems that Russia has accepted Turkey's demands."
Representatives from the Northern Syrian Federation have been holding official meetings with the Damascus government for a while. Syrian Democratic Council was officially invited to Damascus by the Assad government, and the first official meetings were held by late July.
WHAT DID TURKEY AGREE ON WITH RUSSIA?
Bedran said Turkey didn't like this situation. "Turkey's greatest fear is that the Kurds and forces of democracy will come to an agreement with Damascus," said Bedran and added that the Turkish state doesn't want Kurds to achieve any status in any way:
"The Turkish government meets with Russia on Idlib and the regions they currently have under occupation. Their primary demand from Russia is that Damascus stop meetings with the MSD. Russia will be imposing this on Damascus, it seems that they have agreed on this."
RUSSIA CAN GET ANY CONCESSIONS THEY WANT FROM ERDOĞAN
Bedran said Turkey is stuck and experiencing a severe financial crisis: "The fundamental reason for this crisis is the war they wage against Kurds. Turks have found no peace in the invasion of Afrin!"
Bedran pointed out that Russia is aware of how badly Turkey is stuck: "They are trying to turn that into a great advantage to get more concessions. Right now, Russia could get any concessions they want from Erdoğan."
Bedran said if there is a war in Idlib and Russia actively participates, all of Erdoğan's plans will collapse, and Turkey's expulsion from Syria will be inevitable.
RUSSIA IS A PARTNER TO THE CRIMES IN AFRIN
Bedran poined out that Russia is a partner to the crimes against humanity in Afrin: "This wound has not healed, the Kurdish people will never forget these crimes. The Kurds have never done anything to Russia. There was no animosity. Afrin was peaceful. Russian soldiers were there as well. Russia made a deal with the Turks and left Kurds to face a great massacre and exile."
Bedran said Russia, instead of putting a stop to the ethnic cleansing in Afrin, is trying to be a basis for animosity against Kurds: "Russia has imposed the imposition of the Turks as orders for Damascus. The Damascus administration can't fight these pressures because they are weakened."
ERDOĞAN IN A TOUGH SPOT IN IDLIB
Bedran also pointed out the negotiations over Idlib and said: "Erdoğan is in a very tough spot in Idlib. Çavuşoğlu, Akar and Fidan keep going to Moscow in vain. If Erdoğan lets the gangs go, he wouldn't be able to stay in Syria. If he joins with the gangs completely and fights, he will pay a heavier price. He is even considering leaving NATO and going against the US. All the games they have been playing now come back to haunt them. The way out of this mess won't be easy."
IT IS TIME TO LET THE FREEDOM FLAG FLY
Bedran concluded the article with: "If the peoples, who are the rightful owners of Syria, raise the patriot flag high they can dismantle all these games. Arabs, Kurds, Assyrians and other peoples and the forces of democracy should take action.
Syrians should teach a lesson to these outside fascist invasion forces and those who seek hegemony. It is time to let the flag of freedom, democracy and unity fly high."