German police chief protected MİT spy and Halim Dener's murderer
It has come to light that Hessen Police Chief Sabine Thurau, who protected the exposed Turkish spy Döndü Yazgan, also supported the police officers involved in the murder of Kurdish youth Halim Dener in Germany.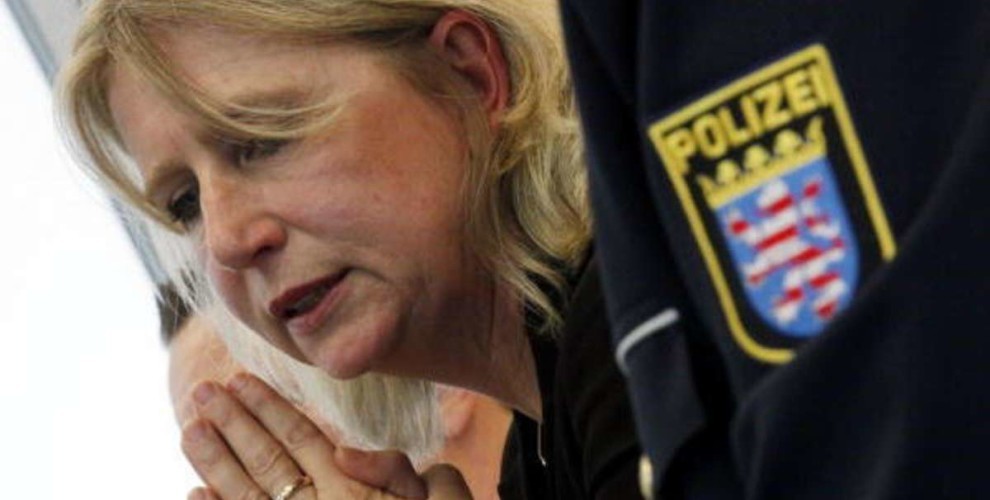 It has come to light that Hessen Police Chief who had pushed reports on Turkish-German Chief Inspector Döndü Yazgan working for the Turkish intelligence agency MİT and allowed her to stay in the clear for a while, also took the police officer who shot Halim Dener, a young Kurdish man, under her wings.
Gangs and factions within the police force in Hessen, Germany has frequently occupied public agenda, and the Frankfurt police was particularly prominent, in that even foreign gangs had infiltrated the Frankfurt police.
In 2011, police units were to raid the Frankfurt Police Headquarters to expose links with the Hells Angels, a group infamous for arms smuggling, drug trade, prostitution and xenophobia. Security units detained 5 chiefs and officers in the operation against the police for ties with the gang.
The target of the press and the public at the time was Hessen Police Chief Sabine Thurau. Thurau had served as the Frankfurt Deputy Police Chief since 2005 and had been promoted to temporarily head the Hessen police in 2010.
Thurau built her own teams within the police during these years, and one of her favorite people was a police officer named Klaus B., who had served in the Hannover special operations units before. By the end of 2011, Sabine Thurau was forced to resign because of crimes of perjury, cronyism and abusing authority and Klaus B.'s true identity was thus revealed.
Former Hessen State Prosecutor Hans Christoph Schaefer announced in 2013 that Klaus B. was the same person as Klaus T., the police officer who shot and killed Kurdish man Halim Dener in 1994. Klaus T. was on duty in the special operations units, and had been sent to Frankfurt specifically so he could act comfortably after he was acquitted by a Hannover court in 1997.
PERJURY TO PROTECT KURD-KILLER KLAUS
The Frankfurter Rundschau newspaper published an article on May 10, 2013 that included the former prosecutor's comments detailing how they protected the murderous police officer: "We brought him to Frankfurt from Hannover so he would be comfortable. For me, the previous incident he was involved with was closed. I never asked him anything about that incident."
The incident was Klaus B.'s misconduct during a work trip to Brazil accompanied by another police officer. The two officers had invoiced 572 Euros for a car they rented during their mission in Brazil to the state, which led to an inquiry.
In the hearing on September 15, 2009, Sabine Thurau protected the officers and made sure they remained on duty. It later came to light that there was another reason why she protected Klaus B.: Sabine Thurau had convinced Klaus B. to give a false statement against another police chief in 2006. Thurau was, in a way, repaying Klaus B. in the court.
ASSASSINATION CHARADE AGAINST KURDS
During her years as Deputy Police Chief in Frankfurt, Sabine Thurau was protecting Klaus B. so much that she organized a raid on the homes of 4 Kurdish people in Giessen, citing a "lead on an assassination against [him] by Kurds". On July 26, 2007, 4 Kurds who were members of the Mesopotamia Cultural Association had their homes raided by special operations police on orders from the Frankfurt prosecutor's office.
The police broke down doors and smashed windows, detaining 4 Kurdish patriots by dragging them on the floors. The Kurds stayed in custody for one day, after which they were released. But it wasn't too long before they were proven innocent. The Frankfurt Court even stated that the assassination allegations were "ridiculous." In 2008, another court ruled that the Kurds in question receive compensation.
RETURNED AS POLICE CHIEF IN 2013
Sabine Thurau was removed from duty in 2011, with such a dirty record. But a Frankfurt court issued a verdict in June 2013 that led to her acquittal. The court said allegations against Thurau were not proven and acquitted her, and she was permanently appointed as the Hessen Police Chief.
Another officer in Sabine Thurau's inner circle was Döndü Yazgan, the Turkish-German Chief Inspector stationed as the Wiesbaden Police Harmony Chief and exposed to have ties with the Turkish intelligence agency MİT. The Welt am Sonntag newspaper did not publish the Turkish-German chief's name, which was obtained by the ANF later on, but wrote that this Turkish-German member of the police force was protected by both Hessen Intelligence Department Chair Robert Schaefer and Hessen State Police Chief Sabine Thurau.
Both names were cited to have tampered with reports prepared by the Hessen State Intelligence Bureau stating that Yazgan is a MİT mole. The reports in question included various documents on Yazgan's ties with the MİT, but Sabine Thurau pushed the report under the rug and demanded Yazgan's acquittal.
Yazgan was presented as the "model immigrant police officer" and a "successful police chief with regard to harmony", and Sabine Thurau's greatest fear was that the responsibility would fall on her shoulders if Yazgan was ever exposed as a MİT agent. Thurau's pressure worked and inspectors from the Interior Ministry prepared a second report on Yazgan. This second record acquitted Yazgan, but the Hessen branch of the domestic intelligence agency Office for the Protection of the Constitution stepped in and made sure Yazgan was removed from duty.
Related News: