Exposed agent of Turkish MİT met with JİTEM member in Bremen
It has been revealed that the German Police Chief  with Turkish backgrounds Döndü Yazgan, who was removed from office following reports of her contacts with the Turkish secret service MİT, met with JİTEM member Abdullah Ağar in Bremen in recent past.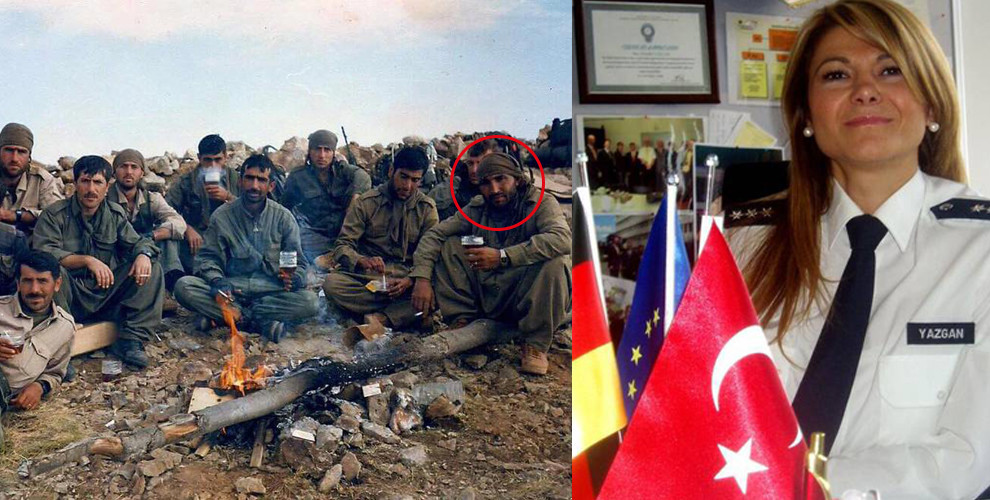 The Welt am Sonntag newspaper in Germany published an article on July 30 about a Turkish-German police chief stationed in the state of Hessen frequently meeting with MİT agents and that the chief in question had since been removed from duty.
A following article by ANF unveiled the name of this Police Chief as Döndü Yazgan and the fact that she had been in charge of the "Integration Police" in the city of Wiesbaden most recently.
It came out that Yazgan met with Abdullah Ağar, a known member of the infamous Turkish JİTEM, one week before "Welt am Sonntag" published the details concerning her investigation and her identity got exposed. The JİTEM (Gendarmerie Intelligence and Anti-Terror Unit) of the Turkish state became notorious for its brutal murders and mass kidnappings of Kurdish civilians during the nineties.
The meeting between Yazgan and Ağar took place on 22 July, Saturday between 18 to 20 o'clock in Bremen. Sources in Bremen who provided the ANF with critical information stated that Yazgan took part at the meeting together with two children, and that she was told by Ağar: "You are a priceless person for us. You have accomplished enormously vital missions."
It gives rise to thought why Ağar came to Germany, and it grabs attention that he gave an interview to the German section of the Russian TV channel RT on the 24th July. The moderator who interviewed Abdullah Ağar is a correspondent for Berlin based RT, Ali Özkök who is affiliated with Erdoğan's AKP.
Abdullah Ağar, who represents himself as a "Security Expert" was years long active in Northern Kurdistan under the roof of the JITEM and special forces of the Turkish state. Some time ago he posted on social media a photograph depicting himself as a team member of the Major General Aydoğan Aydın. A helicopter carrying Aydoğan Aydın and other ranked officers was downed by the People's Defense Forces (HPG) in Şırnak countryside on May 31, 2017.
CLAIMS THAT YAZGAN WAS GIVEN TIME TO DEFEND HERSELF
After the article published in the ANF, the AKP loyal website "Ehemedya" stated that if Yazgan can prove her innocence, she will be cleared of all charges and return to her previous job.
YAZGAN WENT TO ANKARA ON A REGULAR BASIS
Döndü Yazgan, who has worked in the police force of Germany for years, went several times to Turkey's capital Ankara. According to the archives of the Turkish media, Yazgan went to Ankara some twice a year the last 10 years long. A news article by Turkish daily Hürriyet, dated 6 April 2006, states that "Turkish police chief Döndü Yazgan in charge of German Criminal Police Unit, has arrived in Ankara for a research on Turkish police's methods of fight against crimes and criminals.
Wiesbaden Police Harmony Chief Döndü Yazgan had a tight relationship with the AKP regime in recent years. One of AKP's flagship newspapers, the Sabah, frequently published praising articles on Yazgan, who was also an important personnel for the Union of European Turkish Democrats (UETD) and DİTİB, two of the Erdoğan regime's institutions in Germany.
Police Chief Yazgan acted as a bridge for the joint projects the Turkish and German police carry out. Most recently, Yazgan led the joint efforts between Mainz and Wiesbaden police and the Turkish police in December 2016.
She acted as the moderator in a workshop titled "Together for security" on December 9, 2016, and Security Affairs Directorate Foreign Relations Vice Chair İlyas Özgentürk, Public Security Branch Vice Chair Raşit Poyraz, Siirt Community Policing Director Mustafa Durmaz and Çankaya District Police Chief Rüstem Özbek attended the workshop.
Döndü Yazgan was born in Ankara, and moved to Germany when she was very young. Her career in the German police began in 1994. After she invited Turkish security units to visit Germany in December last year, German intelligence launched an extended security investigation on Yazgan. The report prepared after the investigation pointed to Yazgan's relationship with the MİT agents in Germany.