Emine Şenyaşar tells how her husband and two sons were killed
Mother Emine Şenyaşar whose sons were murdered by AKP members told how her husband was also killed in front of her eyes.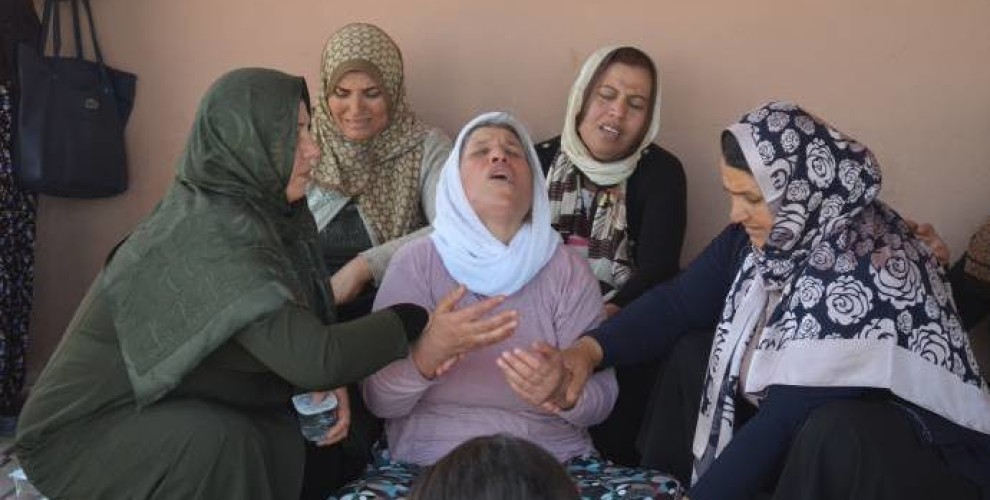 Emine Şenyaşar spoke to Jinnews reporter Safiye Alagaş about how her sons Adil and Celal and husband Hacı Esvet Şenyaşar were killed in Suruç, Urfa by the relatives of AKP MP İbrahim Halil Yıldız.
"THEY HARASSED MY SON TWO DAYS AGO AS WELL"
Emine Şenyaşar who witnessed Hacı Esvet Şenyaşar being attacked and shot in the head by the relatives of the AKP MP when he went to the Suruç Public Hospital to see his wounded sons said the issue goes back to two days before the incident.
Emine Şenyaşar said: "My son said 'I am a Kurd, I will vote for the Kurds. You know we won't vote for anybody but the HDP.' They (the AKP members) went to the shop again and virtually harassed my son. My son had said those people were trouble and he didn't open the shop for two days. The third day, it was the eve of Eid, he did go and open the shop. So the men came with their guns and committed this massacre."
SPEAKING ABOUT HOW HER HUSBAND WAS MURDERED
Emine Şenyaşar said AKP MP Yıldız's relatives attacked her and her husband as soon as they entered the hospital to check on their sons and added the following on how her husband was lynched: "As soon as we entered the hospital, 20 men surrounded him. They hit him on the head with the metal rod used to hang IV bags. He was covered in blood. I tried to take him away, I went right, I went left, but I couldn't do anything, I couldn't save him. The police left the area. They went outside the hospital. There was only one officer left waiting there. I went to that police officer and said 'What kind of a government are you, they are killing the man, go save him.' He didn't budge. I shook him, I said, 'What kind of a state are you, they are killing him' The police officer didn't move, he didn't speak. My husband was lynched and then shot in the head. I would recognize the man who shot him if I see him. After this I blacked out, one of my son's friends came and took me away. I don't remember how I left the area. I saw how my husband was lynched and murdered. I don't remember much after that. There was a man who kept saying 'I will definitely kill you', he didn't let go. That man had short hair and a round face. I can identify him even with a photograph."
Emine Şenyaşar said all the cameras in the hospital were broken and taken down by the men, and that her son Celal had severe wounds while her son Adil's wounds were lighter.
"THESE ARE CRUEL MEN, THESE MEN HARASS WOMEN"
Emine Şenyaşar said, "These are cruel men. These men harass women. These are the men who wish to harm the honor of the women of Suruç. These are the men who harass the women by their words and their eyes. Everybody knows this. We lost 3 lives with no crime or reason."
Emine Şenyaşar protested the arrest of her son Fadil who had been receiving treatment in the hospital and said, "I just buried 3 men, and now they arrested my son."