Emekçi: Isolation can be broken with a democratic understanding
Emran Emekçi, one of the lawyers of the Asrın Law Office, which have been unable to meet with their client, Kurdish people's leader Abdullah Öcalan since 7 August 2019, evaluated the systematic Imrali isolation and hunger strikes to ANF.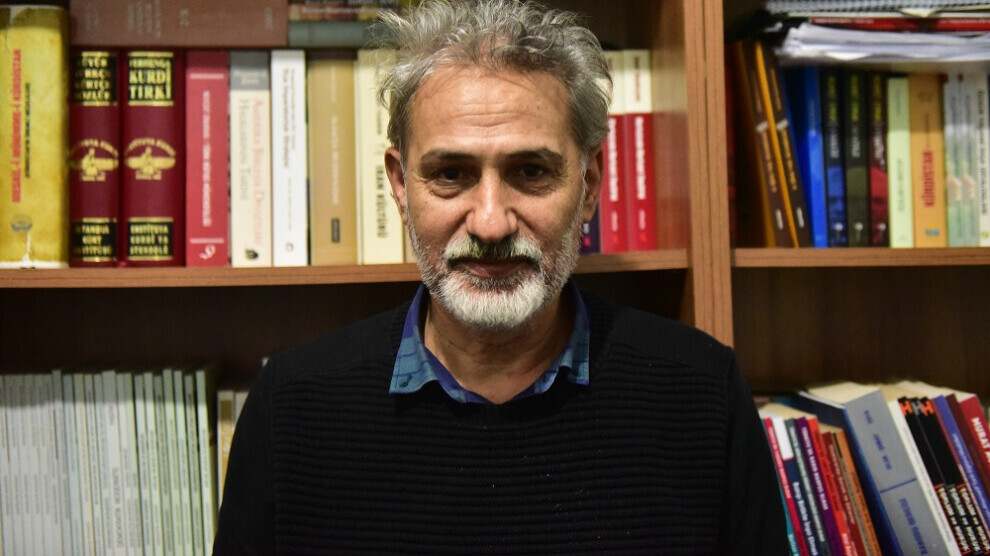 Emphasizing that the Imrali isolation is seen as a political battlefield, Emekçi stated that in this respect, the prison island was designed outside the international law and tested as a Pro-Guantanamo system. Emekçi said that this system, which follows a US model and was tried in Imrali before Guantanamo Prison, aims to break the opposition will and pull it into its own ranks through isolation and pressure.
Emekçi said that 21 years have passed and yet the state has not been successful in these experiments. He noted that on the contrary, the democratic and freedom line represented by their client, Öcalan, who developed its defense of the Democracy Modernity against Capitalist Modernity, has achieved a stronger ideological recognition as to how to break the isolation and conspiracies. Pointing out that the absolute isolation is deepening today because the state could not achieve the surrender of the will [of Öcalan], Emekçi pointed out that with this isolation what is applied is the logic going like this: "If we could not break his will, then let's prevent his ideas from reaching the outside world through total isolation." This, the lawyer said, is "a kind of post-modern form of execution."
Emekçi pointed out that the idea of the Imrali isolation, implemented by the hegemony of the capitalist nation-states of Turkey and the Middle East has actually been spoiled. In fact, it has proved that the divide and rule models failed. Stating that these powers wanted a Middle East model where Öcalan's ideas were not reflected, Emekçi said that this means that they want to maintain a system that dominates not only oil fields but also societies in the Middle East.
Emekçi said that anyone who goes beyond this system established by the sovereigns or creates different perspectives is subjected to isolation or conspiracy. Emekçi stated that this system can also be defined as the exception regime.
Underlining that this isolation system cannot be supported by any law, Emekçi reminded that neither national nor international law is applied in Imrali. Explaining that visits with his clients were prevented by making unlawful excuses, Emekçi said: "In previous years, justifications such as 'bad weather, bad coaster' were put forward to prevent visits by lawyers and family. Now they use disciplinary penalties every 6 months, in particular after the 15 July [2016] coup attempt. While the ban on lawyers is based on the grounds of the solitary confinement imposed on our client, Mr. Öcalan, between 2006 and 2009, the family visits have been banned for arbitrary reasons. Moreover, these disciplinary penalties are notified not to us, the lawyers, but to our clients inside. We can only reach court decisions after the sentences are finalized. In other words, as lawyers, we are deliberately excluded from disciplinary investigations. There is a kind of legal isolation in this regard."
Emekçi also evaluated the indefinite and alternating hunger strikes going on in prisons demanding the end of isolation and said that the isolation, which is a systemic problem, cannot be broken by hunger strikes. "We remember that during the hunger strike held in 2018-2019 under the leadership of DTK co-chair Leyla Güven, Mr. Öcalan has stated, the isolation cannot be broken by hunger strikes. Because the systemic isolation will only be broken by the fulfilment of political duties, the organization of millions, and the prevailing in the country of a democratic understanding and culture. The third way will happen when the HDP and democracy bloc, will come to power. Because the current mentality of power can only exist through isolation."
Indeed, pointing out that the Imrali isolation system has spread to all prisons and all areas of life, Emekçi emphasized that this total isolation can also be broken by organizing and developing the democracy block. Emekçi said that this will only be possible by filling the gap through the democracy block. "If creative and practical policies cannot be produced in an environment where there are a number of social problems, this is a problem. This is like putting the whole onus on Mr. Öcalan. However, if everyone plays his role, then there would be no need for isolation."
Stating that they are continuing the legal struggle despite all obstacles, Emekçi added that they regularly submit their reports to the CPT (Committee for the Prevention of Torture), and at the same time, they continue the initiatives regarding the 2014 decision of the European Court of Human Rights (ECHR) on Öcalan.
Recalling the ECtHR decision, Emekçi said: "You know, in the March 2014 decision of the ECtHR, Mr. Öcalan can be sentenced to a maximum of 25 years. 25 years expire in 2024. We are trying to accelerate this work with continuous requests and reports from the Committee of Ministers, but unfortunately, despite 6 years passed since that decision, a recommendation for the implementation of the ECtHR decision has not been issued yet. In other words, it is not only about breaking isolation but also about achieving freedom. "It is necessary to break the isolation and ensure freedom."