Civilians fleeing Afrin: Nobody has security any more
R.Ş. and C.E. who had to flee Afrin after the invasion by the Turkish state and their allied gangs say nobody has security in Afrin anymore.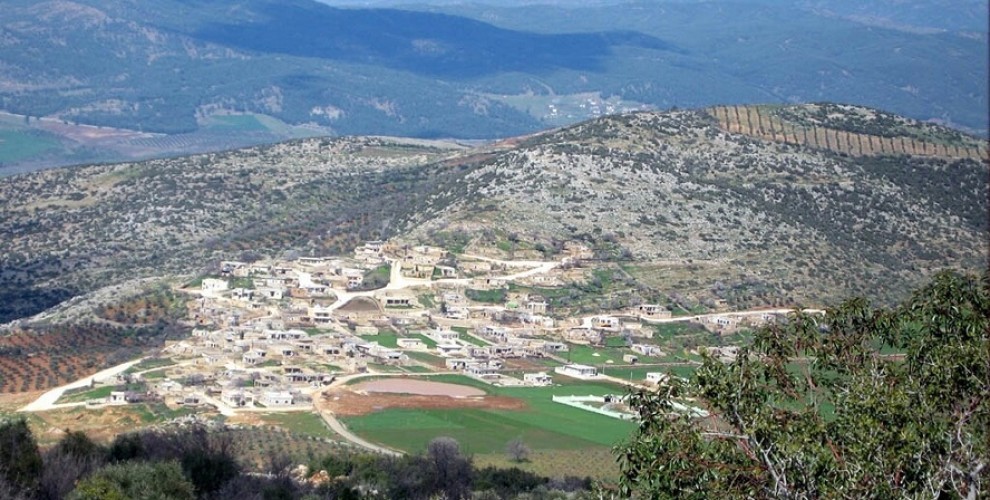 The inhumane practices of the Turkish state and their allied gangs in Afrin know no bounds. People of Afrin who remained in Afrin city center and the villages are being forced to flee due to the robbery, torture, harassment by the Turkish state and their allied gangs. Citizens R.Ş. and C.E., two of dozens of people who are forced to flee every day, spoke to the ANF about the oppression and torture they faced. R.Ş. and C.E. had fled to Shehba after the invasion of Afrin, and had returned since, but they were forced to flee Afrin again.
R.Ş. said the gangs torture people as they wish and added: "After we went to Shehba, people phoned us and said there was nothing wrong back in Afrin, so we returned. But when we got there we saw that it was nothing like the people said. You can't leave the house. There are no jobs, and even if you find work, as soon as you have a bit of money they just come at night and take it."
NOBODY IS SAFE IN AFRIN
R.Ş. said nobody is safe in Afrin any more and that people are afraid to leave their homes. Women in particular can't leave their homes for fear of verbal and physical abuse: "Kurdish youth are also afraid to go out. If they do, they are immediately taken away for being YPG members. Gangs torture them and then hold them for ransom. I saw this with my own eyes. They captured a young man on our street. They said he worked with YPG and took him away. They held him for 11-12 days, when he returned he was a mess. His family had to get him treatment for days. Whoever phones people and tells them Afrin is safe is lying. I couldn't stay for 3 days. I was desperate to find a way out, the only way I managed to leave was by bribing gangs."
TAKING PEOPLE'S HOMES BY FORCE
R.Ş. said the gangs fight among each other almost every night: "They all shoot each other for robbery and looting. I took the wheels off of my car so it wouldn't be stolen, but I kept watch nonetheless. They took my home, my shop, everything. I only had my car left, I would have absolutely nothing if they took that too.
They take people's homes by force. They come and ask if the house is yours, and if the deed is not in your name they remove you, then sell off everything in the house. After they sell everything, they give the house itself to one of their own."
TURKISH STATE PRESSURES GANGS TO GO TO QANDIL
R.Ş. said the Turkish state offers $800 a month to gang members to go to Qandil: "One gang member refused, so they got rid of him. The man was addicted to drugs. When he had nothing left, he entered Kurds' homes and stole things to sell. He stole fridges, washing machines, even stuff in their packaging that newly weds bought. One day I protested, and he said the Turks cut him off, telling him to either go to Qandil or be without a salary and be sent home. Some gang members said they would go because at first they didn't know how it was in Qandil. Later when they found out that Qandil is not like they were told, some of them changed their minds. Those who agreed to go were trained in the military base in Qibarê."
TURKISH STATE SETS FORESTS ON FIRE
"20 days ago I saw online that the Avesta Xabur Martyrs' Cemetery was torn down," said R.Ş.: "At first I couldn't believe it, but one day we passed by with a friend on a motorcycle. They tore it all down. They dug it out. They say YPG has hidden money in graves and that's why they dig." R.Ş. said one of his neighbors was taken for "aiding YPG" and tortured for 20 days: "Another neighbor's wife was sick, and they couldn't even take her to the hospital because the gangs confiscated the money their relatives in Europe sent."
R.Ş. said trees in the Hawar Mountain and the Ster village have been set on fire by the Turkish state and their allied gangs: "The fire didn't stop for 8 days. They set 4 spots on fire in the Hemam Mountain. The gangs confiscated all shops in the Afrin bazaar. Gangs from Ghouta and other places are using the people's shops. When you want to visit a village, you have to pay and get a document. There are gangs along the way, and they all ask for more money."
ENKS' PLANS OVER AFRIN FAILED
R.Ş. said the gangs prepare ID papers with Turkish writing on them and seal them with a FSA stamp in the checkpoints: "If you don't have the Turkish ID, you can't get anything. The Kurds are constantly harassed verbally and physically. I never took any papers from them. If you have the ID you can enter and exit Afrin. All Kurds are stuck in Afrin because they have no money. The gangs refuse to do anything for free."
R.Ş. said ENKS is also present in Afrin and concluded his words: "At first the ENKS had a say. But now they're just there on paper. The ENKS members said once YPG leaves they would be better, but that's not what happened. Now they regret it. They say they will accept anything if the YPG returns. Many of them fled to Turkey and Europe. All the ENKS' plans failed. Now they can't run fast enough."
HARD TO SPEAK ABOUT THE TORTURE
C.E. was held by the gangs for 52 days and has trouble speaking about his experience: "When we first went, FSA gangs stopped us. They took 10.000 Syrian Liras from each of us. When we got to Afrin they arrested me. They tortured and insulted us. They asked me if I knew how to pray, and when I said I didn't they tortured me. They called us infidels."
C.E. was released after 10 days, but was taken again before he made it to Jindirese: "They blindfolded me. I don't know where they took me. 20 days later, somebody came and told me I was working with the YPG. I said I have nothing to do with it. They tortured us in all kinds of ways.
We ate their scraps. Then they put me in a solitary cell. I stayed in that cell for 52 days. They didn't let me talk to anybody. So many things happened to us. I can't talk about some of it. It weighs heavy on me. If you don't have money, you can't survive in Afrin. Every few days they come, they torture you, and they leave. I saw that it would get worse if I stayed in Afrin, so I had to flee."