Burial of Aysel Tuğluk's mother hindered by racist attacks
HDP Deputy Co-chair Aysel Tugluk has been brought from prison to the funeral of her mother in Ankara in a high security prisoner transfer vehicle. The funeral has been hindered by racist attacks and she will be buried in Dersim tomorrow.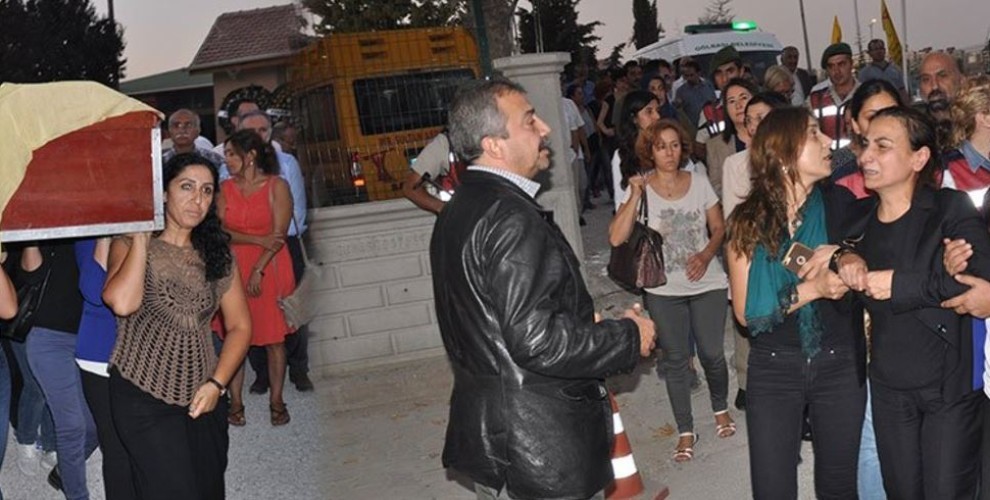 Mother of Deputy Co-chair of Peoples Democratic Party (HDP), Aysel Tuğluk, who is jailed in Kandıra Prison, passed away Wednesday night. Tuğluk's request to join the funeral was accepted by the prison administration which gave her 2 days permission to attend the ceremony.  She was received by the people waiting for her in front of the prison, and they proceeded with the ceremony.
Among the many HDP parliamentarians that attended the funeral were HDP spokesperson Osman Baydemir, HDP Kars parliamentarian Ayhan Bilgen, Women's Assembly Spokesperson Besime Konca and Mardin Co-mayor Ahmet Türk. Members of Ankara Women's Platform, Free Women's Movement (TJA) members, Democratic Regions' Party (DBP) Co-mayors, HDP Ankara representatives, Alevi institutions and members of civil society organisations also joined the funeral.
HER COFFIN WAS CARRIED BY WOMEN
After the ceremony in the Ergazi Pir Sultan Cemevi (Alevi place of worship) in Ankara's Batıkent district, the body of Hatun Tuğluk was taken to the cemetery in Ankara's İncek neighborhood for burial. Hatun Tuğluk's coffin was carried by the women to the cemetery to which Aysel Tuğluk was transported separately from the mass.
The picture of Tuğluk being transported in a high security prisoner transfer vehicle during the funeral of her mother offered a very outstanding picture.
ATTACK ON THE FUNERAL
At the time of the burial, a group of fascists chanted slogans as "You will not bury her here" and attempted to attack the persons that joined the funeral. The attackers vandalized also the surrounding grave stones and were notably not stopped by the police.
After the attacks intensified too much, the burial was stopped, and the body of Hatun Tuğluk was returned to the Cemevi. Amid the attacks, the family decided to lay her to rest tomorrow in Dersim, and works started to transfer her body there.
In the meantime, it is reported that Turkish Interior Minister Süleyman Soylu called the HDP deputies and asked them to not take the body to Dersim and bury in the same cemetery of Ankara tomorrow.
The funeral convoy was therewith intercepted by the police on the minister's instruction and is kept waiting, still in İncek, Ankara now.