Aydar: Pekin's confession is serious, Europe should take it seriously
KCK Executive Council member Zübeyir Aydar said confessions of İsmail Hakkı Pekin, former Head of the General Staff Intelligence Department, regarding the Paris killings and his call for new assassinations are serious.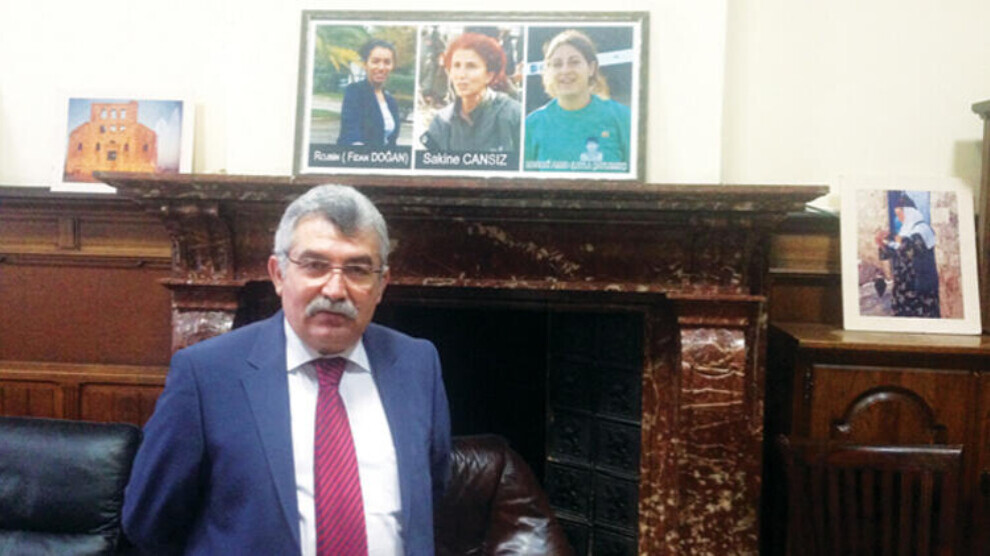 In a television broadcast aired on CNN-Türk on February 16, the former head of the General Staff's Intelligence Department, Ismail Hakkı Pekin, admitted that the Paris killings on January 9, 2013, were an operation by the Turkish state. On January 9, 2013, a hitman had murdered three Kurdish revolutionaries; Kurdistan Workers' Party (PKK) founding member Sakine Cansız, Kurdistan National Congress (KNK) Paris representative Fidan Doğan and Kurdish youth movement member Leyla Şaylemez. All traces pointed to the Turkish secret service MIT.
Regarding the Turkish military operation in the Gare region in the Medya Defense Zones, he said there must be targeted liquidations of KCK leaders in Iraq, Syria and Europe. "They also have their elements in Europe," he said and added, "We have to do something in this direction in Europe. I mean, it was already done once in Paris, but yes..."
Kurdistan Communities Union (KCK) Executive Council member Zübeyir Aydar spoke to ANF about the confessions of Pekin and pointed out that, "İsmail Hakkı Pekin is not an ordinary person, he is the former Head of the General Staff Intelligence Department."
Aydar noted, "After his retirement, Pekin has become active in politics and public life. He knows everything very clearly about the activities of the deep state. His statements are important."
FIRST, IT IS A CONFESSION!
Pointing out the importance of Pekin's remarks in two aspects, Aydar said:
"First, he made this confession about the Paris killings as a top intelligence officer. He let a secret out, it's important to confess it. This is not the first time that the Turkish authorities confess it. There are already official documents. Previously, during its conflict with the ruling Justice and Development Party (AKP), the Gülen Movement released voice recordings and documents of the Community (Cemaat) and the National Intelligence Organization (MIT). Later, Turkish President Recep Tayyip Erdogan blamed the Gülen Movement in both Urfa and Ağrı during a 2014 election campaign. The confession of İsmail Hakkı Pekin also exposes the Turkish state's policy of assassination."
At the election rally in Urfa in March 2014, Erdogan had pointed to his former partner, the Gülen Movement and said, "First, they sabotaged the Oslo Process, then they wanted to arrest the head of the MIT. They also carried out some assassinations in Paris."
The investigation carried out in Paris and the information and documents included in the indictment, pointed to Ankara. The voice recordings, top secret documents bearing the signatures of MIT administrators, secret phone calls, Turkey visits of the murderer, the statements of the MIT officials captured by the PKK and many other evidences indicate that the massacre was organized by Ankara.
SECOND, IT IS A THREAT
Aydar said the following on the second important aspect of the confession:
"Pekin says that there are KCK elements and executives in Europe and that they should be dealt with. This is a confession and a threat. This is not just a personal statement of Pekin, he is one of those people who mentor for the deep state."
'IT IS IMPORTANT, WE TAKE IT SERIOUSLY'
Aydar continued as follows:
"We will position ourselves accordingly. We will take measures. There are assassination activities carried out by the Turkish state in these areas for a long time. There are elements emerging in Germany, Belgium, France. There are assassination attempts against people, including me. There are investigations in this direction. There were some lawsuits in Germany, some stood trial. There are still ongoing investigations in Belgium and France. There is a far-reaching case file in Belgium on this issue."
In June 2017, Belgian police stopped three suspects in a vehicle in line with information provided by Kurdish organizations. This incident led to the resumption of the investigation in Paris. Because the three people in the vehicle were planning the assassination of KONGRA GEL Co-chair Remzi Kartal. One of the suspects was a former Turkish soldier. Another one showed his Turkish police ID. According to information obtained from sources close to the investigation, these two people stayed in Paris with four people of Turkish origin since June 16. One of them is said to be a sniper. According to Kurdish sources, the Belgian police suspect that a senior Turkish diplomat in Paris was coordinating these activities. Belgian authorities launched an investigation, but the file contains a confidentiality order."
ASSASSINATION ATTEMPTS SINCE 2011
Reminding that the assassination attempts are not new, Aydar said, "They started in 2011 and they have been continuing to this day. It is important for us that it has been admitted by such a figure, we are taking the necessary precautions."
IMPACT ON THE PARIS CASE
Aydar stated that Pekin's confession should also have an impact on the case of three Kurdish women revolutionaries murdered in Paris.
"The Turkish state has overtly committed murder in Paris. The state carried out assassinations and terrorized Paris. Turkey is in fact a terrorist state," he noted.
Aydar stressed that French judicial authorities should deal with the case, saying,"A murder case has to be opened against Turkey in France. This is not just the job of a hitman like Ömer Güney. The people in Ankara who gave the order must be brought before the court. We expect the French judicial authorities to focus on it more seriously. It's not a one-person incident. It is an Ankara-based murder organized by the MIT, it was committed in the center of Paris. The Turkish state and its administrators at that time are responsible."