Êzidî girls rescued by YPJ/YJŞ in Raqqa speak of ISIS barbarity
10 years old Sûheyîle Daxil, 15 years old Hecî Xelef and her sister Heyam Xalid Xelef who have been rescued by YPJ and YJŞ in Raqqa, spoke of the barbarity of ISIS and said: "If it wasn't for the comrades, not one single Êzidî would be alive today."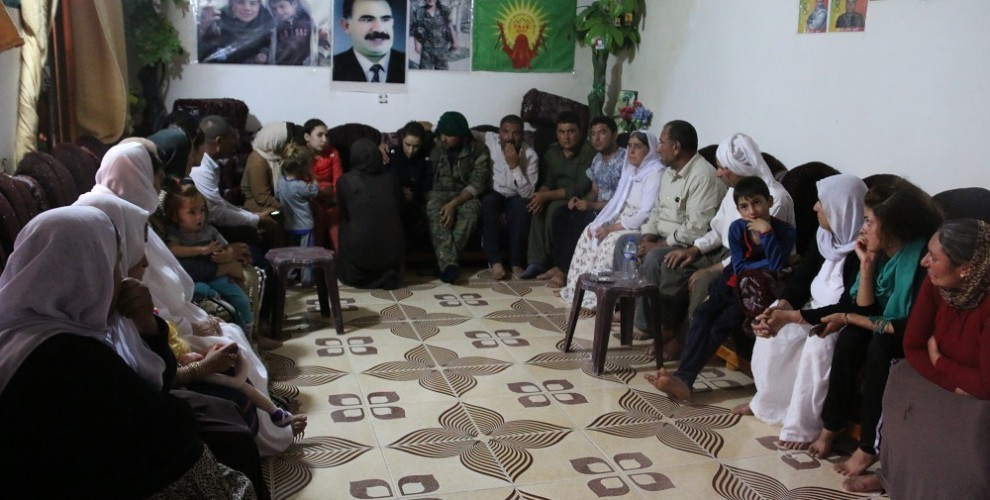 The operation to liberate Raqqa launched by the Syrian Democratic Forces (SDF) with a vital role played by the Women's Defense Units (YPJ) and Shengal Women's Unit (YJŞ), is on a triumphant roll.
Besides the liberation of countless areas of Raqqa, also thousands of civilians have been rescued until now from the clutches of the ISIS gangs, among whom were many Êzidî children and women that had been abducted from Shengal by ISIS in 2013.
One of those children is ten years old Sûheyîle Daxil from the village Werdiyê. After being taken to home in Mount Shengal following her rescue, Daxil told ANF about the fate that she faced:
"THEY HAVE TORN MY WHOLE FAMILY APART"
"When the ISIS gangs swept over our village, we hid ourselves inside the stable. The ISIS gangs stormed our home and took my father with them, calling on us to open the door for them on their return. Our family consisted of nine persons, four sisters and three brothers. They have torn my whole family apart. After some time, my father and one of my brothers managed to escape. When airstrikes were launched on the ISIS gangs, one of my brothers got killed there, too. At the moment my mother, one brother and all my three sisters are in the hands of those savages. To be frank, as a child I was subject to great hardship. I was bought by a man, and forced to serve for his wife and children. How much I missed my family. I cried every day, I lost hope to ever become free and return to Shengal. Of course, I am happy beyond words to have come back to my birthplace. But my mother, brother and sisters are still hostages of those barbarians. I hope that also they will be freed as soon as possible."
The little girl Sûheyîle Daxil ended with these words: "I thank the comrades from my heart for having rescued us. If it wasn't for them, I would have never become free. As long as I live will I never forget their efforts. Now I am back in Shengal, among my friends."
"THEY REMINDED US OF THE FLIGHT OF THE PESHMERGA AND LAUGHED AT US"
Xalide Hecî Xelef, a girl of 15 years from the village Dîgurê gave the following account of what horrors she was put through:
"It was 5 o'clock in the morning, ISIS had arrived. Some said that they were abducting young girls. Thereupon my father took us all to the safety of the mountain. But some people assured us, that the gangs would not lift a finger on us. And so did we return once again to the village. The ISIS gangs loaded us on trucks and drove us away to the west. Later they shot at us and we threw ourselves on the ground. One women raised her head and cried: 'They have taken all men'. After a while I was united with my brother again, whom I asked about our father's whereabouts, but he only replied: 'I have no idea. They blindfolded us all. I do not know where they have taken father'. Then they came. They picked the most beautiful girls first and dragged them away. At the end, we were seven girls still there, and they put also us on a van, taking us with them. I was together with my sister at that time. They understood that we are sisters and took me out of the car. I cried: 'I do not want to be separated from my sister'. But they left and came back later for me. A 30 years old man from Saudi Arabia bought me and took me with him. Just one day before our rescue he bought also my sister. It was a horror beyond comparison, there was nothing left that they did not do to us. They raped our eight years old children, played with our honour. It left deep scars on my psychology. Those barbarians assaulted us, wanted to break our honour. They said to us: 'You are infidels, the Peshmerga has sold you out' and they laughed at us. They said, 'You are nothing more than trading goods'."
Xalîde Hecî Xelef stressed at the end: "First of all I express my gratitude to all comrades for rescuing us. The comrades have freed some time ago also my mother and two of my sisters. If it wasn't for the comrades, we would never had been freed. As an Êzidî girl, I will remember their commitment, as long as I am."
"IF IT WASN'T FOR THE COMRADES, NOT ONE ÊZIDÎ WOULD EXIST TODAY"
Xalîde's sister Heyam Xalid Xelef, who was also rescued by the YPJ and YJŞ fighters, told us about the happenings she had to undergo: "When they came for us, they separated me from the rest of my family. I cried and said: 'I will not leave my mother's side'. But they dragged me away by force and I could not help but cry on and on. A man bought me and took me with him to Raqqa to his home. They called him Ebu Isa. He was married and had a daughter. His wife put me through big hardship and I told him that I could not endure it there. After some time, he took me to another house. When he went out for a while I was left all alone and the loneliness filled my heart with fear as I was yet very small, and when he was present I dreaded him much. One day he said to me he would go to battle. After some time several other persons arrived telling me that he had been killed. I did not shed one tear but once again I was overwhelmed with fear. I just thought what they would do this time to me. But it was great luck that the same man was standing there in front of me, who had also bought my sister and as a matter of fact he took me to his home where I was reunited with her. That was indeed a fortunate coincidence. The next day the comrades came and rescued us from the hands of these savages. There are no words for what we have been subject to. Especially because I was yet at small age, it was extremely difficult for me. They treated us like barbarians, they did not hold back even at very small children. In particular women and small girls suffered the most."
Heyam Xalid Xelef said at the end: "Because I was put through so much arduousness at such a small age by the ISIS gangs, I still cannot believe to have been freed now. I am enormously relieved, I do not know what to say. I thank the comrades. If it wasn't for the comrades, not one single Êzidî would have survived."
"WE AREN'T THE ÊZIDÎS OF THE OLD TIMES"
Speaking on behalf of the family the aunt of the sisters Xalîde and Heyam Xirdir Xelef,  Xezal Xelef said: "I am immensely happy that both daughters of my brother have been rescued. This had been a dream for me. We, the women of the Êzidî community have faced unspeakable horrors and pain by the ISIS gangs. The biggest price of this 73rd genocide was paid by our girls and women. We still cannot reach countless of our girls and women who were abducted. The reason why we suffered so much, was because we had not organised ourselves like today. But we have learned from it. Now the Êzidî community and in particular our women have organised themselves to highest degree, to put a final end to these massacres. Everyone shall be well aware of the fact that we are not anymore the same, like we had been before. We have organised ourselves in all aspects, because no one can attack an organised society."
Xezal Xidir said at the end: "We express our gratitude to all comrades for having freed these children. To save us, they have paid a high tribute. As long as we live we will march on the path of the martyrs, because they have shed their own blood for us and have protected us."
"WE WILL NOT LEAVE OUR DEFENSE TO OTHERS"
Speaking on behalf of the Shengal Democratic Autonomy Council, Xidir Hamo stated: "We are filled with great happiness and bliss to welcome these children of us once again into our arms. Because our eyes rest every day on new freed captives to arrive here safe and sound. The suffering of the Êzidî community is immense. But a society that has no defence, will consequently always fall victims to all sorts of attacks. Because we were a society without any defence, and those who had vowed to protect us ran away ahead of us all shortly before the genocide happened. The day will come that they will be brought to justice. And they shall know very well that we are not anymore the same, like at the time they fooled us asserting to be the defenders of Shengal. Yes, we have paid a high price, but today we are awakened and have come to understand that we need to organise ourselves. We will not leave our defense to anyone else."
Hamo ended his statement with the following words: "We thank the comrades and all those who welcomed the children from our hearts. We thank especially the fighters who are right now engaged in the operation to liberate Raqqa. One unit consisting entirely of our Êzidî girls is taking active part in this resistance in Raqqa. I wish success and victory for all. Time has come for us to prevail."
The rescued children were taken to their families by the Free Êzidî Women's Movement and the Shengal Democratic Autonomy Council.