HPG: 16 soldiers killed, one helicopter damaged in guerrilla actions
The guerrillas are putting up fierce resistance to the Turkish army's operation in the Zap region of Medya Defense Zones in southern Kurdistan. According to the HPG, 14 soldiers were killed in Zap, and two more soldiers were killed in Metîna.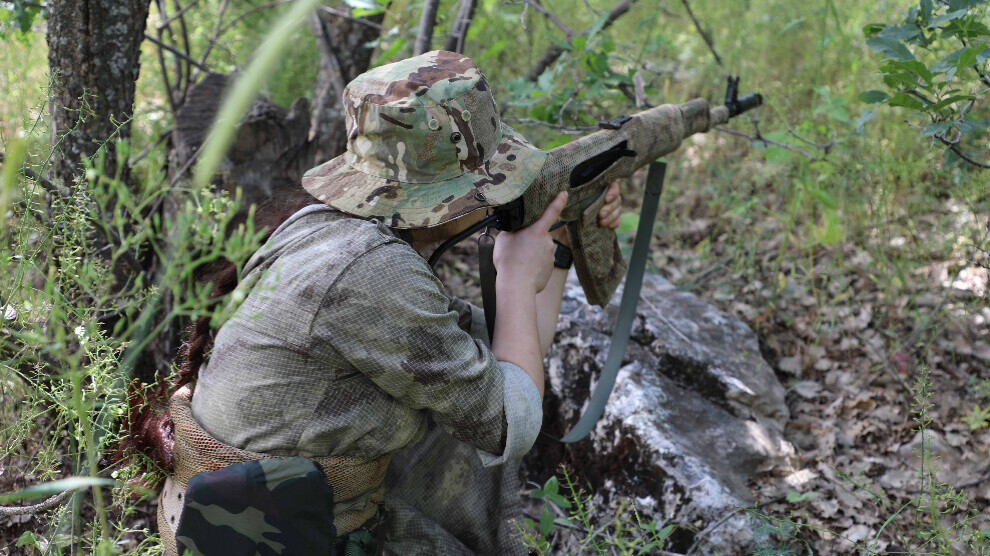 The press centre of the People's Defence Forces (HPG) issued a statement on the Turkish army's ongoing occupation attacks and the guerrilla resistance in the guerrilla-held Medya Defense Zones in southern Kurdistan (northern Iraq).
"The Turkish occupation army is trying to capture the Girê Cûdî resistance area by dropping troops from helicopters. Our forces have carried out effective actions against the occupation attacks. In the actions carried out by mobile units at Girê Cûdî on 21 July, 14 occupants were punished, one occupant was wounded and a Sikorsky helicopter was hit. At the same time, a camera surveillance system, a grenade launcher and military and supply equipment of the occupiers were destroyed. In an action on 19 July in Metîna, two occupiers were punished and a position destroyed," said the HPG statement on Saturday.
Şehîd Delîl Western Zap region
Guerrilla actions against the Turkish occupation forces took place in the Girê Cûdî resistance area throughout the day on July 21, said the HPG, providing the following details:
YJA Star mobile guerrilla teams struck the occupiers with semi-automatic weapons at 08:00.
YJA Star mobile guerrilla teams hit the occupiers from two sides in a coordinated action at 08:30, in which two soldiers were killed.
Three soldiers were killed in strikes from close range with semi-automatic weapons at 08:50.
The Turkish troops trying to set up positions were struck by mobile guerrilla teams from close range at 09:30. Two positions were destroyed and six soldiers were killed, while a surveillance camera, a grenade launcher and army supplies were destroyed.
Three soldiers were shot dead by snipers while building up positions between 12:25 and 12:40.
YJA Star teams struck a Sikorsky helicopter dispatched to the scene to retrieve the dead and wounded soldiers at 13:20. The helicopter was damaged and had to leave the area.
Military equipment and supplies flown airdropped by helicopter were targeted and destroyed by the guerrillas at 17:50.
YJA Star mobile teams shot and injured a soldier whose unit was cutting down trees at 19:00.
Metîna region
In Metîna, two soldiers were killed in a close-range guerrilla action on the Turkish base in Kanîmasî on 19 July, and their position was completely destroyed.
Attacks by the Turkish army
The Turkish army has carried out 55 airstrikes and dozens of artillery attacks with howitzers, tanks and heavy weapons on the Zap region in the past two days. The western Zap region was bombed 21 times by fighter jets and 32 times by attack helicopters, and two airstrikes were carried out by fighter jets on the Kurojahro resistance area.