From 'Danni' to Rojava and return
Activists call for a prison rally in front of the jail in Rohrbach for the day of political prisoners. The slogan of the demo is "From Danni to Rojava and back"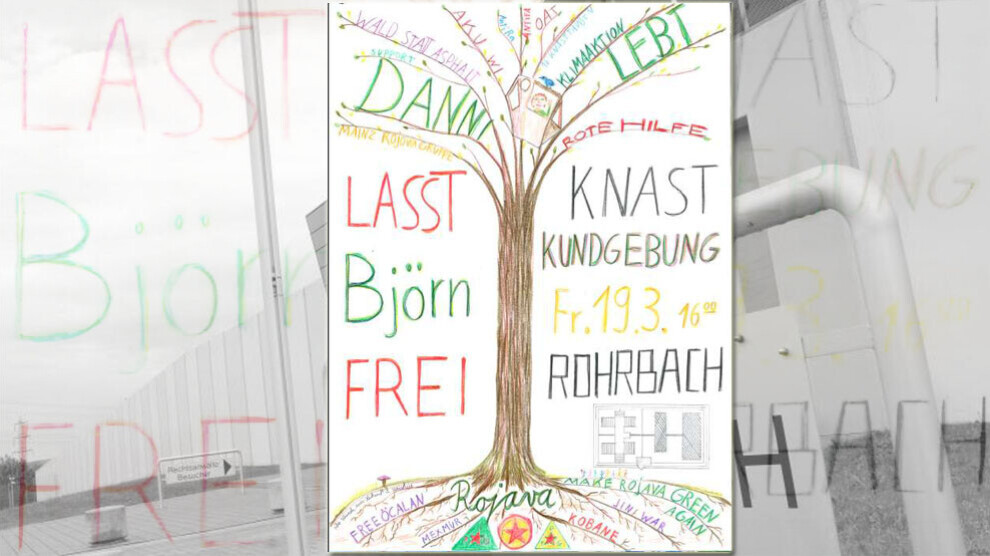 A prison rally will take place in front of the prison in Rohrbach near Alzey on 19 March. Several environmental and climate protection groups want to salute activist Björn with this campaign.
Björn has been arrested in November 2020 in the Dannenröder forest and has since been incarcerated in Rohrbach. The demo also wants to salute the other 450 prisoners who have been deprived of their freedom and have spent months without visits.
Activists also want to salute Kurds Mazhar Turan and Gökmen Çakil, who were convicted of alleged PKK membership: Turan was sentenced to two and a half years in prison and Çakil to three years and five months. Both are in prisons in Rhineland-Palatinate, and Turan had been until recently in Rohrbach.
"We chose March 19th, because the day before – 18 March - is the day of political prisoners. The date refers to the proclamation of the Paris Commune 150 years ago", explain the organizers in the call for a rally in front of Rohrbach jail.
From "Danni" to Rojava and back
The call reads: "In which society do we want to live - that is a question that concerns us. The struggles for a better world are taking place today: be it in Rojava, in the Hambacher Forst or during the more than one-year occupation of the Dannenröder Forest.
Many impulses for an emancipatory plan for society and life come from Rojava and the autonomously governed cantons in Northern Syria. The social contract that the people in North-East Syria have given themselves is based on democratic confederalism, which is grassroots-based, feminist and ecological.
If we give up our precious ecosystems like the forests with their biodiversity and drinking water resources without a fight, we will lose one of our natural source of life.
We must preserve and protect our nature as well as the experience of the special interpersonal relationships that have developed over the months of living together. Both are interwoven and an essential step towards a better, sustainable future.
Democratic confederalism is already deeply rooted in Rojava. The ideas and experiences of freedom and solidarity that were made there are like trees whose branches reach into Hambi and Danni.
We salute Björn, Mazhar Turan and Gökmen Çakil, who are, were or will be in prison for their commitment in Rohrbach. Björn was arrested at Danni on November 14, 2020 and has been detained ever since.
Likewise, the Kurd Mazhar Turan, who was sentenced to two and a half years in prison by the Koblenz Higher Regional Court for alleged PKK membership and was recently transferred. The Kurds Hüseyin and Gökmen are currently being tried by the State Security Senate in Koblenz for the same accusation; they are also incarcerated in Rhineland Palatinate. Our solidarity goes out to the political prisoners.
Therefore, on Friday, March 19, from 4 to 6 p.m., right in front of the prison in Rohrbach near Alzey, a rally with a demo will take place for the first time. We would also like to greet the 450 prisoners who have been deprived of their freedom there for months without any visits."
Background
Thousands of environmental activists have protested and some set up treehouses in Dannenröder forest, northeast of Frankfurt, for more than a year to oppose plans for the expansion.
Authorities removed protesters ahead of the clearance of some 85 hectares of land that would allow the extension of the A49 so that motorists can travel directly between the cities of Kassel and Giessen.
Since the clearing work began, there have been several clashes between police and protesters, with violence and injuries reported on both sides.
Authorities have also complained that arrested protesters have gone to extreme lengths to hide their real identities, including supergluing their fingertips to prevent them from giving fingerprints.