Life Forest for women in Sur
In order to draw attention to the daily femicide in Turkey and worldwide, the women's council of the municipality of Sur has built a life forest for women. 390 trees have already been planted in the forest.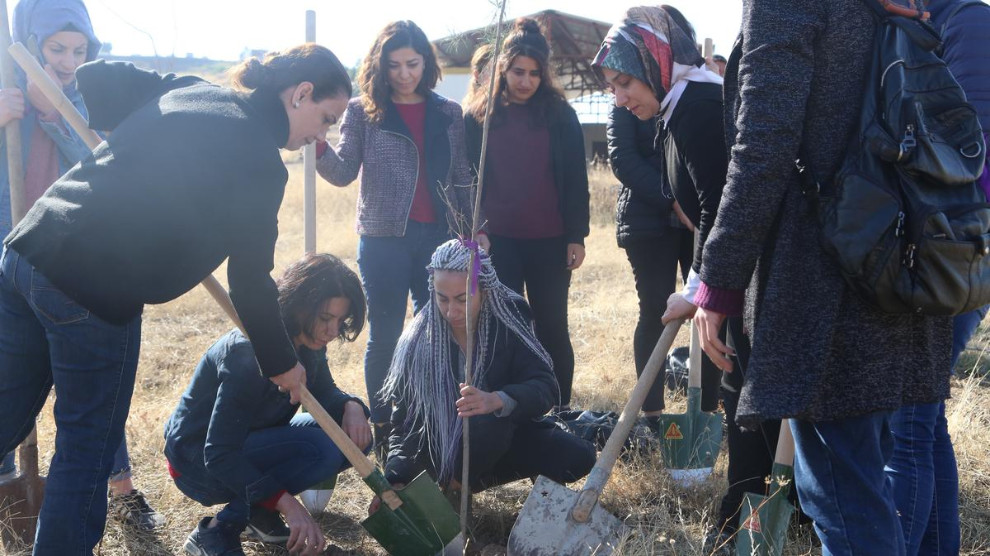 At least six women per hour are victims of femicide worldwide. Femicides also take place daily in Kurdistan and Turkey. In October alone, the "Stop Femicide" platform documented at least 36 women murders in Turkey. And that does not include those who later died of their injuries.
In order to draw attention to the patriarchal aspiration responsible for these murders and must be fought against in the long term, the Women's Council of the district municipality of Sur, the old town of Amed (Diyarbakir), has established a life forest for women. 390 trees have already been planted at the inauguration ceremony of the forest in the Karaçalı (Tilelo) district. The event on the occasion of the International Day for the Elimination of Violence against Women on 25 November was attended by city councilors, representatives of the Roza Women's Association and activists of the Kurdish women's movement TJA (Tevgera Jinên Azad).
The 390 planted trees symbolize 390 women who were killed by men nationwide this year. Despite the work of platforms such as the Women's Alliance "Stop Femicides" and Kurdish women's associations, the exact extent of femicides in Kurdistan and Turkey is not known, as the government of Erdoğan's AKP does not consider the issue important enough to commission meaningful statistics or studies.
Ruşen Tayfur from the Women's Council of Sur explained that femicide is a structural problem and announced that the fight against violence against women and femicides will continue in all areas of life until none of them is ever killed. "They believe they can end our lives by killing a woman. They are wrong. As long as we exist, there will be life."