Hundreds of trees planted in Qamishlo
The ecological reconstruction in Rojava continues.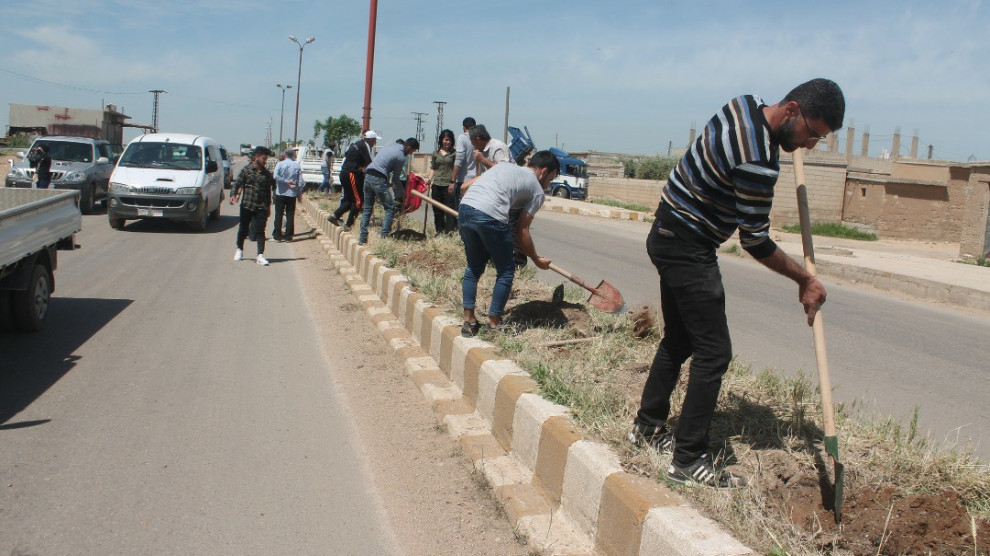 Activists from the Youth Union of the Democratic Union Party (PYD) have planted over 200 young trees in Qamishlo.
The work at the western entrance of the city is carried out in the scope of forestation efforts launched in January.
Syria was densely forested in ancient times, but the country's flora and fauna has been impoverished by thousands of years of settlement. Today, Northern and Eastern Syria has the most fertile arable land and a wide variety of plants thrive in the region. But at the latest with the construction of the Baghdad railway from Konya to Baghdad more and more trees were burnt and Rojava was used as a granary for decades. As a result, the region was mainly dominated by agricultural land, with only a few trees remaining. Under Baath rule it was even forbidden to plant new trees. Since the revolution of Rojava, reforestation has been one of the core activities in the northeast Syrian autonomous region.
The people of Rojava have built a model of society in which co-existence is organized in a democratic, ecological and gender-equal manner. These are the three pillars of "democratic confederalism", the political concept of the imprisoned Kurdish mastermind Abdullah Öcalan, which was made public in 2005. It goes back to ideas of Murray Bookchin, Immanuel Wallerstein and others and realizes the unity of man and nature as a guideline for social development.
RELATED NEWS: