Environmentalists: "The country is on fire, the AKP is watching"
Environmentalists said that the country is going through hell with forest fires and added: "The country is on fire, the AKP is watching."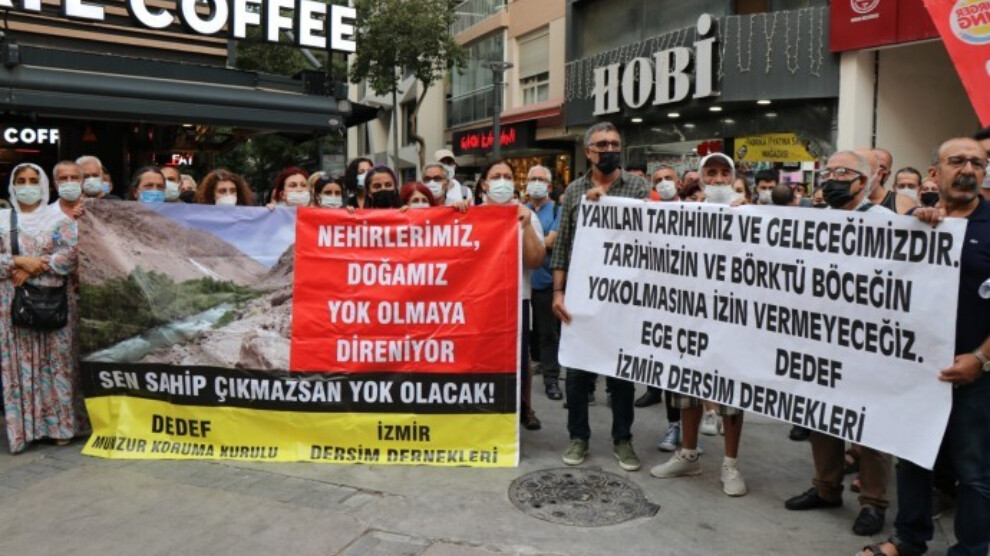 Izmir Dersim Associations Federation (DEDEF) and Aegean Environment Platform (EGEÇEP) held a press conference in front of Türkan Saylan Cultural Center about the forest fires in Antalya, Muğla and Dersim. Political party representatives, environmentalists, women's organizations as well as HDP Izmir MP Murat Çepni attended the action.
EGECEP Spokesperson Hüseyin Çağlar read the statement and said that all four corners of the country are witnessing forest fires, floods and drought. He added that nature is in great danger because of forest fires. "Forest fires expose our nature to a painful destruction. Tens of thousands of people were evacuated due to the forest fires. Unfortunately, 8 of our citizens lost their lives. The fires still continue in the regions where the Minister of Agriculture and Forestry said that they were under control."
Çağlar said that in Manavgat, where 8 people lost their lives and nearly 400 were injured, some racist groups carried out road checks at some points and attacked Kurds.
Underlining the other environmental disaster in the country, the floods, Çağlar pointed out that the floods in Artvin and Rize and then in Van and Hakkari caused serious damage. "All projects carried out for the sake of the profit of the capitalists should be stopped immediately. Mining exploration licenses and hydro projects should be cancelled. The tree cutting that has been going on for months in Cudi must be ended. Opening the highlands to the international capital and changing the beds of our rivers should not be allowed."