Environmentalist alliance protests government policies as fires and floods threaten the territory
The environmentalist alliance protested against the state's policy in Istanbul. The Erdogan government is accused of negligence and greed for profit.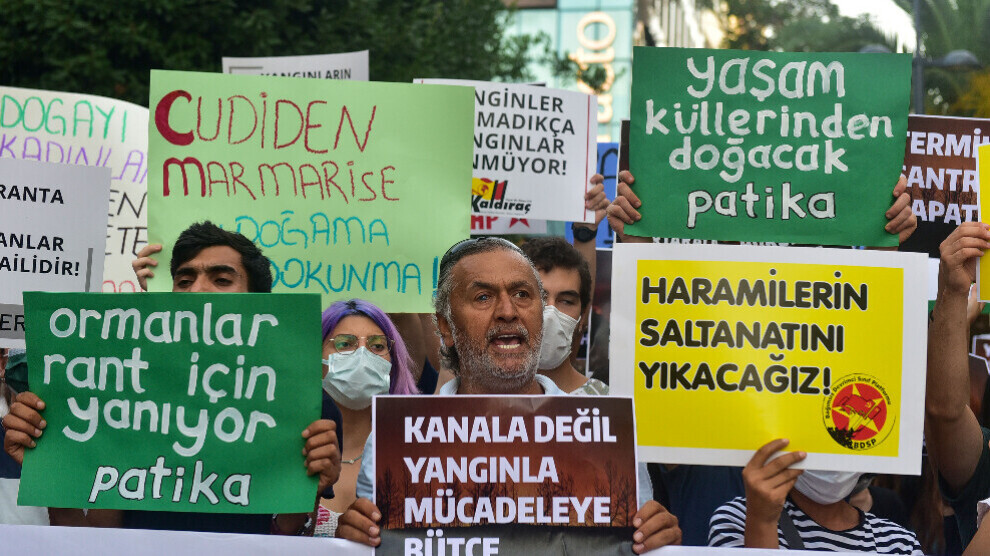 An environmentalist alliance protested in Istanbul against the state's failure to fight the devastating forest fires raging in Turkey. The rally in front of the Süreyya Opera in Kadiköy was supported, among others, by CHP MP Ali Şeker. "Turkey is on fire, you cannot rule! Don't watch, intervene! " read a banner.
In his speech, CHP politician Şeker complained that it had taken the government a year to answer a parliamentary question on fire protection and that the ministry claimed that it had no planes. Şeker warned that the fires would spread due to a lack of action and called for greater commitment to nature.
"The forest fires were predictable"
Utku Şahin read a statement on behalf of the Istanbul Alliance for Urban Development, Nature and Ecology and criticized the fact that Turkey had been fighting for weeks with predictable forest fires. Although scientists had already warned of major fires in July and August, two weeks before the outbreak of the fires, the Ministry of Agriculture and Forestry had not taken any measures. "Despite relevant warnings, the ministry responsible for the protection of forests has not made adequate preparations for three years. It has not fulfilled its responsibility to provide fire fighting equipment and personnel for it. Despite increasing income, there is no improvement in the necessary resources, the number of staff and the working conditions. "
Because the ministry did not provide the necessary infrastructure to fight multiple sources of fire at the same time, it surrendered its large forest areas to the fire, Şahin said, pointing out that entire villages had burned down in districts such as Marmaris, Manavgat and Milas. Many animals were killed and houses burned to ashes.
"Fires in the west, floods in the east"
"The west of the country is exposed to fire, while the east is exposed to floods," said Şahin. The glacier ice on Mount Ararat is melting and causing floods in Van: animals have died en masse, houses have collapsed over the heads of the population and no one is talking about the calls for help from the people from the region. As if all of this were not enough, tea packages were thrown at the victims of the fire in the west. And as if animals weren't living beings, they said: We'll pay for it."
"Reforestation instead of industrial use"
The government and industry have benefited from this time and have pushed forward numerous projects with which ecological destruction is increased, the declaration added, underlining that the AKP government has a policy based on the concrete and asphalt industry and makes life in the cities unbearable.
"An international catastrophe"
Şahin said: "We invite everyone who stands up for their living space, for the forests, the water and the soil to join the struggle so that we can free ourselves from this government."