After a visit to Turkey, Swiss Socialist Party calls for international pressure for free elections
The Swiss Socialist Party has completed its visit to Turkey. The SP said that the government discriminated against the earthquake survivors.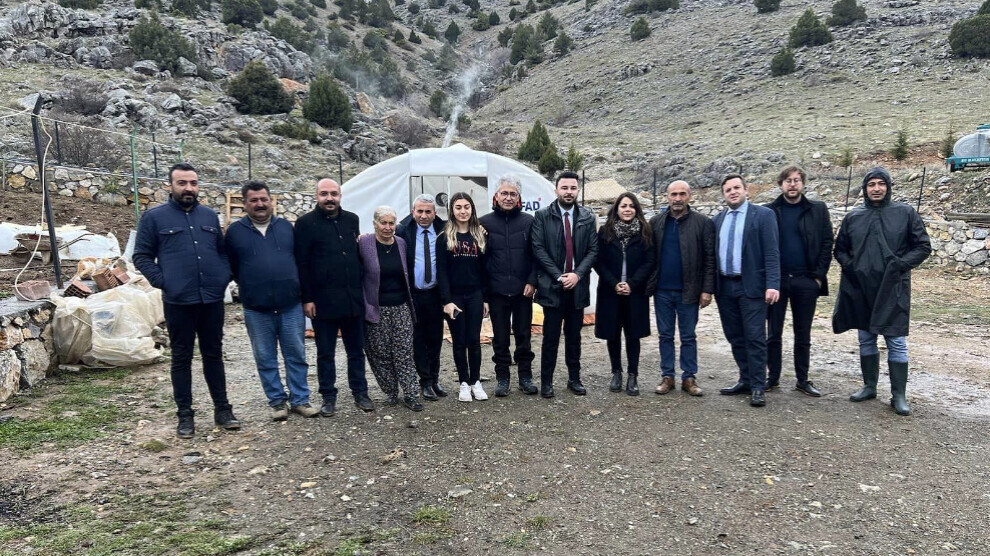 The Swiss Socialist Party (SP) continues its aid efforts after the Maraş-centered devastating earthquakes on February 6. The SP called on the Swiss Federal Parliament to provide effective assistance to the earthquake-affected areas.
A delegation consisting of SP Deputy Head and Swiss Federal Assembly Member Jon Pult, Federal Assembly member Mustafa Atici, Basel Canton Assembly members Edibe Goludli and Mahir Kabakci, and members of the aid organization Solidar Suisse, visited the earthquake-affected areas.
The SP delegation also met with the HDP (Peoples' Democratic Party) and CHP (Republican People's Party) delegations in Ankara to talk about the presidential and parliamentary elections to be held on May 14.
'THE GOVERNMENT DISCRIMINATED AGAINST QUAKE SURVIVORS'
The delegation returned to Switzerland and released a written statement about its observations.
The statement emphasized that the AKP-MHP government did not provide proper help to the people affected by the earthquake, and posed an obstacle to the holding of elections in a democratic environment.
The statement said: "During our trip to the south of Turkey, we visited, together with the aid organization Solidar Suisse, the cities of Gaziantep, Kahramanmaraş, Pazarcık, Elbistan, Kırıkhan and Antakya which were massively affected by the earthquakes. The extent of the destruction and the suffering of the people is indescribable. The number of dead and missing people, as well as houses destroyed, is significantly higher than officially reported.
Furthermore, discussions with community representatives, non-governmental aid organizations and local associations revealed the failure of government officials in disaster relief. In many cases, survivors repeatedly reported that rescue and relief teams came too late and remained insufficient. Government arbitrariness, discrimination and abuse were reported during the distribution of urgently needed relief supplies. We observed that particularly vulnerable minorities, such as the Roma people in the town of Kirikhan, who lost all their houses, still live without access to electricity, water and medical assistance seven weeks after the earthquake.
The Swiss government should work to ensure that humanitarian and reconstruction efforts are based on the 'no-harm rule'. The Swiss government should reach the people and regions that need help most, regardless of their ethnic, religious or political affiliations. It is also clear that the funds promised for restructuring will not be sufficient."
The statement urged the Swiss government to play a role in organizing relief efforts. "Many people from Turkey live in Switzerland. They have economic and political ties. Many relatives of the victims in the earthquake region reside in Switzerland."
'INTERNATIONAL PRESSURE NEEDED'
The statement also addressed the SP's talks in Ankara and said: "HDP deputy chairs Hisyar Özsoy and Feleknas Uca emphasized the importance of the 14 May presidential and parliamentary elections for a democratic and pluralistic Turkey. For this reason, the HDP has decided not to nominate its own presidential candidate. According to Özsoy and Uca, the government controls the judiciary and tries to close the HDP shortly before the elections. It is important for the HDP to form an alliance with other small left-wing parties and contest the elections under the Green Party (Green Left Party) as a precaution against a possible closure. International pressure is now also needed for free elections to take place."
SP deputy head Jon Pult said: "Considering the historic significance of the May 14 elections, the Swiss Federal Assembly should demand the Turkish government to ensure fair and free elections. It should also make it clear that political pressure, electoral fraud and abuse of the judiciary for political purposes in Turkey violate the principles of the OSCE and the Council of Europe, to which Turkey is a party."