Writers and HDP politiancs meet in Van to talk about Kurdish language
The Peoples' Democratic Party (HDP) Van Provincial Organization brought together writers and journalists who have been working on Kurdish language.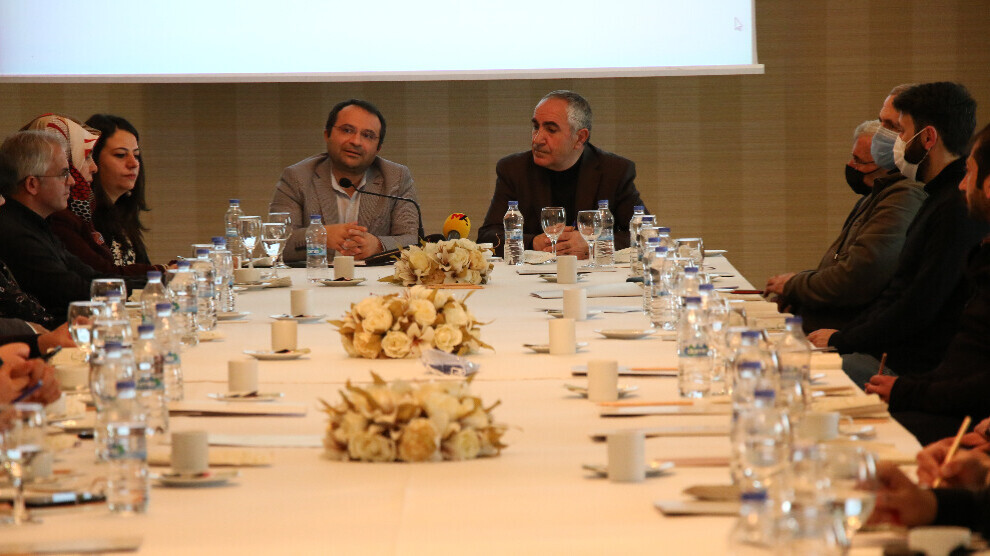 The signature campaign launched by the Kurdish Language and Culture Network and the February 21 Language Commission formed by the Kurdish Language Platform, which includes 9 political parties, demanding that Kurdish be accepted as the official language and language of education continues.
Support for the campaign is expanding by the day thanks to the work carried out in addition to the ongoing signature collections on the street and on the internet.
The Peoples' Democratic Party (HDP) Van Provincial Organization brought together writers and journalists who have been working on Kurdish language. HDP co-chair Tayyip Temel also joined the meeting held at a hotel in the city.
At the meeting, suggestions were received and discussed for a further enlargement of the signature campaign for the Kurdish language.
Kurdish writers Qahir Bateyî and Ibrahim Sungur and HDP Provincial co-chair Fikret Doğan talked about the main issues related to Kurdish language.
Common national issue
Author Qahir Bateyî welcomed the meeting organised by the HDP bringing together Kurdish writers even if it was a late step. He said that it was the first such activity in the region.
Stating that there is a need to organize such meetings in other regions and cities, Bateyî emphasized that it is very important for politicians and writers to reflect on the Kurdish language together. Bateyî said: "Problems related to the Kurdish language are not only the problem of those who work on politics and language. This issue is a common national problem and involves all Kurds. Unfortunately, I see that political parties do not give the attention it deserves to this issue."
Politicians should speak Kurdish
Writer Ibrahim Sungur said that harsh criticisms were also voiced at the meeting. "Our children do not speak Kurdish anymore. This was one of the criticisms I expressed at the meeting. I said that speaking Kurdish is not enough. We should dream in Kurdish. In my dreams, I speak Kurdish with my mother and in Turkish with my children. Those who play a role in Kurdish political movements should speak Kurdish."
Sungur also emphasized that Kurdish intellectuals and writers should come together more often to address the issues connected to language and drew attention to the need of strengthening the efforts to defeat the assimilation policies.
HDP committed to work for Kurdish language
HDP Provincial co-chair Fikret Doğan said that they received suggestions for the extension and enlargement of the campaign launched for the Kurdish language at the meeting and added that they will do whatever they can for Kurdish language as a party. Doğan emphasized that this problem is not only the problem of one party and added that they believe the campaign will guide the future of Kurdish language and contribute to the solution of the language problem.