Petition demands Swiss Federal Parliament to impose sanctions against Erdogan
A petition was launched to demand the Swiss Federal Parliament to impose sanctions against Erdogan, who committed war crimes against the Kurds.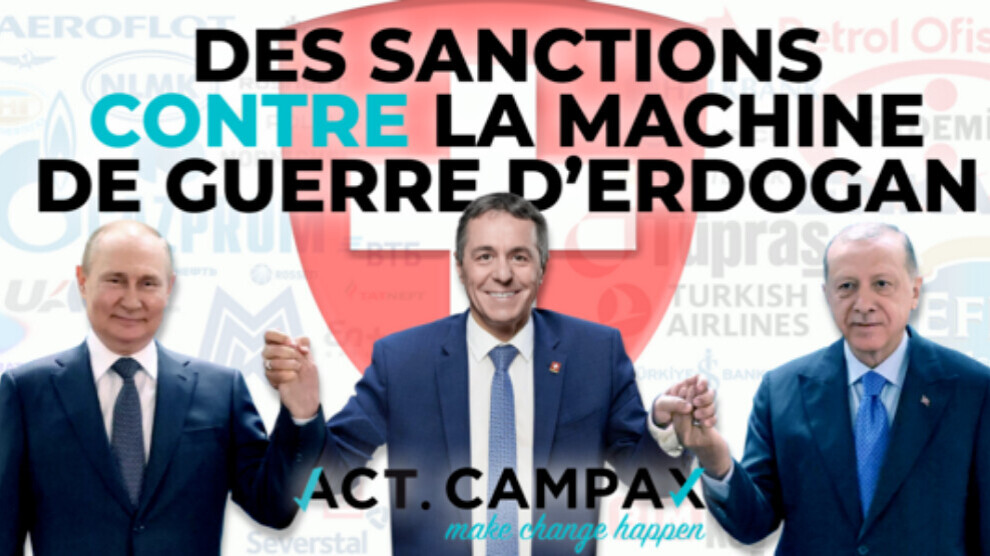 A petition was launched to demand that the Swiss Federal Parliament impose sanctions on Erdoğan. The alliance asking for the sanctions includes Campax, the Swiss Democratic Kurdish Council (CDK-S), Swiss Young Socialists (Jungsozialisten Schweiz-JUSO) and Swiss National Council member Fabian Molina.
The Alliance held a press conference in which it said that "the attacks carried out by Erdogan and his forces in Northern Iraq and Northern and Eastern Syria intensified during the summer months. Many civilians have been killed. Known for its neutrality, Switzerland took a clear stance towards other wars, but did not make any official statements regarding this conflict."
The campaign petition calls for sanctions against Erdogan and his supporters, saying that similar sanctions have been imposed against Putin recently.
Fabian Molina presented a motion to the Swiss Parliament with a similar demand.
Fabian Molina's calls on Twitter can be found here
Sanctions must be imposed on Turkey
CDK-S Foreign Relations Representative Asmin Engin said that Erdogan violated international law and that he should be sanctioned for this. "The Swiss Federal Council should issue these sanctions otherwise it would be a party to Turkish crimes."
Mia Jenni, the international secretary of JUSO, said: "We show our solidarity with the Kurds' struggle for democracy. Turkey's violations of international law should be condemned internationally. Switzerland was very hesitant to support the EU sanctions against Putin's Russia in the Ukraine war. This approach was criticized. International law has now been violated again and Switzerland has a chance to play a leading role in sanctions policy, so it must act consistently and sanction Erdogan's Turkey even if it is a member of NATO."
Investigation against crimes committed by Turkey
Calling on Foreign Minister Cassis to take immediate action and condemn Erdogan's wars, Virginia Köpfli from Campax listed her demands regarding the content of the sanctions as follows: "They should include entry bans and freezing of funds. It must be ensured that not a single Swiss weapon is used in the conflict. Finally, Switzerland must work to gather evidence and conduct an independent investigation into crimes against international law."