On the road to Kobane, a video for Heyva Sor a Kurdistanê
The event is aimed at raising funds for humanitarian aid in north-east Syria. Produced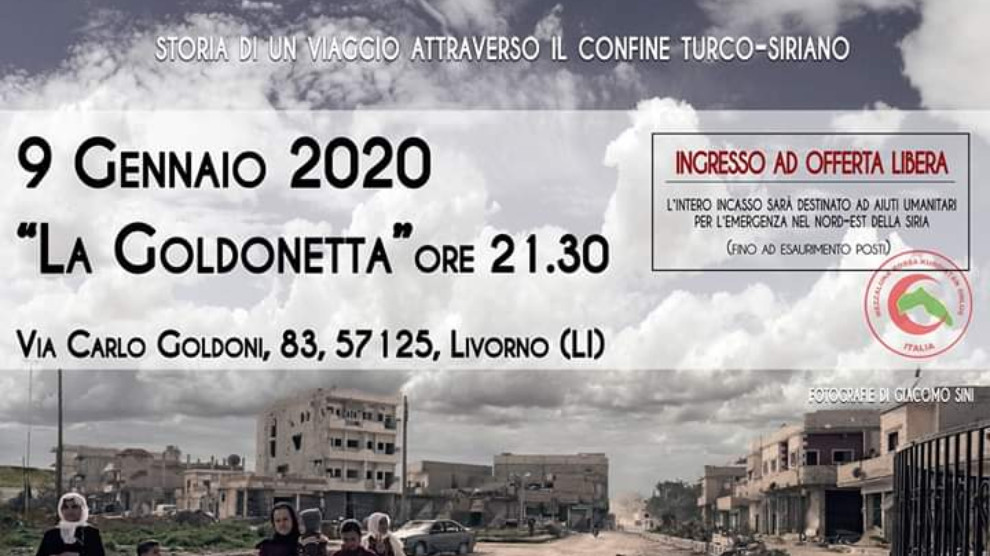 "On the road to Kobane" is the title of the documentary that will be screened today at the Goldonetta at 9.30 pm, during an event organized by the Heyva Sor a Kurdistanê-Italy Onlus, with the patronage of the Municipality of Livorno. 
The event is aimed at raising funds for humanitarian aid in north-east Syria. Produced by the Orange Tape studio in collaboration with Ame Pix, "On the road to Kobane" has been realized by young Livornese video reporter Enrico Del Gamba during his journey across the Turkish-Syrian border, and tells the story of the diaspora of the Kurdish people during the first years of the Syrian civil war.
"The patronage of the Municipality of Livorno for this screening is not a coincidence" said mayor Luca Salvetti at a press conference to present the documentary. "It is the result of our position as Council and Municipal Administration towards the humanitarian emergency in Syria. The city of Livorno is close to Heyva Sor a Kurdistanê-Italy Association for the work it carries out in support of the peoples of Syria."
Filmmaker Enrico Del Gamba presented the documentary together with Alican Yildiz, the Kurdish activist founder of Heyva Sor a Kurdisanê-Italy Onlus and photojournalist Giacomo Sini.
Del Gamba met Yildiz in 2015 in his kebab shop in Livorno. Alican Yildiz told him his story and that of his people and one day asked him to follow him on one of his humanitarian expeditions to Turkey to help Kurdish refugees from Syria.
"What happened next changed my way of seeing the world" - explained Enrico Del Gamba, adding: "It connected me to people as different from my culture as far from my land."
Headquartered in Livorno, Heyva Sor a Kurdistanê-Italy has dedicated its work to solidarity with Rojava for the last 8 years.