Kurdish theater group Jiyana Nû tours Switzerland with "Bêrû"
The Kurdish theater group Jiyana Nû is touring Switzerland with the play "Bêrû". The opening performance was in the city of Geneva.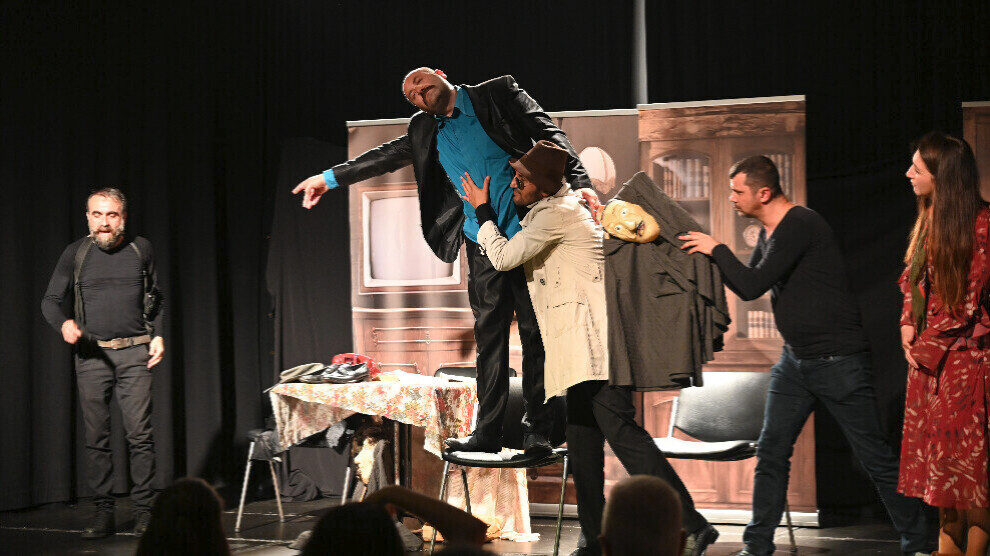 The play "Bêrû" ("Faceless"), staged by the actors of the Jiyana Nû theater company, started its tour of Switzerland in the city of Geneva. The theater group organized by the Mesopotamian Cultural Center (NÇM/MKM) had previously successfully toured France with their play.
The play "Bêrû" is the Kurdish interpretation of the play "Trumpets and Raspberries" by the Italian Nobel Prize winner Dario Fo. It is a political comedy of mistaken identity set in militant struggles in Italy in the 1970s. When Gianni Agnelli, the boss of FIAT, is disfigured in a failed kidnap attempt, he is rescued by Antonio, one of his Fiat employees. Antonio flees the scene when people start shooting at him, leaving his jacket on Agnelli's body. Agnelli is taken to hospital in Antonio's jacket, where he mistakenly has his face reconstructed in Antonio's likeness.

The play was translated by writer Dilawer Zeraq and directed by Nazmi Karaman. Nazmi Karaman was born in 1978 in the northern Kurdish city of Gever. He was trained at the Contemporary Theater Association in Ankara from 2000 and completed his education in Pera Fine Arts at Theater Academy in 2007. He works as an actor and director in theater and film.
For the first time, "Bêrû" was performed during the Covid 19 pandemic. After Geneva, further performances will follow today in Lucerne, on 25 May in Winterthur and on 26 May in Bern. The Swiss tour will be followed by a tour of Germany. A performance in Cologne has already been announced for 30 May.