Four new albums to be released by Mîr at International Festival
Mîr Müzik is presenting 4 new CDs at the International Kurdish Culture Festival to be held in Dinslaken, Germany, on September 8th.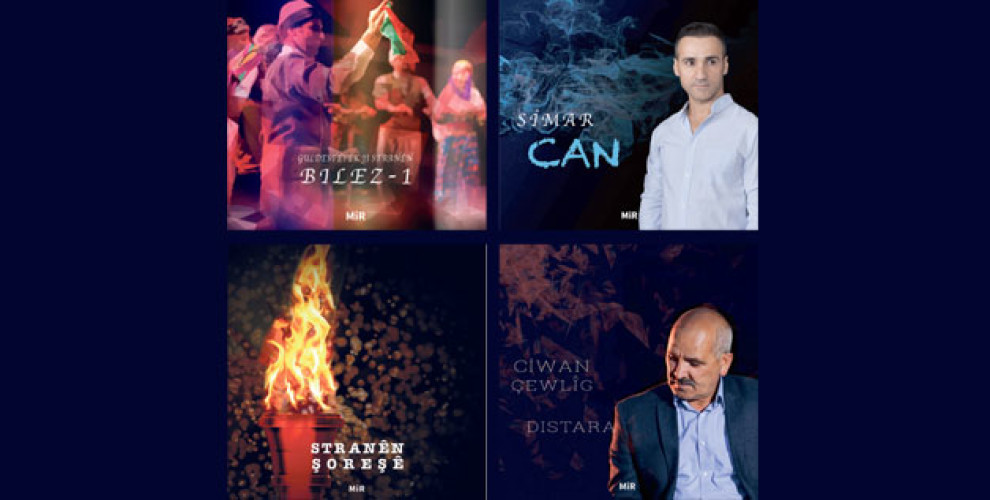 Artists who will participate in the festival will sign their albums at Mîr stand.
Mîr Multimedia Production Company is bringing new albums to the music market in September. 
Four new CDs with historic label will be presented to the audience for the first time at the festival to be held on September 8th. 
The albums, "Distara" by Ciwan Çewlîg, "Can" by Simar, "Stranên Şoreşê" and "Guldesteyek Ji Stranên Bilez-1" compilation albums will be presented.
Resistance Songs
Ali Kaya, General Manager of Mîr Music, told Yeni  Özgür Politika about the new albums. 
"This season - he said - Mîr Multimedia will produce 4 new CD and will be present at the Festival with its own stand. Two of these CDs are compilations". 
"Stranên Şoreşê" is a CD with marches and the latest songs on Afrin resistance. This journey through resistance music, he said "starts with Çerxa Şoreşê and continues until Tola Salan". 
Songs from 4 parts of Kurdistan
The second CD prepared is "Guldesteyek ji Stranên Bilez-1", where authentic melodies from 4 parts of Kurdistan are brought together. 
"From Serhat to Bingöl, from Behdinan to Soran, from Mardin to Hakkari, authentic melodies are brought together", said Ali Kaya. 
New albums from two artists
Apart from the two compilations, two artists have released new CDs. 
Ciwan Çewlîg's album "Distara" is in Kurdish's Kîrmancki dialect, which faces the danger of disappearance.
Artist Sîmar has released "Can".
It is an album where the artist has masterfully blended the past and the present with some authentic works. 
26th International Festival
Afrin Solidarity Platform has the pleasure to invite you to the 26th International Kurdish Culture and Art Festival in Germany on the 7th & 8th of September, 2018.
Each year the traditional Festival brings tens of thousands of Kurds and their friends together for solidarity with the Kurdish democratic and peaceful struggle.
This year the Festival is dedicated to the Kurdish enclave Afrin – Northern Syria. The Turkish state has illegally bombed and invaded Afrin, a Kurdish-majority region which had been a peaceful oasis in a war-torn country, a site of refuge, and stronghold of the Democratic Confederal Project.