YPJ fighters: No attack can stop us!
YPJ fighters Ronahî Xebat and Dicle Tirbespiyê have been injured in Turkish drone strikes. The veterans of the war against ISIS emphasized that the YPJ will not stop defending the people.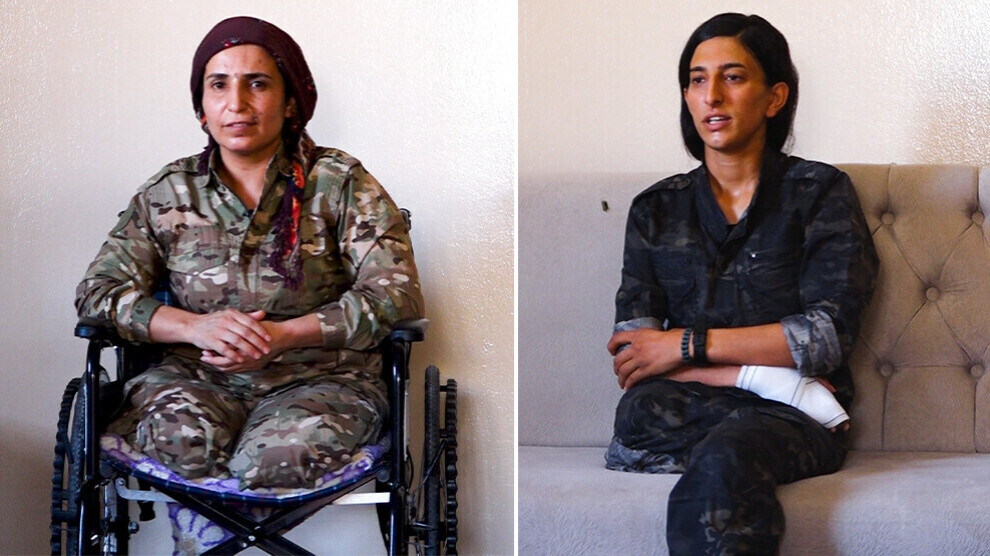 Turkish drones are now killing civilians, representatives of the Autonomous Administration, but also fighters of the defense forces of Northern and Eastern Syria on a daily basis. These attacks result not only in fatalities, but also in large numbers of people being injured.
YPJ fighter Ronahî Xebat, a veteran of the fight against the Islamic State and other jihadist groups in Serêkaniyê, Cezaa, Mabruka, Raqqa, Tabqa and Manbij, was on her way to a funeral for a fallen fighter on 3 February 2022, as a Turkish drone attack. She lost a leg in the attack near the village of Xerez on the road between Amûdê and Dirbêsiyê.
"Our will cannot be broken"
 Xebat told ANF: "In 2013 I fought against the Front al-Nusra in Serêkaniyê. One of their aims in this war was to capture female fighters. Al-Nusra attacked us with unprecedented brutality, but as YPJ fighters, we put up great resistance and fought fierce battles. We trusted ourselves, we fought resolutely against these inhuman mercenaries, and we led the offensive to success. Shortly thereafter, the Şehîd Rûbar offensive began in 2014. I took part in that too. As YPJ fighters, we showed friend and foe alike in this offensive, the power of women's will. As fighters, we have made it clear how we can fight against these atrocities despite the old patriarchal order. Many of our friends resisted to their last breath and fell. We also put up great resistance in Cezaa and Mabruka. With our morale and motivation, we successfully won this operation. Then I took part in the operation to liberate Raqqa. Raqqa was an important center for ISIS. The liberation offensive lasted about five months. ISIS attacked us in every possible way. Among other things, vehicles loaded with explosives. But our will and our strength are not a wall that can be torn down, no iron that can be bent, and no stone that can be broken. We draw our strength and will from the philosophy of Rêber Apo [Abdullah Öcalan]."
"Turkey wants revenge because we defeated ISIS"
Xebat tells of the ISIS attack on Sina prison earlier this year and the day when sha was injured: "A group of ISIS mercenaries attacked the prison in Hesekê. They wanted to occupy Hesekê and commit a great massacre. 121 of our comrades bravely resisted and fell. On my way to the funeral of these comrades, on 3 February 2022, in the village of Xerez on the road between Amûdê and Dirbêsiyê, I was attacked by drones and lost a leg. The two friends in the vehicle with me and the friend driving the car were unharmed. With this attack, the Turkish state tried to take revenge on us for the failed ISIS attempt to break out of Sina prison. The Turkish state wanted to present itself to the whole world as successful with this attack, but no matter how badly I get injured, I will not give up the fight. Everyone wants to know the reason for this attack, but the whole world knows what the occupying Turkish state wants and is aiming for. Erdoğan's only concern is to annihilate the people who brought about the defeat of ISIS, and he wants to revive ISIS in the region. We didn't start this fight yesterday, we've been fighting it for years, and we're not backing down from our fight in any way."
Dicle Tirbespiyê: "As YPJ fighters, we will not give up"
Dicle Tirbespiyê, a mother of one child and a member of the Qamishlo Military Council Command, had been part of the YPJ since the beginning of the revolution.
She is also a veteran of many fights. She was involved in the battles for Til Hemis, Til Berak, Cezaa, Hesekê, Kobanê, Girê Spî, Silûk, Manbij and Shengal. She emphasizes that she is fighting against patriarchy as well as against massacres. Dicle describes the moment when she was attacked by a drone by the Turkish state in Qamishlo on 3 May 2022: "I was attacked along with Kesra Melek and friends Mizgîn Botan and Dîlan on the way to Qamishlo. In this attack, YPJ fighter Mizgîn Botan and civilian Kesra Melek were killed by the Turkish state and I lost both my legs.
The Turkish state knows very well that where there are women, there is freedom, life, equality and justice. It wants to destroy the Rojava revolution by attacking women. This is nothing new, the Turkish state has repeatedly targeted women. Sosin Bîrhat, Ronahî Kobanê, Dilar Heleb, Jiyan Tolhildan, Roj Xabûr and Barîn Botan, from the general command of the SDF and YPJ, were killed in Turkish drone attacks. The Turkish state wants to commit genocide against the people of Rojava and massacres the civilian population on a daily basis. As YPJ fighters, we will not give up protecting our people no matter what."