Women commemorate Feray Şahin on the 4th anniversary of her killing
Women commemorated Feray Şahin and demanded justice on the 4th anniversary of her death. Şahin was murdered by Turkish policeman Fatih Burak Aykul.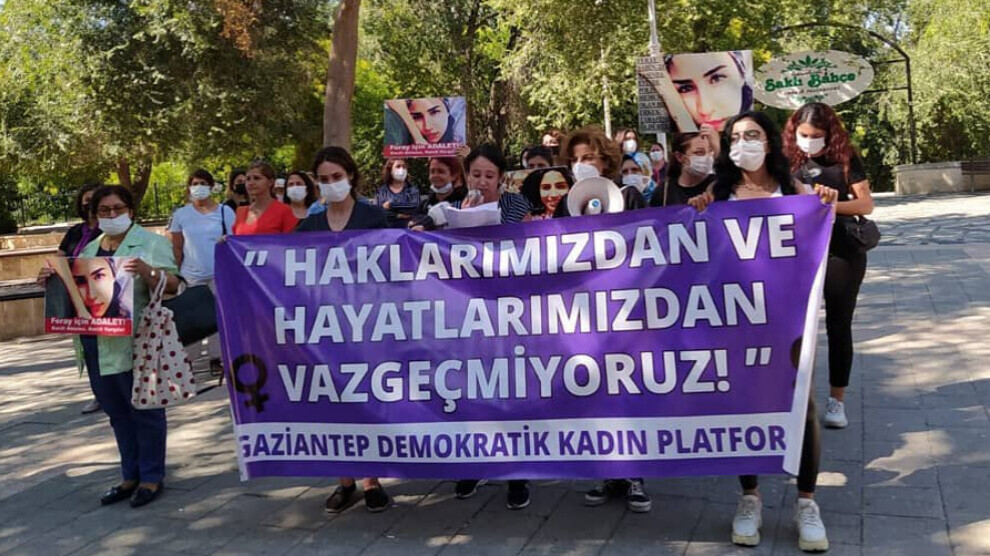 Antep Democratic Women's Platform commemorated 23-year-old Feray Şahin, who was murdered by Turkish special unit police officer Fatih Burak Aykul, 4 years ago. In a statement made in Yeşilsu Park, women unfurled a banner saying 'We do not give up our rights and lives'.
Speaking on behalf of the platform, Suzan Uzpak, a member of the Peoples' Democratic Party (HDP) Women's Council, said: "The file has been in the Supreme Court since 28 February 2019. Şahin's family has been seeking justice for 4 years. Just like sergeant Musa Orhan, who raped Ipek Er and eventually pushed her to commit suicide, the killers are actually accusing those who call them rapists. It happened with Mehmet Kaplan, who was on trial for murdering Duygu Delen and it now happened with Aykul."
Stating that they want justice for Şahin and all the women murdered by men, Uzpak said: "If the Istanbul Convention had been implemented effectively, Feray would be here with us today."
Uzpak underlined that the government that abolished the Istanbul Convention was responsible for the death of women, and added: "Women do not give up on our lives, nor the Istanbul Convention. We will be on the streets until the killers of women, the victims of femicides disguised as suicide, receive the punishment they deserve and until the Istanbul Convention comes into force again."
What happened
Feray Şahin was an interior design student in her final year at Mersin Toros University. On the night of 19 September 2017, she died in her home from a single bullet fired from the gun of Fatih Burak Aykul, a police Special Operations officer. Aykul was arrested, and said the incident occurred as a result of a joke. Aykul, however, was found guilty of deliberately negligent homicide and given a sentence of just five years and three months.