Rosa Association activist Gültekin released from custody
Activist Fatma Gültekin, arrested in May in Amed in the course of the investigation against Rosa women's association, has been released from prison. The trial against her, in which she faces up to 15 years imprisonment, is still pending.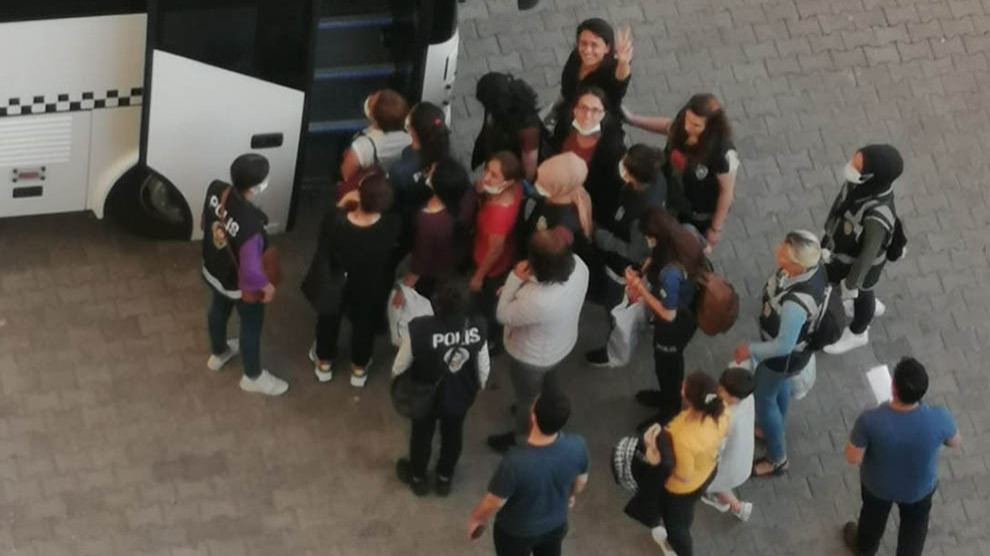 The co-founder of the women's association Rosa, Fatma Gültekin, who was arrested at the end of May in the province of Amed (Diyarbakir) in the course of an investigation against the Kurdish women's movement, was released from custody on Monday. The trial against her, in which she faces up to 15 years in prison, is still pending.
The trial against Gültekin took place before the 10th Heavy Penal Court in Amed. The activist was not personally present in the courtroom, but attended the trial via video conferencing system SEGBIS from the local women's prison. The court forbade members of the left-wing trade union federation KESK as well as activists of the Free Women's Movement TJA (Tevgera Jinên Azad) and members of the press to follow the trial. Only relatives of Gültekin and six lawyers were allowed to observe the hearing.
While the court ordered the release of Fatma Gültekin, the trial against the activist will continue on 25 October. If convicted, she faces a prison sentence of between seven and a half and fifteen years.
Fatma Gültekin was arrested in her apartment on 22 May and was imprisoned two days later along with eleven other people on charges of alleged "membership of a terrorist organization". As is customary in Turkey under the guise of so-called counter-terrorism, the accusations against her are based on statements by several "anonymous witnesses". The defendants are mostly accused of participating in protests, demonstrations and events. During their interrogation they were asked, among other things, why they had organized a rally for the International Women's Day on March 8. Other accusations that have been made include statements made against the appointment of trustees to municipalities governed by the Peoples' Democratic Party (HDP) and support for the Council of Peace Mothers during last year's hunger strike against the isolation of Abdullah Öcalan. The accused were also asked about the relationship between the Rosa women's association and the TJA and why both organisations support each other.
Rosa women's association
Rosa women's association was founded at the end of 2018 after all women's institutions in Amed were closed down by government decree in 2016. It is the only women's organisation that provides support and actively fights against violence against women.