Protests continue in Iran: "End dictatorship!"
Protests launched in many provinces of Iran and Rojhilat against poverty and regime policies continue on day 3. In dozens of provinces throughout the country and in Tehran, the people are on the streets chanting "End dictatorship".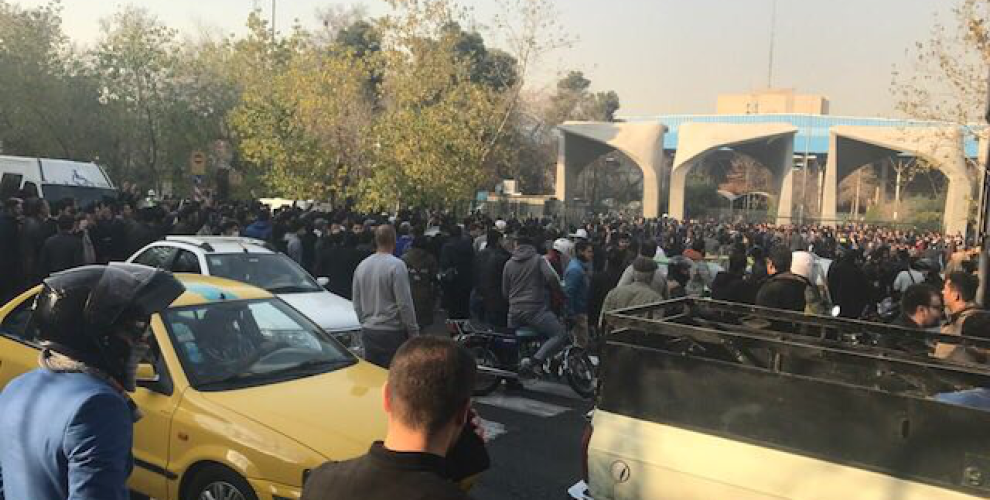 In many provinces of Iran and Rojhilat (Eastern Kurdistan), protests against poverty and the oppressive policies of the Iranian regime continue in the streets. Protesters frequently chant anti-regime slogans like "Don't fear, we are all together", "Army for the people, people for the army", "End dictatorship" and "Death to dictatorship".
Thousands of protesters have taken to the streets in Kermanshah, Shari Kurd, Tehran, Hamadan, Isfahan, Yasuj, Mashhad, Karaj, Jajrud, Bajnurd, Rafsanjan and many other provinces against the Iranian regime's policies.
Large numbers of students are protesting in the University of Tehran. Clashes broke out between the police and students in the university protests while demonstrations continue.
In Mashhad, the province where the protests sparked first, protesters were seen chanting in favor of the shah system. Military reinforcements have been deployed to Mashhad, the city Iran's religious leader Ali Xamaney was born in, when protests expanded.
In Isfahan, one of the richest provinces of Iran, large numbers of women have joined the protests and a female protester was caught on camera shouting at Iranian forces, "This place is ours, you go!"
In Rojhilat's Kermanshah province, large groups of people took to the streets today like they did yesterday. Thousands gathered in Azadi Square protested the regime and its policies.
Iranian forces have taken extensive security precautions in the city where occasional clashes break out.
CALL FOR PROTESTS
There were calls for protests in many provinces throughout Iran and Rojhilat. Iranian provinces with calls for protests are: Tehran, Hashtgerd, Amol, Shiraz, Karaj, Tabriz, Kerman, Weramîn, Mashhed, Simnan, Abhar, Rafsanjan, Parand, Vidar, Rasht, Qashan, Najafabad, Golpayegan, Qom, Bahshahr, Kashmar, Erdebîl, Dezful, Sawe, Yasuj, Qaimshahr and Isfahan.
In Rojhilat, calls for protests were issued in the Hemedan province and Melayer town therein, Kirmanshan central and the Kengawer town, Birûcerd, Xurmawa in Loristan, Nexede in Urmiye and Sinê center.
Meanwhile calls for protests had been issued in Balochistan's Zahidan and Chabahar provinces and Arab towns of Ahwaz and Dezful.