Prisoner in Şakran Women's Jail sends out painting in solidarity with women in Iran and Rojhilat
Berivan Aydın, a prisoner in Şakran Women's Prison, supported the women's resistance that started in Rojhilat and Iran by adding a lock of her hair to a painting she made to symbolize women's resistance.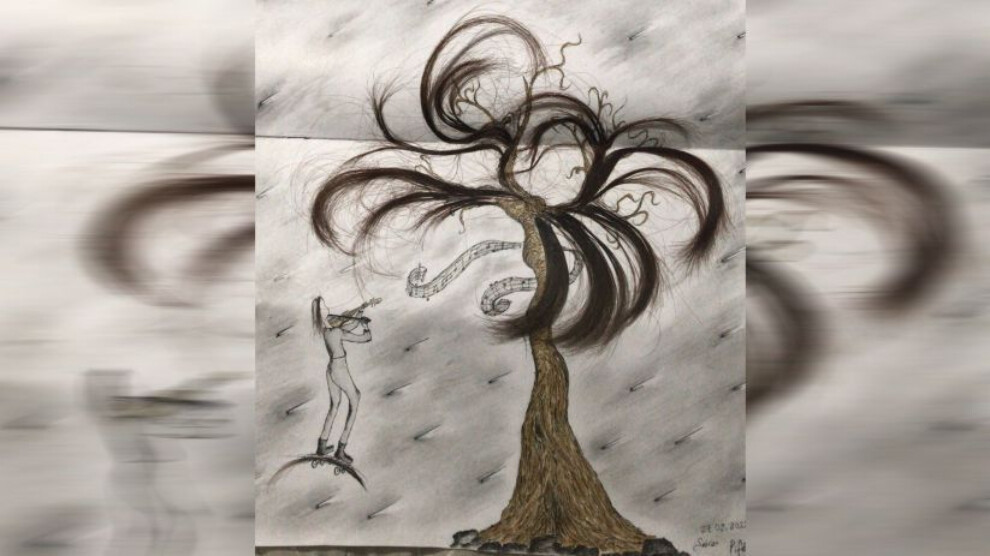 After Jina Mahsa Amini was tortured and murdered by the regime's "morality police" in Iran, women started to resist and protest. The resistance began in Rojhilat and spread throughout Iran, supported by women in the Middle East and the world who cut a lock of their hair in solidarity. One of those supporting the resistance is Berivan Aydın, a prisoner held in Şakran Prison.
In a letter she sent to her family, Aydın glued a lock of her hair to the picture she drew with charcoal and dry paint.
The painting shows a tree as well as a woman playing the violin, a tribute to Deniz Poyraz, the HDP worker who was killed in the party's office in Izmir on June 2021. The leaves of the tree are Aydın's hair, and the painting represents "the life that grows out of a woman's hair".